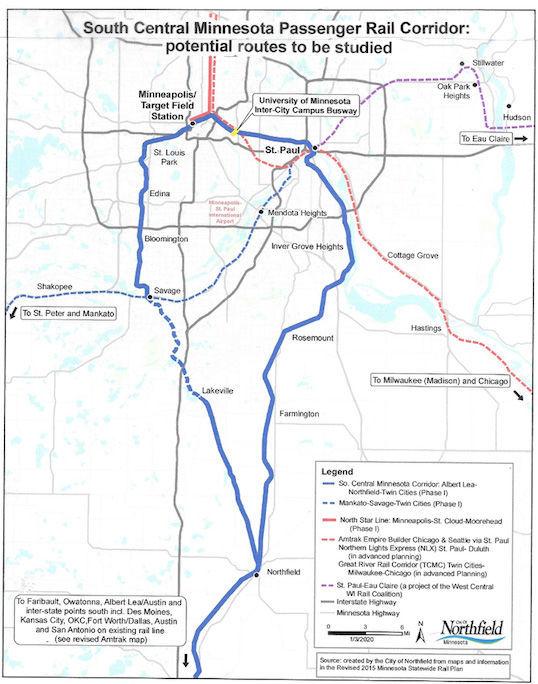 The Northfield Transportation Advisory Committee has several goals for the coming year.
One of the committee's top goals involves voicing support for a plan to provide passenger light rail from Albert Lea to the Twin Cities, a route that would include a Northfield stop and be one of the most ambitious projects in recent state history.
Bills now in the House and Senate would authorize $500,000 in general funds needed by the Minnesota Department of Transportation to complete a passenger rail study needed before any work could begin.
Two possible rail passenger routes between Northfield and the Twin Cities have been established. One cuts through the east metro suburbs through Farmington and other communities. The other heads along the Dan Patch Trail through Lakeville and Burnsville.
The Albert Lea to Twin Cities passenger line, once complete, would be a part of a federal passenger rail network that could span from the Twin Cities to Dallas. Northfield Transportation Advisory Committee Co-chairwoman Suzie Nakasian said city leaders from around the country say cities need to be connected with viable public transit systems to achieve the most success. She added the initiative would draw in employees from long distances and improve the local economy.
In 2014-15, Nakasian organized a coalition of business and public groups to submit letters to the Minnesota Department of Transportation requesting the addition of the passenger rail line from Albert Lea to the Twin Cities. The request was given top priority of any installation of a passenger rail corridor.
Nakasian urged residents to tell state legislators to vote for the proposal.
Fellow committee member Glen Castore said the project "seems like a good idea." He added that it would make commuting to the Twin Cities easier and remove cars from the road.
"It's safer to ride trains than it is to drive cars," he said.
The Transportation Advisory Committee was established out of the city's 2017 strategic plan and has a goal to foster an economically friendly, multi-use transportation system.
The committee is expected to complete a written report and present to the council on specific unmet local and regional transit need,s and provide a preliminary list of private and public regional transit service options.
Transportation Advisory Committee members will also be encouraged to voice support to the Legislature for the city's request for bonding to complete the Northfield Transit Hub.
Nakasian said more than half of Rice County residents commute to Hennepin or Ramsey counties by car because there is no regional public transit option.
"This is the first attempt at establishing a transit base from which we can launch regional transit options," she said.
The public transit option could include ride-shares or buses to Metro Transit stations, allowing for an alternative to car traffic.
"We need that service to support commuters to the metro and to support local employers whose employees come in from out of town," Nakasian said.
The Advisory Committee this year also plans to complete and present to the council a report on options regarding the potential turn back of Highway 246 to either the city or county.
"We are just asking for specifics about that," Nakasian said. "There's nothing imminent there. The state or the county have not indicated any urgent interest there."
The committee also plans to complete a Hwy. 19 corridor study and present needed improvements to the Hwy. 19 corridor from Hwy. 3 to Interstate 35. The study is expected to be focused on intersection and turning zone safety, efficiency and accessibility in conjunction with a planned resurfacing project in 2025.
"The study would include information on traffic, accidents, design considerations, funding opportunities, pedestrian safety, trail extension, Northfield gateway enhancements and include recommendations and work plan for 2021," the report states.
Nakasian said there are treacherous intersections in the corridor, and that making needed improvements would make the stretch safer and more efficient for trucks and other motorists on the 6-mile stretch from I-35 to Northfield.