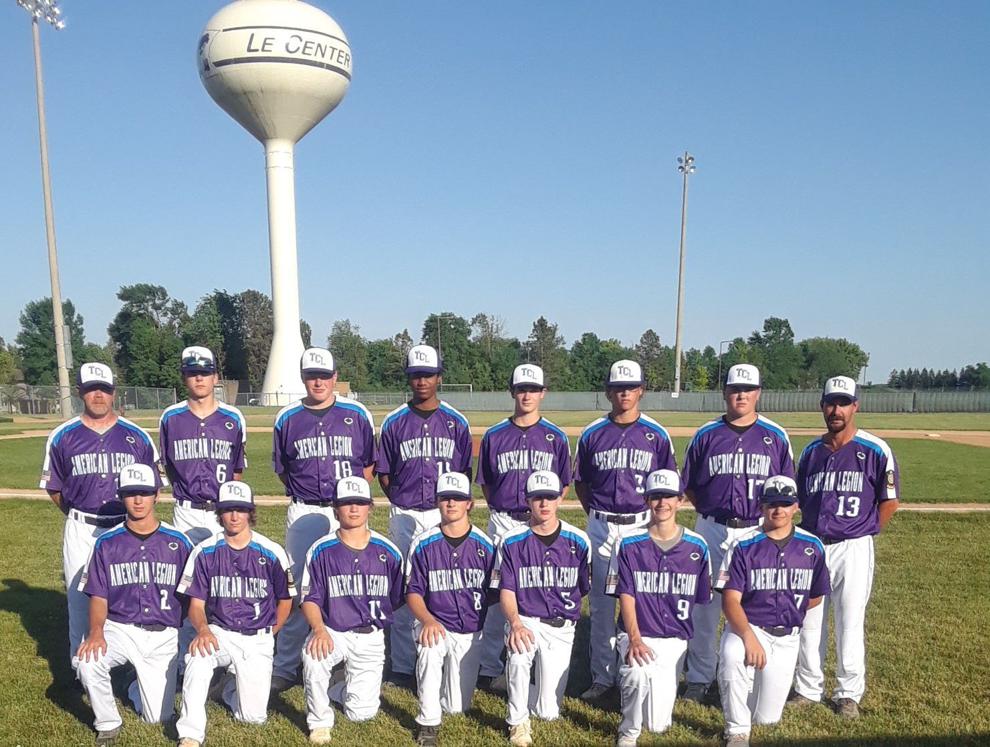 After going three years without a summer baseball program, American Legion baseball is back in Le Center, Lonsdale and Montgomery. This year, the legions of all three towns debuted a joint baseball team — the Tri-Legion.
Le Center Legion Member and City Councilor Collin Scott has had a new team in the works for about a year, but when COVID-19 hit last year, summer baseball was canceled and with it Scott's hope for a local team. But with the coronavirus cases plummeting and financial contributions from the three legions, plus the VFWs of Le Center and Montgomery, Scott was finally able to make the baseball team a reality.
"We wanted to make sure we provided an opportunity for baseball in the summer, because once they get to 16-17, there isn't really much baseball for them," said Scott. "We decided we needed to have an outlet for these guys, and the three legions got together and said 'We're going to fund it financially.'"
Those dollars went to purchasing baseball equipment and the team's purple and white uniforms that display the words 'Tri-Legion' proudly. Local boys were quick to join and soon the team assembled a roster of 14 players. Tri-Legion is a fairly young team with three freshmen, ten sophomores and one high school junior.
"These kids are sophomores so they have two more years to play legion ball and that's very exciting for us, for their families, for the town, for the legions," said Scott.
Joining them was head coach Timm Moravec. Moravec has many years of experience playing baseball and is currently on the Le Center Braves roster. So when it was time to hire a coach, it was an easy choice.
"I got asked two years ago before the COVID hit," said Moravec. "I play over 35 baseball, softball. My kid plays 13U traveling ball and Collin Scott asked me to be the coach, so I took the job."
Moravec's coaching style pushes everyone on the roster to play in every game.
"He's not only coaching well, he's getting all the players to play," said Scott. "They may not start but they get in the game win or lose and I think that's important. They come out to play on the team so it's important you be out on the field whether you're winning or losing. I think he's doing a good job of having the kids interested and focused in the game."
Though the team is fairly green, the team saw success early on this season in their first game. Facing Waterville-Elysian-Morristown on June 7, Tri-Legion baseball swept the opposing team with a resounding 11-1 win.
W-E-M earned a run at the top of the first inning on an error, but that was last time the Tri-Legion team allowed them to score. Tri-Legion quickly took the lead as sophomore Dylan Holom opened the inning with a walk and reached second on a single by Chris Johnson. Jayson Macho moved them up a base on a wild pitch and Holom and Johnson ran home on two ground outs.
After a scoreless third inning, Tri-Legion upped their score in the fourth. Jayson Macho reached base on an error by the shortstop and was batted up a base on a single by Adam Henze. The Giants suffered two outs, but Carter O'Malley batted in Macho with a single. Max Krautkramer followed up with a double, knocking in Henze and O'Malley and padding the lead 5-1.
Tri-Legion continued to dominate into the final two innings. Holom opened with a single in the fifth and reached home on an error, which allowed Johnson to reach second. A second error by WEM allowed Johnson to slide into home and collect Tri-Legion's seventh run.
Tri-Legion saved their best performance for the last inning. Opening up the sixth, Krautkramer reached second on an error by the second baseman. Krautkramer scored on an error by the third baseman, allowing Nolan Readmond to take second. Tristan Hunt walked to first and Henze advanced both players on a wild pitch. Dylan Westerman then doubled and sent all three batters to home, collecting a total 11 runs to win the game.
"I think we're going to have a great season," said Scott. "We have a whole bunch of great kids, kids who want to play, who care about this team and that's all you can ask for in a team."