Mitch Harrison joined the 300 club at The 300 Club in Le Sueur Jan. 8. He bowled a perfect game.
He reached the 300 game by steadily improving his average every year since he started bowling seven years ago in the Classic League. A Christmas present from his girlfriend, Cassandra Chaves, who works as a bartender at the bowling alley, also helped.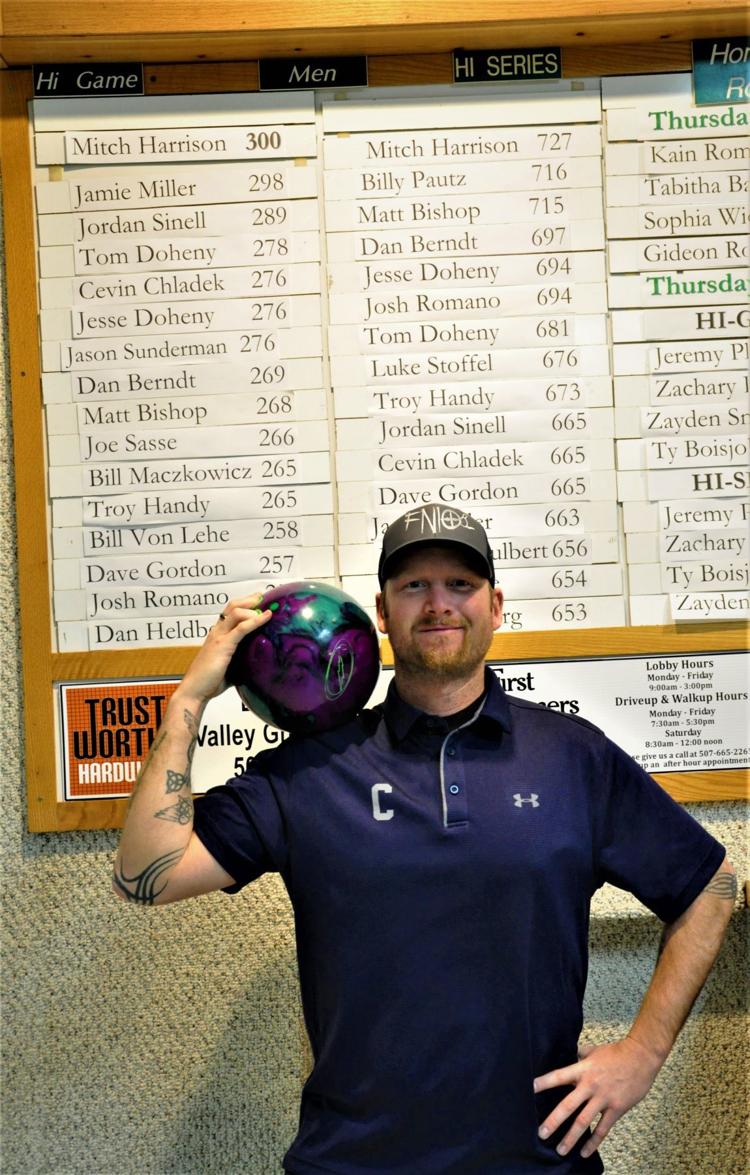 Eleven 300 games have been bowled at The 300 Club since 2004, when Jim Plonske took ownership. They are listed on a plaque on the wall. There have been just three 300 games in the last seven years by Matt Bishop of Le Sueur in 2013, Russ Kroehler, of Henderson, in 2019, and Harrison in 2020.
Harrison had made six, seven, eight and nine strikes in a row numerous times, but never 12 in a row. He didn't do it without some nervousness at the end, which is common when someone is creeping toward perfection.
"I was definitely dialed in, but by the time I got to the ninth and 10th frame, I was shaking and really nervous," Harrison said. "I just went through all my motions, did the same approach and tried to keep everything consistent.
"When it happened, it was cloud nine, everybody cheering and high-fives everywhere and hugs from everybody. They popped a bottle of champagne."
Perfect games are rare at The 300 Club, compared to other bowling alleys, because these are real wood lanes, Harrison said. "Everybody else has synthetic lanes, which are more consistent."
The oil breaks down sooner or moves from side to side depending on where the bowlers throw their balls. Lanes are oiled just before each league starts. But the oil dries up, and that causes the ball to hook more.
"By the third game, it's something completely different to where you originally started," Harrison said.
He had to adjust his starting point left, left and left as the lanes dried. He threw at the same arrow. He always shoots for the second arrow on the right.
Harrison, 36, actually started bowling in grade school in Le Sueur in the youth league (YABA) at the 300 Club. He grew up in Le Sueur and lived here until moving to Belle Plaine three years ago.
But he still bowls at The 300 Club. He joined the Classic League on Wednesdays seven years ago.
When he started in the league, he averaged 155. He has improved five to 10 pins every year to now averaging 200 per game. "Hopefully, I go up higher to 205-210 next year," Harrison said.
He's made minor changes in his game, including his approach, speed and style, but the biggest change was getting a new ball from his girlfriend. He just started throwing the ball a week before, so this was the sixth game that he used the 15-pound Storm Phaze III, released in 2019.
"It's a completely different style ball than I was throwing before," Harrison said. "It's got a lot more hook on it. I never had that much hook before. The new ball definitely helped. It worked phenomenally."
He not only bowled his first 300 game, beating his previous best of 279 two years ago when he made a split in the first game and strikes the rest of the way, he also established his best series two weeks later.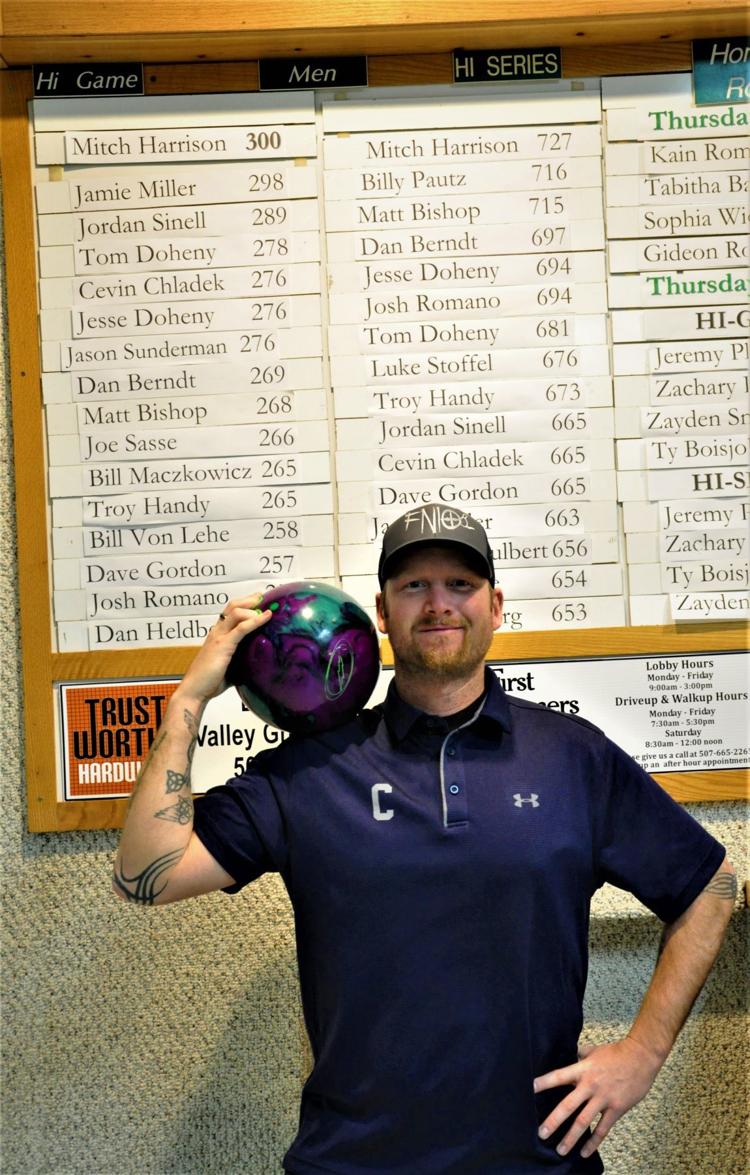 Now he's at the top of the leaderboard in both categories at The 300 Club for this season, with hopes of getting even better scores.
"I hope there's more [300 games] to come," he said. "Maybe it will happen again this year. There are a few guys down here that come close every year."
Two weeks after Harrison's perfect game, another 300 Club bowler, Jamie Miller, narrowly missed a 300 game with a 298.
Harrison's series in his 300 game was 168-203-300—671. He beat that series with a 246-279-202—727. He almost bowled a second 300 with the 279, but he missed it in the 10th frame.
But he didn't miss anything on Jan. 8, making 12 straight strikes, for the 300 game. The right hander hit the pocket every time, with none on the Brooklyn left side.