The Giants and Titans boys basketball teams collided Friday, Jan. 10 on Tri-City United's turf. Though TCU came close to upending Le Sueur-Henderson's lead, it was ultimately the Giants' game to win with a solid 68-44 victory.
"I feel good," LS-H coach Robert Steiger said. "It always feels good to have a win. We had a bit of a lull in the second half. They got our lead down, never into the single digits, but they showed a strong showing. We struggled for a little bit, but we mixed some things up and we were able to get some looks and eventually got out of the zone."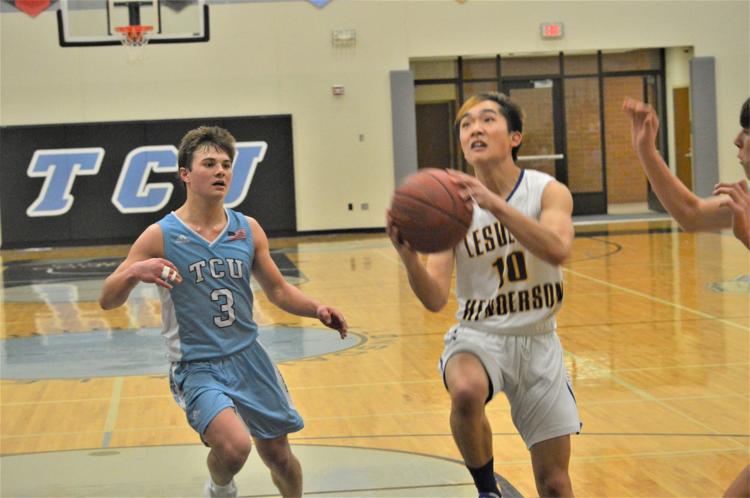 The Giants were propelled to victory with a strong opening half. Senior forward Nolan Maczkowicz, junior guard Dominic Drent and junior Lukas Graff ruled the court offensively. While the Titans were effective at keeping LS-H outside the free throw circle, Mazcowicz and Drent kept up the pressure with three and two three-pointers respectively.
Mazcowicz collected 19 points, six rebounds and three assists, while Drent led the team with 22 points, eight rebounds and four steals. Graff had a commanding presence on the free throw-line collecting seven out of eight free throws and 12 points. Senior guard Noah Koller also made some risky plays that ended up paying off, scoring two long three-point shots and finishing with eight points. Zach Berndt tied for the team lead with three assists.
"Those three being in double figures helped us to a 24-point win," Steiger said. "We shot 60 percent from the field and only committed nine turnovers."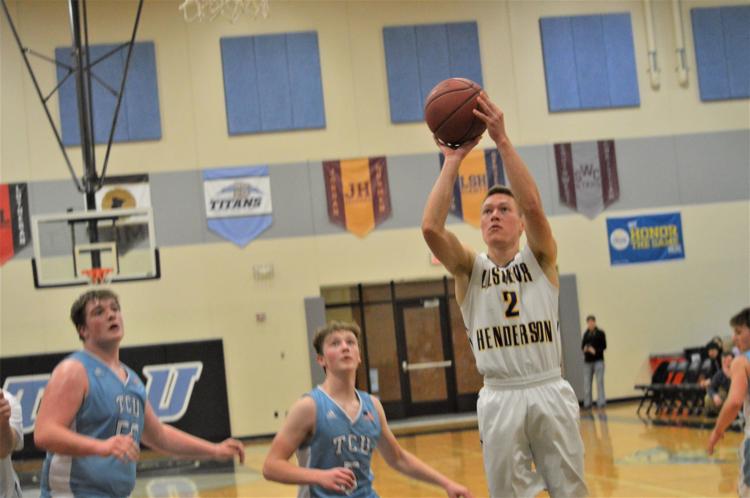 The team's efforts landed them a 36-18 lead over the Titans. However, Tri-City United came back in the second half more coordinated than ever.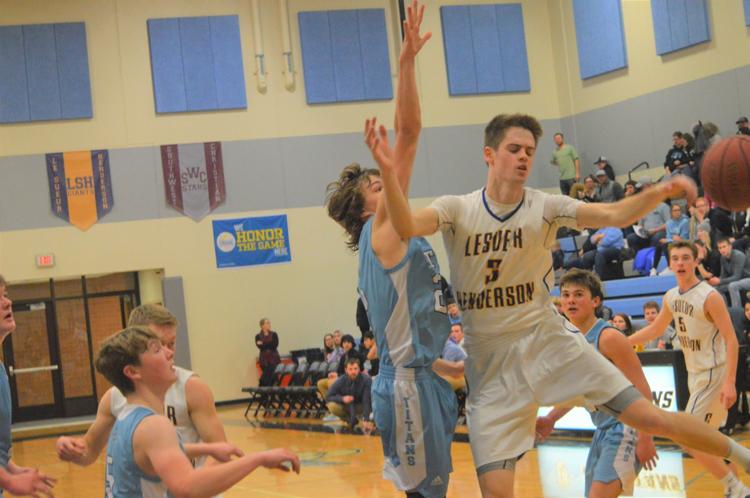 "We did a lot of good things in spurts," TCU coach Austin Pinke said. "We had some foul trouble, but we had the guys come in and they really stepped up for us. They put the game within reach somewhat. I thought the team played as a team tonight and it was to watch them compete as they competed.
The Titans made full use of their freshman center Mason Vosejpka. With a large frame and aggressive play style, Vosejpka boxed the Giants out of the inner court. He also had his share of accomplishments on offense, collecting 10 points for TCU.
"Vosejpka had a good game tonight," said Pinke. "We thought he had an advantage in size, and we drew some things up for him and he did a good job of executing that."
Junior guard Collin Barnett also proved to be a great asset for the Titans. Barnett kept outside the fray but led the team with 14 points thanks to three accurate three-point shots, two two-pointers and a free throw.
While the Titans second-half performance earned them another 26 points, the Giants continued to have a dominating presence on the court and put an additional 32 points on the board.
"All in all it was good," said Steiger. "It was an absolute win, but there's always work to improve on."