The senior captains led the way, as the Le Sueur-Henderson Giants girls tennis team reached its third consecutive Section 2A finals with a win over Annandale Oct. 8.
The Giants won the meet 5-2, as Greta Nesbit at No. 1 singles, Emma Seaver at No. 1 doubles and Makenna Reinhardt at No. 4 singles all won their matches, spurring the team on in a tightly contested competition. Coach Linda Seaver was impressed by the team performance and the leadership of her captains.
"They let their experience take over, and where they can handle more of the pressure and the nerves, they kind of know how to handle it." Seaver said. "We haven't had a lot of close meets this seaosn, so we tried to do some practicing in tight situation, but of course it plays out differently in the real matches."
Greta Nesbit was in close competition with Annandale senior Jennah Groth at No. 1 singles with only one other match (No. 3 doubles left on the courts). LS-H was up 3-2 in the meet at that point, but the Giants were losing the other match, so Nesbit knew the pressure was on. She was fully aware that she might need to win to push the Giants over the hill, and all eyes were on her court.
When she ultimately pulled out the victory after a nervy second set, winning 6-2, 6-7, her fellow captain Emma Seaver burst out in tears, letting out the bottled up nerves.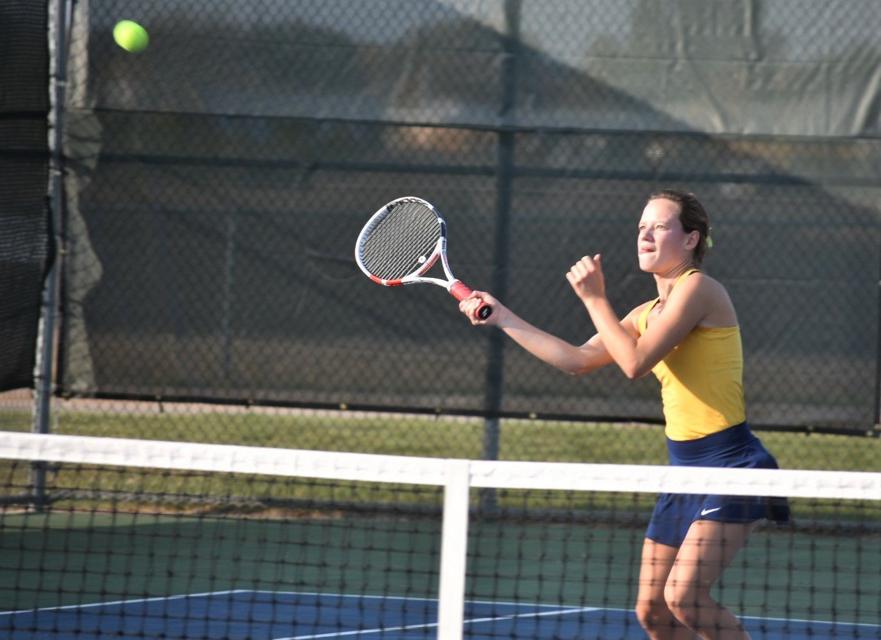 "I'm a little jittery; that was a really close match," Nesbit said. "So yeah, that was kind of scary. I asked Linda what the meet score was, and she said it was 3-2 and No. 3 doubles was losing, and I was like, 'Oh, boy.' But I wanted to know."
Emma Seaver added, "I bawled. I was so nervous; I was shaking for her. But that was a good way to win the meet, because it was close, so I was just really emotional. This is our third year making the final now, so we just really want to pull through and win the section."
She and Chloe Brandt had a strong showing at No. 1 doubles, taking a 6-3, 6-2.
"I felt like we played really well the first set," Emma Seaver said. "The second set, we made some errors, but we pulled it out. We knew what was going on and we fixed it."
Co-captain Makenna Reinhardt, meanwhile, was one of the first off the courts, edging out a close first set and pulling away in the second for a 7-5, 6-3 win. 
"My first set was super close, but the second set went better. It took me a while to get out of the nerves and get in the groove," she said. "But I'm really excited now to be going to the finals."
Elsewhere, LS-H picked up wins at No. 2 and No. 3 doubles. Anna Pavlo and Mia Schwarz played well together in a close match, taking a 7-5, 7-5 victory at No. 2. And at No. 3, after the Giants had already clinched the meet win, Bella Holloway and Halle Bemmels finished off a comeback victory at 3-6, 7-5, 6-4.
At No. 2 and No. 3 singles, Morgan Jones and Darbi Dunning were both playing higher on the depth chart than usual. Jones, who played most of the year at No. 3 singles, faced stiff competition against Annandale at No. 2 singles and dropped her first match of the year 5-7, 0-6. Dunning found it similarly tough in her No. 3 singles match, losing 2-6, 0-6.
With the team victory over Annandale, the Giants moved on to the Section 2A finals Tuesday, Oct. 13 in Litchfield. It's the third consecutive year LS-H has reached the finals. In 2018, the team lost to Jordan; in 2019, it lost to Litchfield. Both LS-H and Litchfield returned much of their roster from 2019 this year, and while Litchfield won the regular season meet 6-1, the Giants have confidence they can turn things around.
"The last meet was really close. Some of us took it to three sets; Morgan (Jones) won her match," Nesbit said. "The score didn't look so good, but we were really close with them, so I think we know now that we are really capable."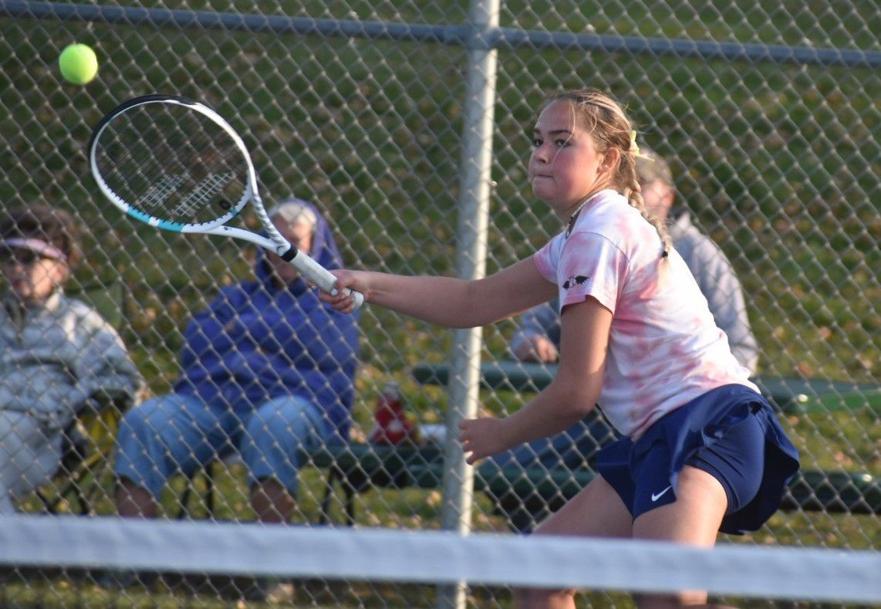 Reinhardt said, "Especially in ability, we're closer than we seem."
The captains planned to encourage their teammates to be confident going in.
"We're no less than them. We're just as good, maybe better, if we play the game, and just like our coach says, 'Don't play to lose; play to win,'" Emma Seaver said.
Coach Linda Seaver agreed. She noted that, with no state competition due to the COVID-19 pandemic this year, the Giants have nothing to be nervous about. They can let the shots fly.
"I think they can beat Litchfield. I think the first time we played them, they thought, 'Oh, it's Litchfield; they're supposed to be really good," Seaver said. "But when we played them, I think we played much better in our second sets than our first sets. And I think they'll go into that meet with more confidence, and it's the last meet of the year; there is nothing to lose."