The Le Center Braves over-35 baseball team collected a win and a pair of losses in three games over six days.
The Braves and Cardinals made up Sunday's rainout on Tuesday evening in a competitive game except for one bad inning. St. Louis Park put six runs on the board in the second inning. They provided four hits, which along with three Brave errors, a walk, wild pitch and three missed foul pop ups were pretty much the difference in the game.
Duluth resident, Gary Fritsch went the distance for the visitors, allowing two runs on five hits and a walk, while fanning seven Braves.
Rob Bruner deserved better going five innigs and allowing five hits, four walks with nine strikeouts. Mike Krenik provided two innings of relief yielding three runs on five hits, hitting two and fanning three.
The Braves lone runs were scored in the sixth when with one out Chad Blaschko walked, and with two outs, Chad Anderson singled. The runners advanced to 2nd and 3rd and scored on a Brad O'Keefe single.
123 456 7 R H E LOB K BB HP
St Louis Park 061 003 1 10 10 0 8 12 2 2
Le Center 000 002 x 2 5 5 7 7 1 0
There was a nice turnout of fans on Fan Appreciation Night and the Braves responded with a victory over Belle Plaine. Iron man Lynn Schwarz got the complete game win, scattering 17 hits, walking just one, with two strikeouts.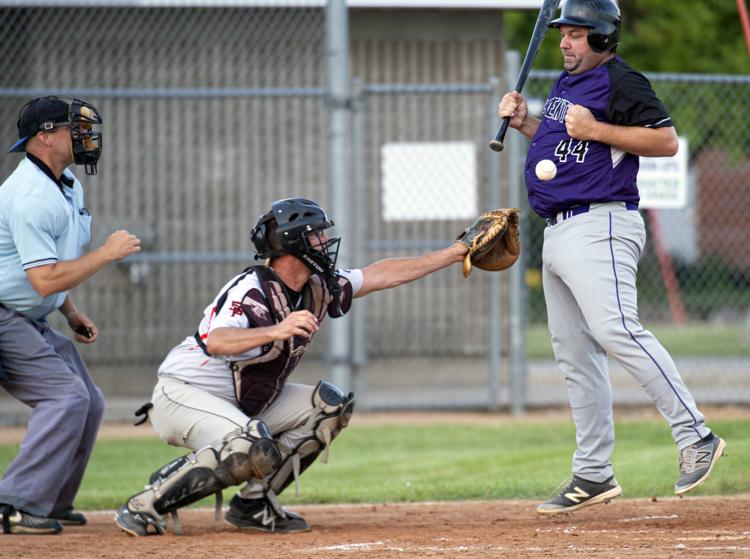 In the first, trailing 2-0, Scott Schaffler singled, Rob Bruner walked, a Chad Anderson single brought in one run and a wild pitch another.
Braves took the lead in the second as Kollee Burkhardsmeier singled, stole second and scored on a Tom Heilman single.
Tied at three in the bottom of the third, with two out the Braves added four more. Chad Anderson and Brad O'Keefe singled, Paul Gohlke reached on an infield throwing error, Burkhardsmeier and Brent Nueman both walked with Gohlke and Burkhardsmeier scoring on wild pitches.
Up 7-3 in the fourth, Chad Blaschko walked, stole second, and scored on Bruner's double to the centerfield fence. Jason Hollom reached second on an infield throwing error, scoring Bruner, and O'Keefe singled home Hollom.
Leading 10-9 in the sixth, the Braves added two important insurance runs. Blaschko walked and stole second, scored on Bruner's single. Anderson reached on an infield error and O'Keefe singled home Bruner.
123 456 7 R H E LOB K BB HP
Belle Plaine 201 014 1 10 17 3 9 2 1 0
Le Center 214 302 x 12 10 3 7 5 5 2
Waconia Islanders 13 Le Center Braves 2
Waconia had their way pounding out 13 hits leading to 13 runs in the game, shortened by the 10-run rule.
The Braves put their two runs on the board in the top of the fifth when Josh Fredrickson reached on an infield error, Paul Gohlke singled and Jesse Lutterman singled to score Fredrickson. Tom Heilman walked to load the bases and Chad Blaschko singled to score Gohlke.
Braves 000 02 2 6 2 6 3 1
Islanders 027 4x 13 13 1 7 1 6
Upcoming action: after completing three games in six days, the Braves have three games in the next five days. Wednesday evening, Aug. 7, the Braves travel to Prior Lake to take on the Prior Lake Mariners at 7:30 p.m. On Friday, Aug. 9, they travel to Searles for an 8 p.m contest with the Bullheads. The Braves are back home on Sunday, Aug. 11, at 1 p.m, as the Southwest Outlaws come to Ray Plut Field.