Two new coaches are taking the reins of the Tri-City United Titans High School team, including Mady Bunnell, who is stepping on the the field as the new head coach.
Bunnell grew up in Lakeville and graduated from Lakeville North High School before going on to play softball at the University of Wisconsin-River Falls as a three-year letter winning catcher. She's been coaching for the past six or seven years and said that softball is her life.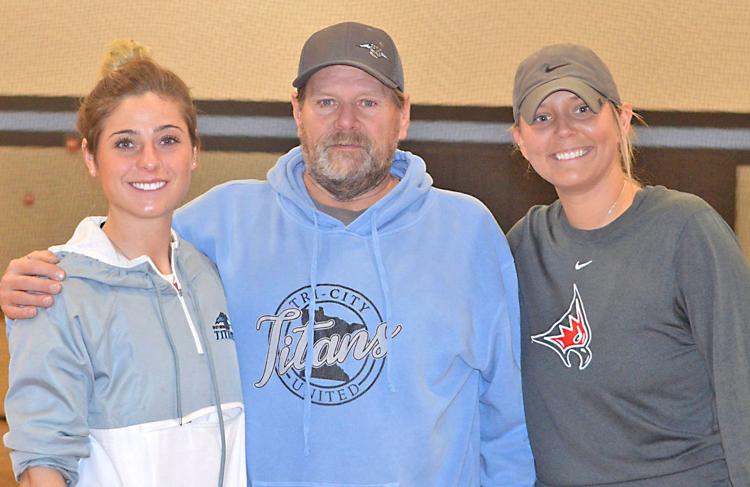 Also new this year is former Golden Gopher and assistant/B-squad coach Allie Arneson. An Aledo, Texas, native, Arneson represented Aledo High School in three state appearances and won the state tournament back-to-back her junior and senior year. After transferring from the University of Virginia, Arneson finished her last three years at the University of Minnesota as the starting shortstop. Arneson was with the Gophers softball team when they made their first appearance at the 2019 Women's College World Series in the NCAA softball era.
Le Sueur County News spoke with Bunnell and Arneson about joining the Titans Fastpitch.
What are your goals for the team this season?
MB: I wouldn't be a great head coach if I didn't say I want a state championship, section title, all of that stuff, but I think the most important thing is helping these girls find their own voices and learn to be confident with their authentic selves. I think helping young women be the best versions of themselves, the sooner I can help them understand their 'why' the better they can understand their 'how.' That's my main goal, everything else comes after that.
AA: She said it all. It's all about helping them find their 'why' and to grow and to strive and engage. If I could go back in time, I lacked the mental side of it. The physical part of it, the fundamentals, being an athlete that's the easy part. At the end of the day if you have to look yourself in the mirror and ask yourself 'Do you like yourself? Do you know why you're doing this? Is it more than just a sport?" It's really helping them find their "why."
What's driven you to pursue coaching?
MB: I went and pursued a degree in finance, and if you had asked me four years ago, I would have said 'I'm all about finance, I'm going to get a job in finance, I'm going to make a lot of money, I'm going to be set.' But I've always loved the game. I've always been a student of the game. I've always appreciated the art of it and I've been very blessed to play with some of the best talent that's ever come out of Minnesota.
I flashback to my season at Lakeville North where I played with Erika Rozell, Michaela Zins, Justus Perry … I didn't get all the playing time in the world, but it was awesome to see my teammates be so successful and to be a part of that, to help them see why they are so great beyond their mechanics, beyond their talent. Giving back to the game was super important to me, so I was a role player and I've just naturally been a coach. I can't put into words what being a good teammate has meant to me both on and off the field, so I think that is what has driven me to throw myself into coaching. Making money and finance is cool, but helping kids empower themselves and being the person I needed in y life is what made me go for it.
AA: It's just having that common goal with more than yourself. It's a team effort and it's one goal and it's bigger than yourself and everyone knows that from your left and right, so the full team's on board. It's just an amazing opportunity to have friendships and sisters who will be with you for the rest of your life. There's more to it than just the game. The game is people itself and its helping the girls understand what all plays into this.
What impact do you want to have on your girls?
AA: It's about helping them find their voice and be themselves. Embrace this game and have fun with it. It's fun; don't lose sight of ther fun. Let them see how they can grow by themselves individually and be strong women. That's what we're trying to implement.

MB: My biggest thing right now is leaving the dugout better than when they found it. People, places, I just want them, both on and off the field, to leave things better than they found it. Because at the end of the day, you're not going to remember the championships, you're not going to remember your batting average, you're not going to remember all of these things but you are going to remember how people made you feel.
How do you think practices are going?
MB: I love it. I think these kids are absorbing everything.
AA: They're hungry to learn. It makes our job easy, honestly.
MB: I'm excited because there is an exchange student from Spain who thought there are six bases in softball, so that really excited me to teach the game to someone who just is seeing things that they haven't done before and having them feel things that — wow — I can do this.
AA: And they're learning to use the correct techniques that we're trying to implement. They're learning accountability and what we're all about. They've got this.