Tri-City United wrestling continued an impressive 2021 campaign Feb. 21, as they ran over Le Sueur-Henderson and Medford on their way to another pair of victories.
The Titans improved to 14-6 on the season, beating LS-H 69-9 and Medford 58-12. In the other meet at the Le Sueur triangular, the overmatched Giants went down to Medford 6-57. LS-H dropped to 2-15 on the season.
In the most recent Feb. 21 Class AA rankings, the Titans did not make the top 12 but received votes, floating just outside. Several individual wrestlers were ranked, though: Caleb Whipps was No. 9 at 145 pounds; Brody Rud was No. 4 at 182 pounds; and Riley O'Malley was No. 4 at 220 pounds. Elsewhere, Ayden Balma (106), Chris Johnson (120), Caden O'Malley (160) and Marco Reyes (170) all have 11 or more wins, qualifying them for the most recent Star Tribune honor roll list.
It was tough for the shorthanded Giants to keep up with a deep and strong Titans lineup.
At 106 and 113 pounds, TCU got off to a 12-point lead, via two forfeits for Riley Skluzacek and Chris Johnson. The Titans added another 3 points, as Gavin Sherman won a 9-5 decision over LS-H's Wyatt Genelin at 120 pounds.
TCU kept rolling as Zach Balma pinned Mark Boisjolie at 1:11 at 126 pounds, and then Brant Lemieux picked up a forfeit win at 132. By this point, the Titans were up 27-0.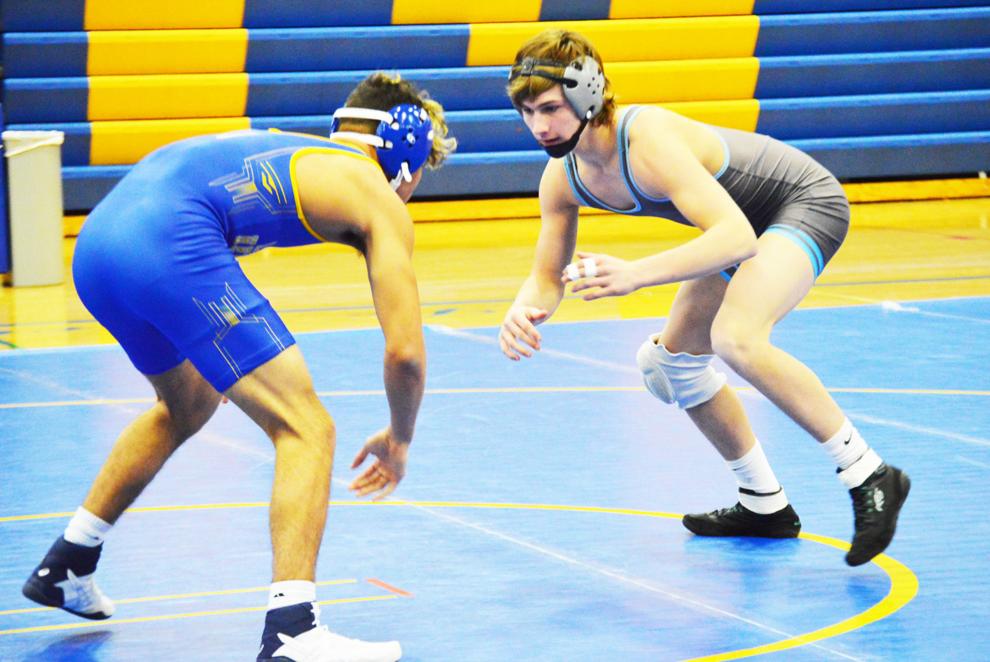 The Giants got their first win via Dylan Novak at 138 pounds, who won a very close matchup over Cole Franek with an 11-10 decision.
The Titans responded with three consecutive pinfall victories. Caleb Whipps pinned Andy Genelin at 1:16 at 145 pounds; Carter O'Malley pinned Jordan Grinde at 5:20 at 152 pounds; and Caden O'Malley pinned Ethan Genelin at 3:06 at 160 pounds.
The Titans win streak continued as Marco Reyes picked up a forfeit at 170 pounds, before Brody Rud pinned George Doherty, of LS-H, at 182 pounds at 1:38. Tegan Determan and Riley O'Malley then picked up two more forfeit wins for the Titans at 195 and 220 pounds.
The Giants were able to finish the meet on a high note, as Noe Sanchez punned Dalton Horejsi at 44 seconds in the 285-pound matchup.
Tri-City United had similar success against their other opponent at the triangular, though Medford was able to grab an early lead, picking up 3 points, via a 9-7 decision win, at 106 pounds.
But from there, the Titans took over. Chris Johnson started it off with a pinfall win at 1:14 at 113 pounds. Then Gavin Sherman was awarded a forfeit win at 120 pounds, before Zach Balma got a major decision, 16-7 at 126 pounds.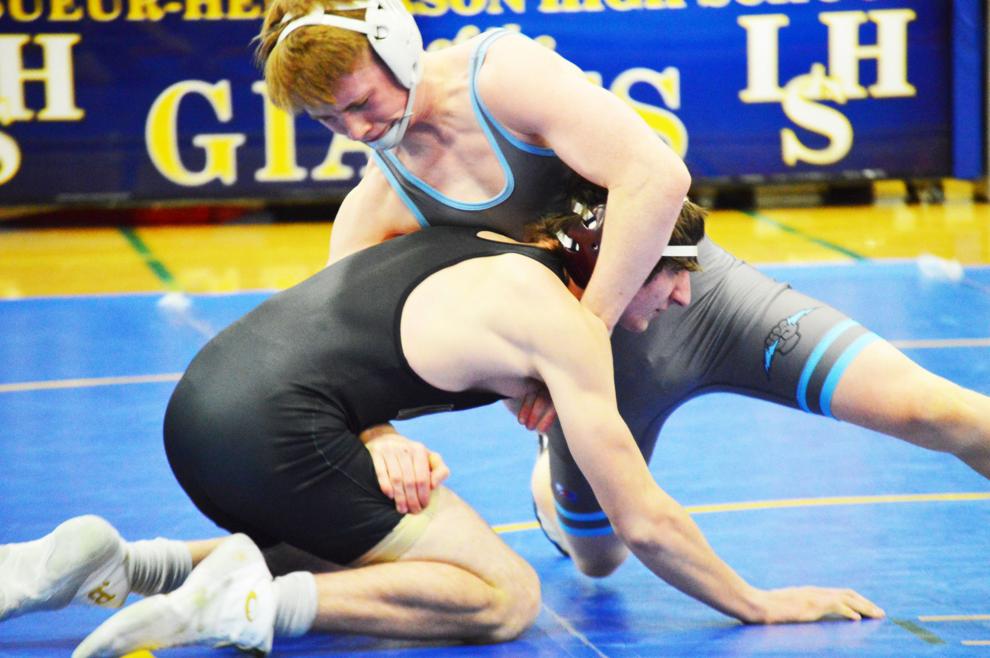 Brant Lemieux picked up a forfeit win, and then Cole Franek grabbed a pin at 4:14 at 138 pounds, and Cater O'Malley did the same at 1:19 at 145 pounds.
Caleb Whipps tacked on another 5 points for TCU, as he won a 21-6 technical fall at 152 pounds, before Caden O'Malley added 3 with a 8-5 decision at 160 pounds.
Medford was able to take its point total to 6 with a very tight 7-6 decision win at 170 pounds. But the Titans' Brody Rud answered with a 4-point major decision, 16-7, at 182 pounds. Tegan Determan and Riley O'Malley each picked up their second forfeit wins of the day at 195 and 220 pounds.
Medford stole the last 6 points with a pinfall win at 285. But by then, the Titans lead was beyond insurmountable.
The Giants weren't able to be as competitive as they would have liked against Medford, picking up only one victory from one of their strongest performers of the season. Dylan Novak, at 138 pounds, was able to pin his opponent at 3:22.
Elsewhere, Medford picked up pinfall wins at 113, 126, 145, 152, 160, 170 and 285. they also received forfeit wins at 106 and 182. The other weights were ruled double forfeits, with neither team receiving points.