The early shore fishing bite has turned on — at least at one area lake.
Sunfish and crappies are biting at Ray's Lake in Elysian. Anglers reported catching a good numbers of sunnies and nearly as many crappies, plus a few largemouth bass in the week of March 22. Most of the fish are small, so anglers have to sort through them for keepers.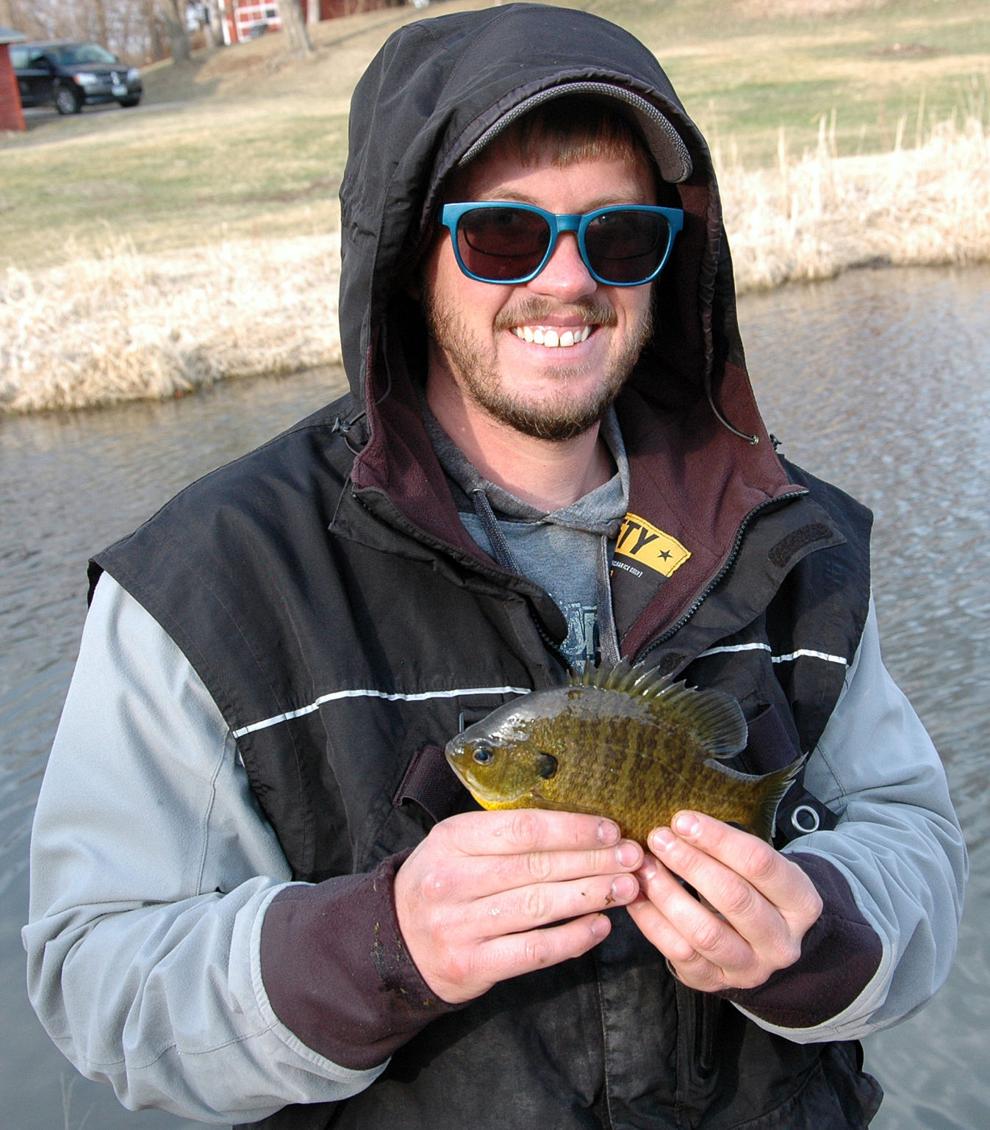 Nick Myhra, 30, of St. Peter ventured out there for the first time March 22 with ice still on portions of the lake. But the lake opened up in the popular shallow shore fishing spot on the west side, along Le Sueur County Road 11. The backwater on the other side of the highway also is ice free, but the water was still cold in the high 40s, while the air temperature was in the 50s. It's only gotten warmer since.
Back there fishing on March 26, Myhra had five keepers, including four sunnies and one crappie, averaging 7.5 inches, with the largest crappie about 9 inches.
"I'm hoping to have a fish fry tonight with a couple of friends," Myhra said."
He threw back another 20 or so smaller fish. He was also using night crawlers and minnows with a small ice jig for bait. He also tried wax worms and an artificial jig bait, but didn't catch as many.
"This is usually about the earliest shore fishing spot," said Myhra, who has fished Ray's for about 10 years. He was fishing off the culvert that runs under the road. He said they bit better in the warmer part of the day.
"It's better on the other side a little later once the water warms up," Myhra said. "They go back there to spawn. Some years they're better than others."
Myhra tried the Sawmill area earlier in the day on East Lake Jefferson, but he didn't catch any.
Jess Nielson, a 64-year-old retired carpenter, has been fishing Ray's every year since he moved to Elysian 12 years ago, so he knows the lake well as other well as other area lakes
In his first time out fishing this season March 26 on Ray's, Nielsen reported catching about 25 panfish, with four keepers in the 8-inch range. Some days bigger crappies in the 12-inch range move in.
"I kept five to eat, and I threw the rest back," Nielson said.
He was catching them most with a piece of a nightcrawler on a small ice jig. But he also had luck with crappie minnows.
The fish come in and out in schools through a opening into the main lake, Nielson said. There used to be a road there, but that's now underwater and weedy.
"Every spring I see people catching fish here, it's good fishing," Nielson said. "I see 10 people catching 'em here as fast as they can throw them out. This is probably one of the first spots people come to. This is an early spring hole.
"Male sunnies and crappies are moving in to build nests for females to hatch later. They bite as soon as this warms up and melts even if there is ice out deeper. It's really shallow (2 to 3 feet). It's weedy here. When it gets warm, it fills in, you can't fish this side."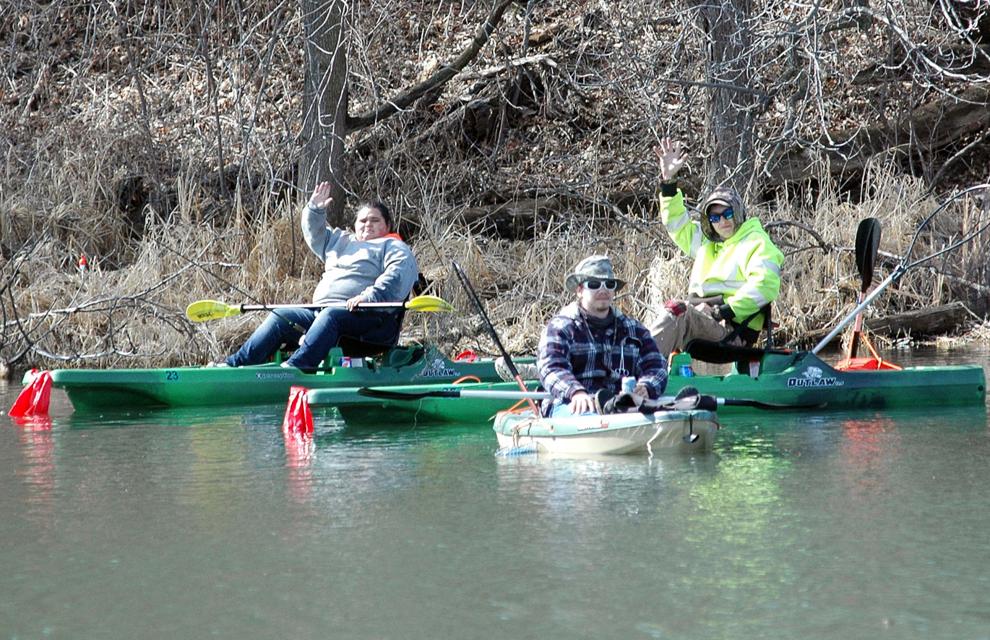 But you can fish the other side of the highway.
"There's a pretty nice hole on the other side," Nielson said. "You can catch crappies from the ditch right off the highway.
Nielson also fishes on the East end of Ray's along the highway on Ridge Road from the culvert to the no passing sign. "Set it at about 2 feet like we've got here and just throw it out as far as you can, be patient and it works well," Nielson said.
This year's spring bite is earlier than normal, Nielson said. "There's still ice on nearly Lake Francis. I get some really nice crappies there on the boat landing as soon as the ice is gone and it warms up a little bit more."
This is a somewhat early time of year when the fish start biting. As the water warms up, more fish will move into the shallows in search of food and to spawn.
At the same time, fish will start biting better in more backwater shore fishing spots.
Those include the Le Sueur County Sawmill backwater area on East Lake Jefferson, the Lagoons on Lake Tetonka in Waterville, the Morristown dam area, the channels between East Jefferson and German lakes and between Middle and West Jefferson lakes. Fishing piers are available at the Sawmill, the Lagoons and German.
Other piers in Le Sueur County include the German-Jefferson Sportsman Club one on West Lake Jefferson near Cleveland, Clear Lake County Park in Lexington, Ray's Lake County Park in Elysian, and two on Tetonka Lake (Tetonka Lake Lagoon and Tetonka Lake) in Waterville.
Blue Earth County also has a number of fishing piers including one on each end of Madison Lake. One is at the public access in the city's Northshore Park. The other is the county park on the south end. That area also has an extensive handicapped accessible shorefishing area called the Buckmaster's Bridge area.
Other fishing piers in Blue Earth County include Crystal Lake in Robinson Park, Hiniker Pond Park and Lion's Lake in Mankato and two on Lura Lake in Daly Park near Mapleton.
In addition to fishing piers, most lakes have public shore fishing opportunities. Anywhere where there is a public access is open to anyone to fish. The public accesses usually have a dock. Most lakes also have parks that offer fishing spots.
The Minnesota River also has extensive shore fishing opportunities. Some of the hot spots include ones where channels flow in out of the river and near bridges. A popular spot is Riverside Park in St. Peter, which also has the Mill Pond stocked with fish for youth younger than 16 and senior citizens.
Another popular fishing spot will be the St. Peter Trout Ponds when the Minnesota stream trout fishing season opens April 17. And then, of course, the biggest fishing opener of the year, walleyes and northerns, will start statewide May 15.
But for now, panfish can be caught close to shore in shallow water areas.