The LS-H wrestling team endured two losses at their home wrestling triangular Thursday, Dec. 12, falling 63-16 against Maple River and 54-12 to St. Peter. However, it wasn't all bad news for the Giants. At the same meet, Le Sueur-Henderson inducted four alumni wrestlers into the school's Hall of Fame. In addition, the Giants wrestling team is improving, said LS-H Coach Mike May.
"I thought we did good," said May. "We're wrestling better. We're a young team and we're showing glimpses of things that they're doing directly. They're doing good on their feet."
In their first match of the night, the Giants went head-to-head against Maple River. The Eagles were a tough opponent and won both of their matches that night. Nonetheless, that didn't stop some LS-H wrestlers from coming out on top.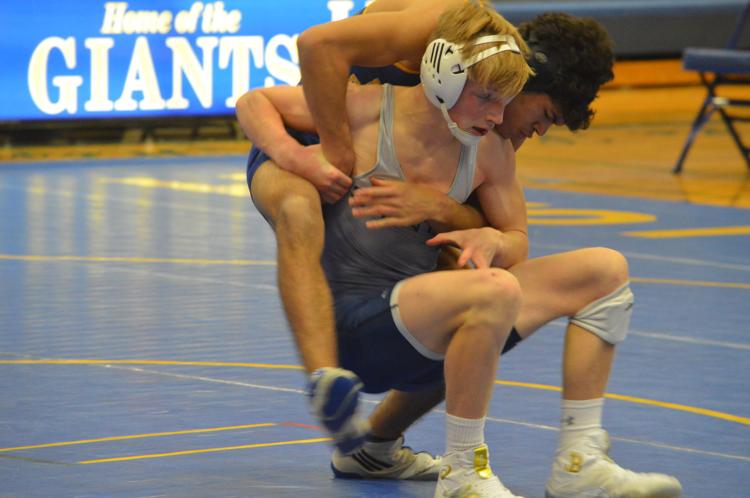 Andy Genelin collected six points for the Giants in the 120 weight class after pinning Maple River's Amarus Harris at 1:03. Jordan Grinde also earned the team a win in his match, trouncing Maple River's Noah Ziegler 11-2 by major decision in the 145 weight class.
"Jordan Grinde wrestled really solid at 145 and had a really solid match," said May. "He stayed on the grind in the match and came out on top."
Mark Boisjolie took the 113 match through forfeit but got his chance to compete when facing St. Peter, where he pinned Taylen Travaille at 2:34. Boisjolie was the only member of his team to compete and win a round against St. Peter. Isaias Sanchez took another six points for the Giants due to the Saints forfeiting the 182 weight class.
Hall of Fame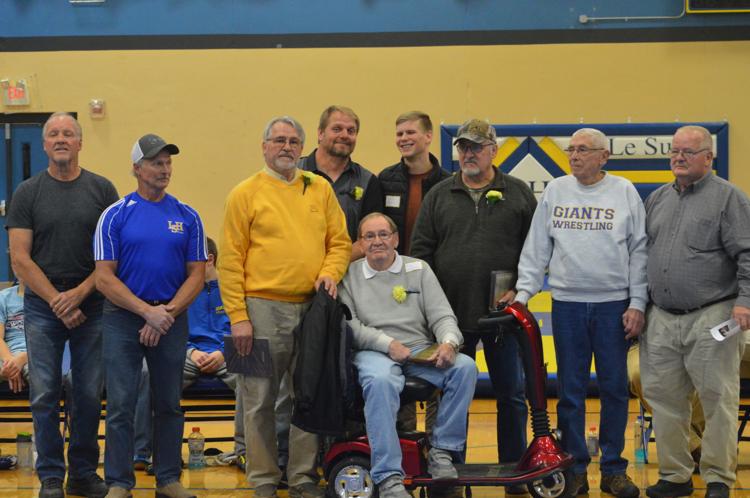 In between the Giants' matches against Maple River and St. Peter, Le Sueur-Henderson stopped to award five accomplished wrestling alumni with plaques inducting them into the Hall of Fame.
The first of the recipients was Gary Einerston of the class of 1967. Einerston began his wrestling career in eighth grade under coaches Jim Tohal and Don Nelson. He was a four year letter winner, wrestled at 103, 120, 127, 133 and 138 pounds, earned a multitude of All-Conference accolades and won two district championships and two regional competitions. After one year of service in Vietnam, Einerston graduated from Hawkeye Tech in Waterloo, Iowa and married his wife Cheryl of 46 years. They moved to the Faribault area in 1986 where he worked for the US Postal Service.
Chuck Sigler, a fellow graduate of the class of 1967, was also inducted. Sigler began his career at just 87 pounds, but later competed in 103, 120, 112, 132 and 127. A four-year letter winner, Sigler won wrestling district and conference championships in his sophomore, junior and senior year. He went on to marry one of the wrestling team's cheerleaders, Shirly, spent six years in the Navy and operated Chucks Electric in Red Wing for 28 years. Today, he has two children and five grandchildren, one of whom was a Wisconsin Wrestling Champion.
The third inductee was Larry Jones of the class of 1969. While this is his first time being inducted as an individual, Jones had previously been honored in the hall of fame with the whole team of 1969. He started his career as a sophomore at 123 pounds through 145 pounds. In his senior year, he went undefeated in conference wrestling, won the district championship and competed in regionals. Today, Jones works in flight dispatch, is married to his wife Debrah and has three sons and one grandson.
The next recipient, Charlie Miller graduated 20 years later in 1989. Miller started wrestling as a seventh-grader at 105 pounds and ended his senior year at 171. Coached by Wayne Roemhildt, Al Muehlhausen and Rick Dahn, Miller would go on to become subsection champion in his senior year, place second at the section tournament and go 1-2 at state. After graduation, Miller didn't leave wrestling behind and coached the Valley Elite Freestyle/Greco Roman wrestling club in Le Sueur from 2009-2015. He also started a propane company, Miller Gas, with his brother Billy, married his wife Mary Ellen and had four daughters and two grandsons.
The last to enter the hall of fame this year was recent 2013 Le Sueur-Henderson graduate Chris Pfarr. Pfarr began wrestling varsity in eighth grade at 103 pounds under coach Scott Wilson and assistant coaches Ben Wilson, Mike May, PJ Sommers and Tony Fuechteneberger. Pfarr earned numerous accolades including all-conference status as a junior and senior. He was team captain, a three-time state wrestling tournament place-winner and finished his senior year in third at state. At the University of Minnesota, Pfarr wrestled in the 174 and 184 weight classes, was a four-year letter winner, four-time academic all big 10, NWCA All-Academic and two-time top 5 male academic athlete and qualified for the D1 national tournament. Earlier this year, Pfarr married his wife Lindsey Smits and is currently in the process of completing his Master's.
The accomplishments of these five hall-of-famers served as a reminder of what Le Sueur wrestling team is capable of. As the season progresses, Coach May said he expects the team to grow.
"It's going to be a tough up and down season," said May. "We're young, we're learning and hopefully we'll progress by the end of it and get a little better."