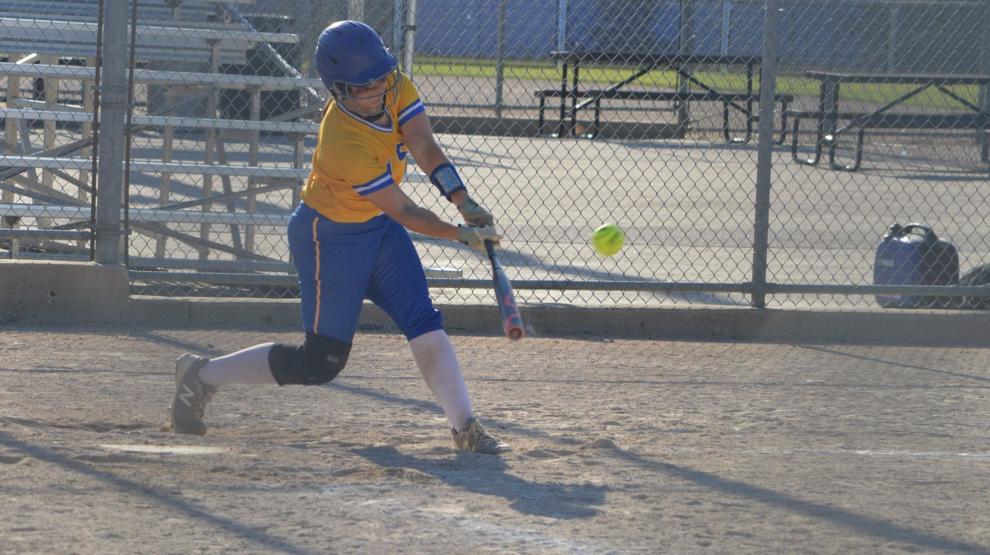 After two shutout wins on Saturday, the Le Sueur-Henderson softball team is headed to the Section 2AA Championship. In a stunning display, the Giants knocked New Richland-Hartland-Ellendale-Geneva in the quarterfinals and Belle Plaine in the semifinals in double 11-0 victories Saturday at Caswell Park in North Mankato. LS-H further defied the odds by finishing both games on a grand slam.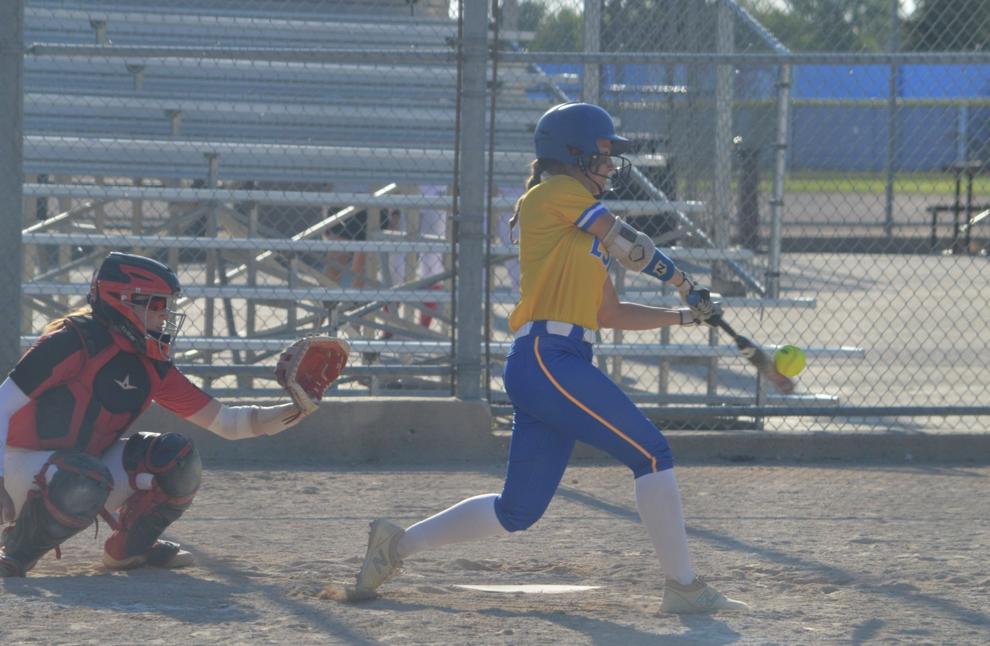 The Giants were slow to build up a hefty lead in both games, but pitcher Chloe Brandt continued to prove herself an essential asset for LS-H in pitching two shutout games. Against NRHEG, Brandt threw all six innings and delivered nine strikeouts while giving up just one hit. She also pitched the full six innings against Belle Plaine and struck out while giving up five hits.
Brandt's performance gave the Giants cover as they built up modest leads in both games. When facing NRHEG, LS-H held just a narrow 2-0 lead at the end of the fourth inning. Halle Bemmels opened the bottom of the first with a single, advanced to second on a sacrifice bunt by Brandt and scored on a single by Zoe Thomson. LS-H failed to score over the next two innings until Thomson reached first on a hit by pitch in the fourth and courtesy runner Morgan Gregersen reached second on a sacrifice bunt by Samantha Wilbright, stole third and slid into home on a ground out.
While Brandt had kept the NRHEG scoreless for five innings, the Giants' advantage remained tenuous. A misplaced error or a solid hit was all the opposing team would need to tie or overtake LS-H's modest lead. But in the last third of the game, the Giants burst ahead with two heavy hitting innings.
Makenna Borchardt opened the bottom of the fifth with a single and courtesy runner Delaney Pavlo reached second on a sacrifice bunt from Madi Wilbright and took third on an error. Bemmels reached first base on the same error by NR-H-E-G's first baseman. Brandt then knocked Wilbright home on a single. Bemmels scored on an error while Brandt reached third and was batted in by Rhyan Fritz. Olivia Fritz batted in Rhyan with a single, giving the Giants a 6-0 lead.
Fortunes aligned for the Giants in the bottom of the sixth. LS-H quickly loaded up the bases on three singles with Sara Milam on third, Borchardt on second and Bemmels on first. Brandt then batted in Milam on a fielder's choice. The Giants were up 7-0 when Rhyan Fritz stepped up to the plate and ended the game early. With the crack of the bat, Fritz homered to right, scoring Borchardt, Bemmels and Brandt and herself and securing an 11-0 victory.
Lead batters included Rhyan Fritz with two runs and five RBIs and Bemmels with three runs and two RBIs. Brandt contributed two runs and two RBIs while Milam, Delaney Pavlo, Borchardt and Gregersen picked up one run.
The Giants win over Belle Plaine in the semifinals followed a similar pattern to LS-H's victory over NRHEG. LS-H held a tight lead over their opponent for most of the game, but thanks to Brandt pitching a shutout, the Giants had cover to deliver a grand-slam knockout in the end.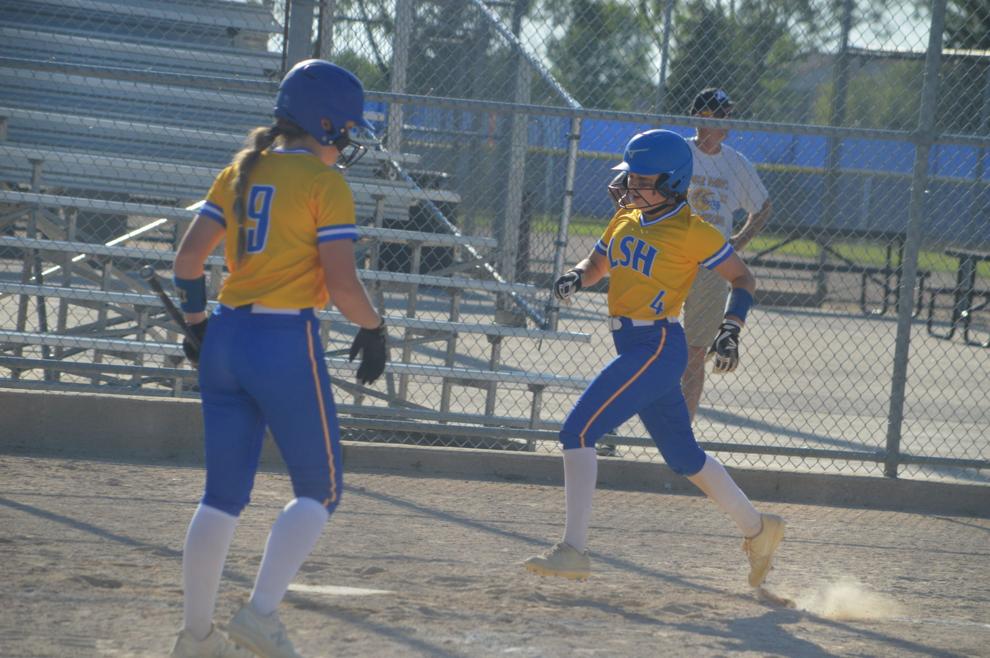 The Tigers proved to be a potential threat early on. In a walk and two singles, Belle Plaine opened up the first inning by loading up the bases. But with a line out caught by Samantha Wilbright on second base and two consecutive strikeouts pitched by Brandt, the Giants held off the Tigers with three runners on base.
LS-H followed up by putting two runs on the board in the bottom of the first. Brandt led with a triple and Rhyan Fritz produced her second home run of the day, knocking herself and Brandt into home.
The Tigers knocked out LS-H at zero in the second and third innings, but the Giants added to their lead in the fourth. Borchardt opened with a single and courtesy runner Delaney Pavlo reached second on a sacrifice bunt. Brandt knocked Pavlo in on a single, giving LS-H a 3-0 lead.
The Giants produced yet another home run in the fifth, this time by Thomson. LS-H's hitting got better and better as they headed into the sixth inning. Borchardt and Madi Wilbright reached second and first on two errors and were knocked in on a three-run homer by Bemmels. The Giants then loaded up the bases on two errors and a walk. With Brandt on third, Rhyan Fritz on second and Thomson on first, Samantha Wilbright hit a grand slam to left nd sent LS-H into the championship round.
Lead scorers of the night included Samantha Wilbright with one run and four RBIs, Halle Bemmels with one run and three RBIs and Rhyan Fritz with two runs and two RBIs and Brandt with two runs and one RBI. Thomson, Borchardt, Pavlo, Madi Wilbright and Gregersen each picked up one run.
"It's always good to get out of Saturday without a loss," said Coach Anne Lewis after the Giants victory over Belle Plaine. "Now we don't have to play through Thursday and have time to regroup and ice and rest. It's an awesome feeling. You really can't make that up that we have two walk-off grand slams in the sixth inning in the section games. Today was unheard of."
The Giants' opponent in the section championship is yet to be determined. NRHEG and Lake Crystal Wellcome Memorial will compete on Tuesday, with the winner facing Belle Plaine for a chance to compete in the finals.
"I think we're in a good position," said Coach Eric Lewis. "As long as we're focused, and I would not expect anything less than that, we'll have a good opportunity on Thursday."