Le Sueur-Henderson senior MaKenna Reinhardt battled through the toughest competition she has faced in the Section 2AA girls golf tournament to win the section championship and her fourth trip to state.
To top it off, she did it walking 18 holes pulling a golf cart in 95-degree heat and humidity Tuesday at New Prague Golf Club.
But she took the heat in stride.
"I just drank a lot of Gatorade and a lot of water, and I had an umbrella up to give me shade the whole time, so it was manageable. But I'm glad to be in the AC (air conditioning) right now."
Reinhardt shot 81-81-162 to earn medalist honors. She averaged 41.5 per 9 holes this conference season, so she shot about her average for 18 holes. Her previous best place was third, and she placed fourth twice.
"I was more nervous this year because were a lot more teams added," Reinhardt said. "The competition has gotten harder as I've gotten older. If I would have had the scores that I went to state with in eighth grade, I wouldn't have gone to state with this competition. I was nervous for the new competition, but now I know I have the ability to move on. Now I have confidence going to state. "
Making state for the fourth time "is exciting," Reinhardt said. "It's very exciting to win the section. I'm nervous, but I think it will be a good experience as it always is."
Reinhardt played steady except for a couple of holes.
"I had a couple of blow-up holes," she said. "I had one triple bogeys each day. I had a triple today on a par 3, and I had a triple the first day on a par 5. Those kind of hurt my score, but I was consistent throughout the rest of the round, so it didn't hurt. I ended up scoring well.
"I had one birdie each day. I had a lot of two-putt pars. Some birdies just missed the hole, but I don't mind a tap-in par."
The state tournament returns again June 15-16 to Ridges at Sand Creek Golf Course in Jordan.
Reinhardt's goal at state is break 80. "I always shoot for low 80s, and if it's a good day and I shoot in the 70s, that would be awesome."
The competition will be much harder at state, Reinhardt said. "Girls will be coming from all over the state, and they will be the best of the best."
Since her last time at state two years ago, Reinhardt said overall she "has become more consistent with her scores. I can hit more drives probably a hundred yards farther just because I really improved my swing."
Reinhardt said she averages about 240 yards per drive, and that will help at Jordan which is a long course, and New Prague is short course.
"The goal at this course is to hit it in the fairway," Reinhardt said. "New Prague is a tricky course because of all the trees, but they provided a lot of shade today. It doesn't matter how long you hit it because it's not a very long course. Jordan has open fairways and no trees on front 9. The back 9 has trees."
Reinhardt thanks her head coach/dad Rod Reinhardt for keeping her grounded. "I really liked having my dad as a coach. He really helped put some sense in me and keeps my grounded when I'm getting angry. He really stepped up and did a really good job this year as a coach."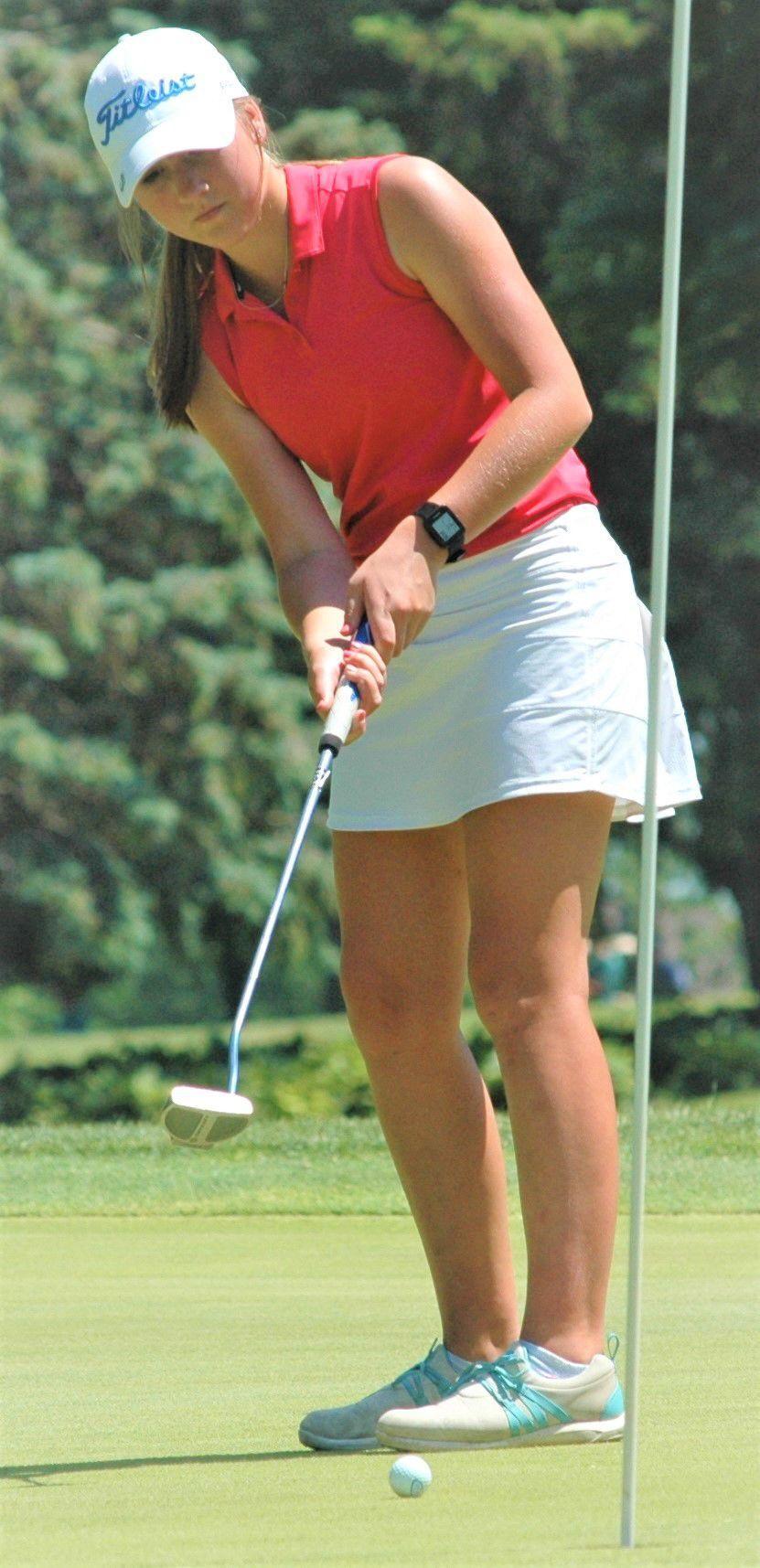 As a team, the Giants finished fourth in the 10-team section. Fairmont edged St. Peter for first by three strokes 724-721 to earn a trip to state. Southwest Christian took third with 772 and LS-H/Cleveland/Sibley East placed fourth with 407.
"We all improved in the section compared to our scores earlier this season," Reinhardt said. "I'm really proud of all the girls. They did a great job, and they were so much fun. They are a great group of girls."
The top five individuals not on the top team also made state: Reinhardt 162, Megan Nelson of Waseca 166, Victoria Woytassek of Jordan 167, Adrianna Bixby of St. Peter 169 and Morgan Eckman of Jordan 174.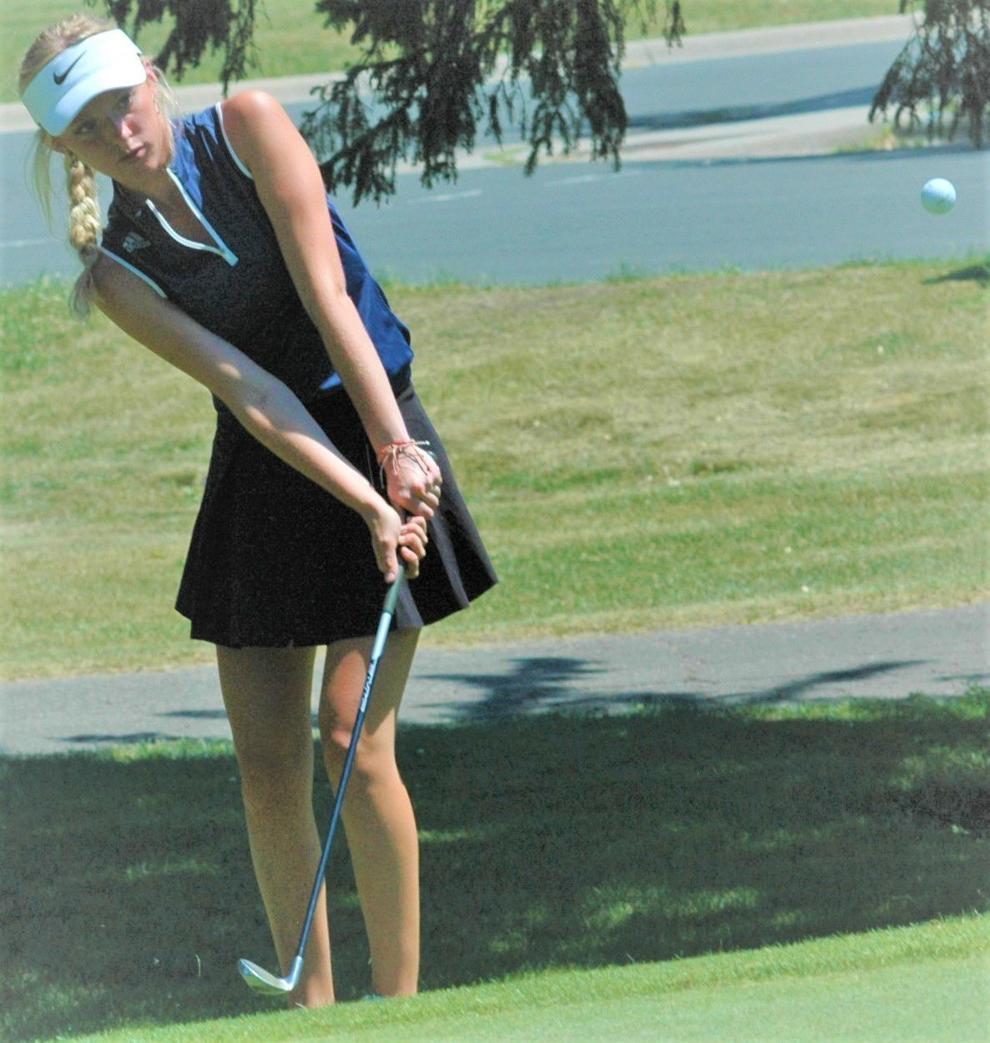 "They played in some very hot conditions at the New Prague Golf Club," coach Reinhardt said. "It was 65 degrees warmer than some of their first matches of the season. Playing well again at section finals was MaKenna Reinhardt who shot another 81 to match her first 81 and placed first place overall for individuals. MaKenna is off to the state tourney for her 4th time and is looking for a top 10 finish."
Darbi Dunning had the next best score and shot 105 for a total of 202 placing 21st. Eighth-grader Allison Cink came in with a 111 for a total of 212. Cooper Vanden Einde had a 110 for a total of 212. Peyton Hartmann fired a 119 for a total of 234. Sofie Wilson rounded out the scoring with a 121 and a 242 total.
"The team is young and will be back again next year looking to take the title and move on to state," coach Reinhardt said.