Building out broadband connections, linking communities with trails, promoting tourism and more were on the minds of the community on July 15.
Out of the Le Sueur County Fairgrounds in Le Center, the Blandin Foundation and Southern Minnesota Initiative Foundation hosted a countywide envisioning forum to brainstorm ideas for economic development projects. City officials from Le Sueur, Le Center and Cleveland, Le Sueur County commissioners, economic development leaders and state representatives Brian Pfarr, R-Le Sueur, and Todd Lippert, DFL-Northfield, joined with county farmers and business owners for the opportunity to affect change in their county.
Using community insights, a steering committee of county leaders will develop projects to be completed within the next one to two years focused on strengthening the county's economy. Before providing feedback, participants took part in an asset mapping of the community. Hosts told the attendants to list assets within the community that could serve as a draw for business and new families. Participants also listed organizations and individuals who could be a source of funding for community development projects. From there, attendants formed discussion groups to develop ideas to be voted on by the larger committee.
"Doing the asset mapping really was a learning experience, because there were so many different people here from different places in the county that were here for different lengths of time," said Meg Stuedeman, a farmer from Derrynane Township. "Some people were born here, some just moved in, so I was surprised by a lot of the assets that came up."
Each member of the community shared their own ideas on assets to highlight from natural resources to local business, broadband, housing and more. Together, the community developed around 11 different ideas, but participants just had three stickers to select their top priorities.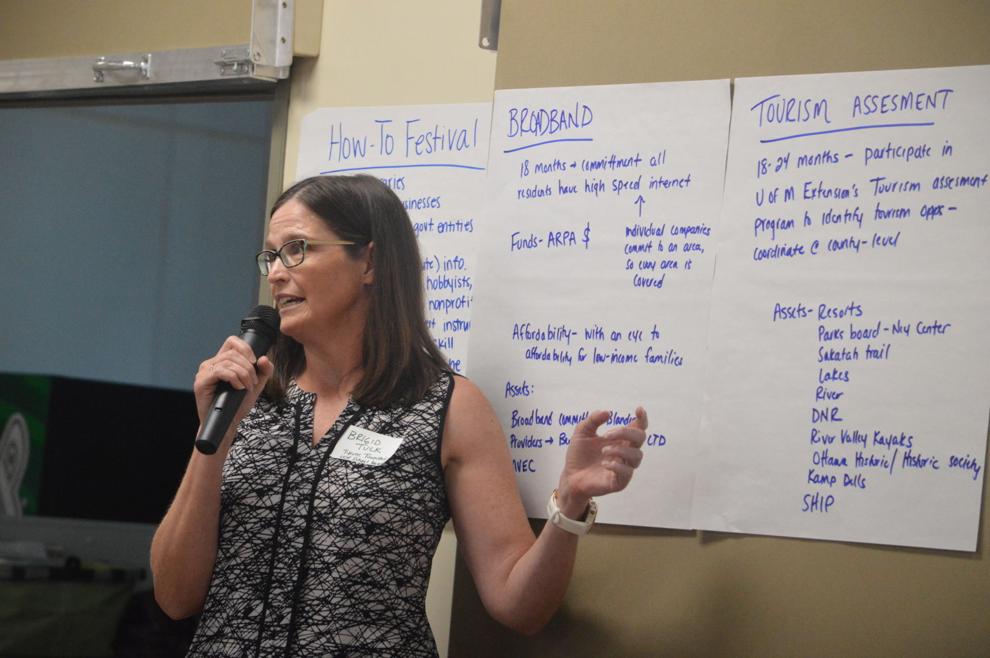 "I'm a farmer, so I'm very interested in agriculture remaining strong here. It's a big asset both for and for financial resources," said Stuedemann. "I also think it can be a big draw for agritourism. You can draw people from urban areas who want to experience agriculture, whether that's education, farm tours, doing farm stands, that's a really nice way to integrate our environment and economy together."
Topping the community's list of priorities was ensuring high-speed broadband connections to all in the county. The proposal highlighted federal dollars from the American Rescue Plan as a funding source with an 18 month timeline. Community members also stressed that high-speed internet should be affordable for low-income families.
Building upon Le Sueur County's existing network of trails was also another high priority of the community. Proponents called for trails to provide ease of access to the county's natural resources, including lakes, rivers, campgrounds and parks. Another group pushed for a county-wide trail system that would connect to Sakatah Trail and provide access to the Minnesota River.
"I would like to see them use our natural resources," said Julie Widmer, a swine farmer from Union Hill. "I mentioned the Ney Nature Center being in our community and with a river running through it, the Minnesota River. My family is very active in canoeing and kayaking down the river and a few weeks ago I saw a multitude of eagles, kingfishers and fish just jumping on the river, so we should take advantage of this wonderful resource."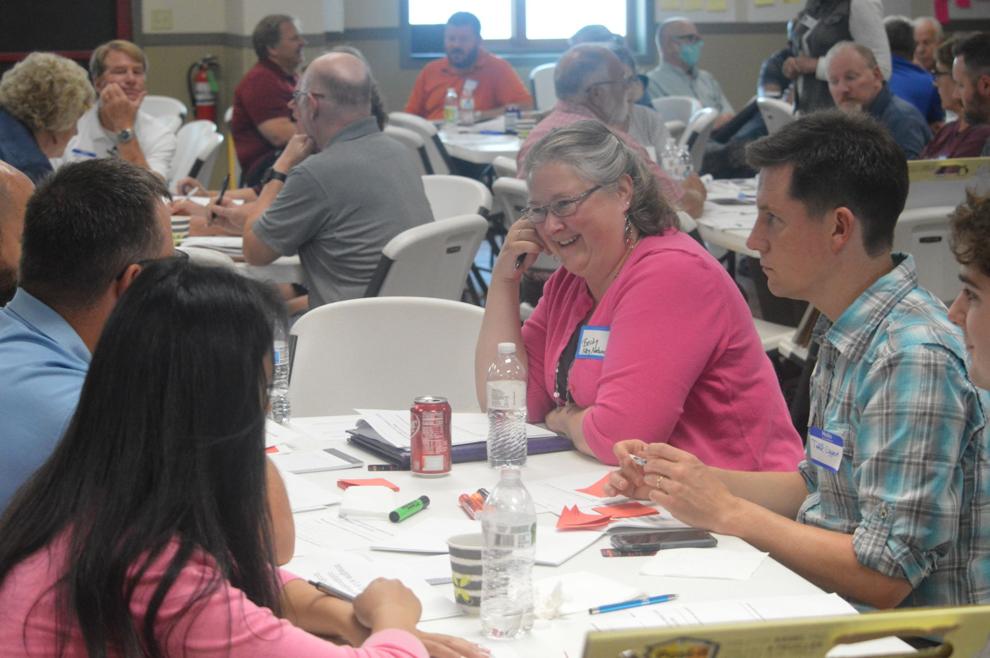 Other proposals formed by the community included a tourism marketing campaign and assessment. The tourism assessment would have the county participate in the University of Minnesota Extension Office's program to identify opportunities to attract visitors. The proposed marketing campaign would advertise each community's assets statewide and include a suggested itinerary for day trips.
A proposal for a county-wide economic development director, similar to city-level economic development directors, sparked community interest.
In addition, some suggested a rotating county-wide farmers market which would come to communities without an established farmers market. Others proposed a countywide vendor fair at the Le Sueur County Fairgrounds, which would highlight small businesses, farmers and crafters. Libraries could also be a way to highlight local businesses and hobbyists, suggested one group. In a proposed How-To Festival, the Montgomery Library would host short 30-60 minute sessions where local experts would provide instruction on various skills like "How to pick the perfect produce" or "How to create a fairy garden."
One group focused on bringing back youth to the county with a mentor program that would allow students to shadow local business and industry leaders, network and earn scholarships. Another group suggested creating welcoming and housing opportunities for newcomers while another pushed for crisis housing development.