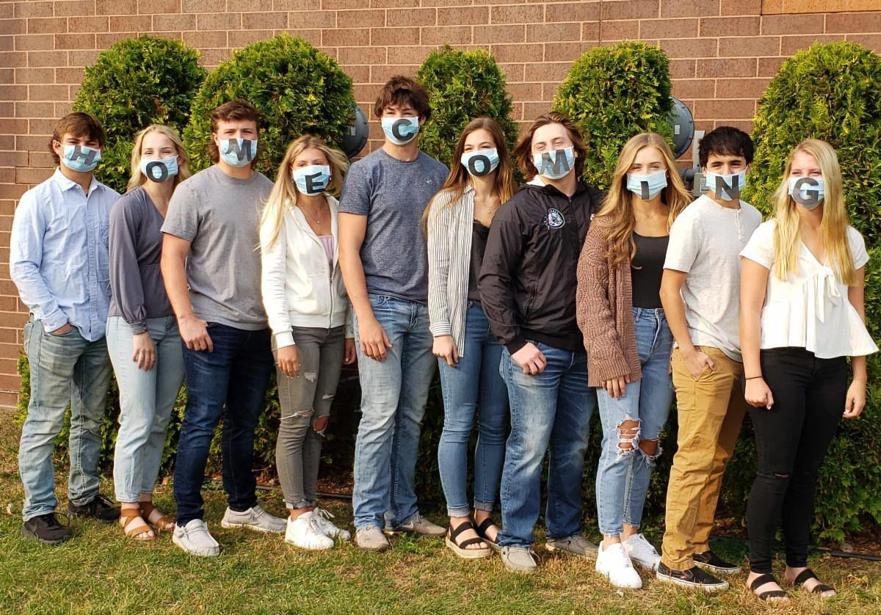 Tri-City United's Homecoming week was off to a great start with the announcement of 10 candidates for Homecoming King and Queen.
On Friday, Oct. 9 Tri-City United High School held a special event declaring Matt Rabenberg, Mason O'Malley, Riley O'Malley, Brody Rud and Dan Lozano as king candidates and Jordyn Brownlee, Brooke Blascko, Isabelle Factor, Annabelle Davies and Paige Johnson as queen candidates.
In line with social distancing guidelines, the ceremony was held outside the high school where each candidate wore a custom mask, spelling out the word "Homecoming."
The Homecoming King and Queen will be crowned on Monday Oct. 19 at 7 p.m. in the TCU Performing Arts Center, but only parents of the candidates and high school seniors may attend to allow for a socially distanced event.
After the candidate announcement, Tri-City United will begin two weeks of dress up days to accommodate both the A group learners and B group learners. Each day is themed around "The Wizard of Oz."
On Monday Oct. 12 and Tuesday Oct. 13, students dressed for "Wake up, Dorothy" day in their pajamas. Wednesday, Oct. 14 and Tuesday, Oct 20 were "Get your shine on" day, a time for students to bring their bling and sparkle like the Tin Man. Monday Oct. 19 and Thursday Oct. 22 were both "Scarecrow Day," where students wore flanel. Dress up days will conclude on Wednesday Oct. 21 and Friday Oct. 23 with school spirit days. Students will wear the colors black, blue and silver to show that they aren't too cowardly to support their school.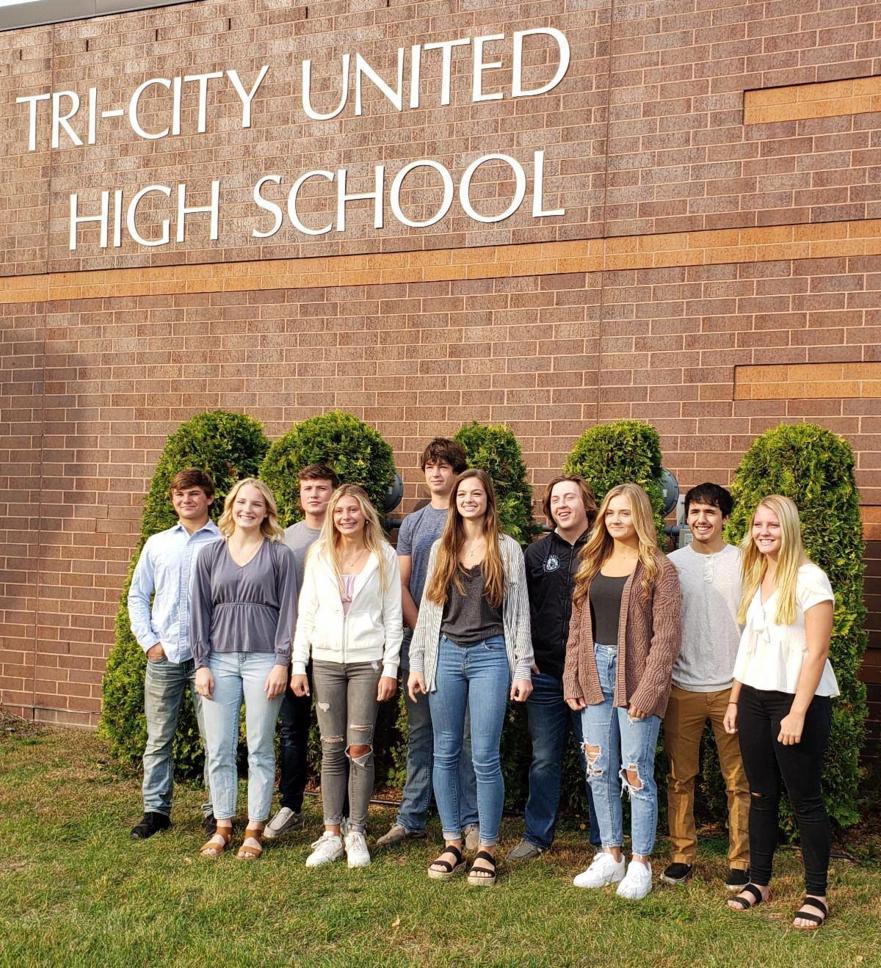 Tri-City United had many scheduled activities over the next two weeks to celebrate Homecoming. On Tuesday, Oct. 20 and Wednesday Oct. 21 at 2 p.m., the school will hold a hybrid dodgeball tournament. The B group tournament will be on Tuesday and the A group on Wednesday.
Also Wednesday, Oct. 21 at 7 p.m. is the powderpuff football game between the junior and senior girls. The athletic complex will only be open to juniors and seniors.
On Thursday, Oct. 22, there will be a silly string battle during each class period in the green space.
While access to these events may be limited for students and parents, all of them will be available to watch on livestream.
TCU will have several home sports games as well during homecoming. On Tuesday, Oct. 20, the Titans volleyball team was set to battle Belle Plaine at 7 p.m. The C squad game was at 4:15 and B squad at 5:30. The volleyball teams will meet at the same time on Thursday, Oct. 22 to face Le Sueur-Henderson at the TCU gym.
Homecoming ends with the Titans football game on Friday, Oct. 23. During halftime, the Homecoming Royalty will be presented and the Titan Marching Band will play some songs with flag performances.