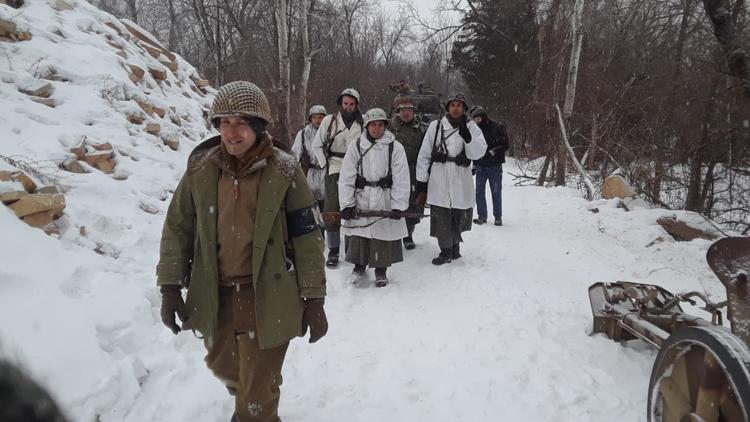 Minnesota met Hollywood last week as local Kasota business Drive A Tank became the site of an upcoming WWII film starring Tom Berenger and Ron Perlman.
After years of working in Minnesota, actor, writer and director Luke Schuetzle decided that the local business would be the perfect spot to film his new movie "Battle of the Bulge: Winter War," a sequel to his 2018 picture "Battle of the Bulge: Wunderland," which starred Schuetzle as Lt. Cappa alongside Tom Berenger, who is known for films such as "Platoon," "Major League" and "Sniper."
"Tony, of Drive A Tank, was gracious enough to let us come shoot for free and use some of his tanks, which obviously were vital in the Battle of the Bulge during World War II," said Schuetzle. "So we're out here shooting with some American vehicles and tanks and utilizing good Minnesota snow."
"Winter War" chronicles the infamous German surprise attack on allied troops between December and January 1944-45. The film returns to United States Lt. Cappa and his squad as they make their way behind the invading German army. They eventually find a U.S. supply depot that Sgt. Harris, an African-American soldier, is guarding. Upon the discovery, the troops must make the decision on whether to stay and defend the depot or leave it for the Germans.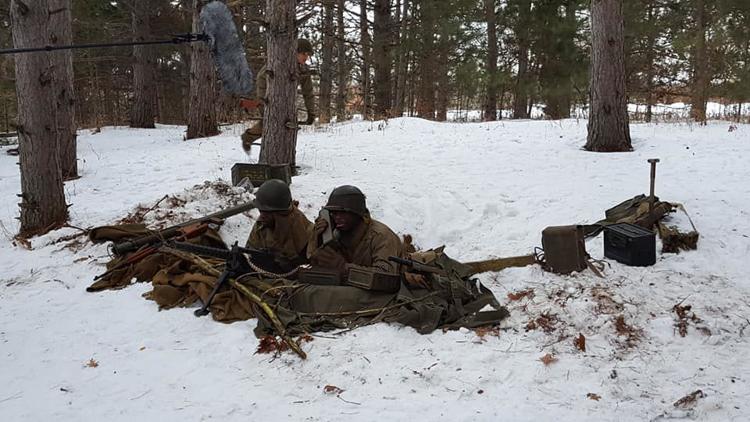 "It's based on a number of true stories in the Battle of the Bulge," said Schuetzle. "I try to combine them into one fluid overall story."
Being a history major, Schuetzle has had a long love affair with historic battles. He combined this passion with his love of filmmaking to create a series of war films. One of the largest productions he's worked on was 2015's "War Pigs," starring Luke Goss, Dolph Lundgren, Chuck Liddell and Mickey Rourke. Schuetzle released another war movie in 2019 titled "The Great War" featuring Bates Wilder, Billy Zane and Ron Perlman, who returned to work with Schuetzle on "Winter War."
"I started out in the film business doing a number of different things, producing and acting and stuff, and directing just fell into something I wanted to try and do with some of the war films I make," said Schuetzle. "I would play with army guys as a kid and I would always direct my own battles, so I'm pretty good at staging action. So I wanted to do that because it was fun."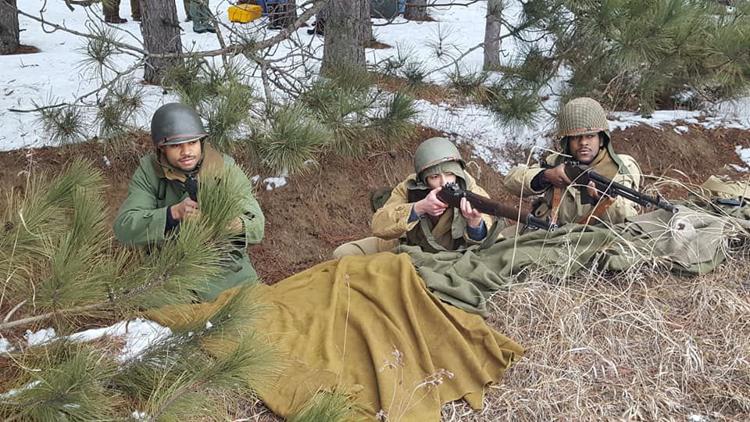 The filmmaker made the most of his time at Drive A Tank. The facility became a veritable battlefield with seven tanks rolling across the grounds over the weekend and 60-70 extras facing off in a mock battle.
"Luke is a visionary," said lead actor Jeremy Michael Pereira. "He's someone who creates a good set, and gets good people on that set, so it's very easygoing, no pressure. It's been incredible to get the action sequences that we're getting."
Pereira is returning to "Winter War" in the same role as in the previous film, Sgt. McKenny.
"I am the lead tanker, so I am the guy taking commands to my soldiers in the tank," Pereira explained. "You'll see a lot of action in this one, a lot of emotional sequences. My character is pretty gritty. I try and relate him to Fury with Brad Pitt."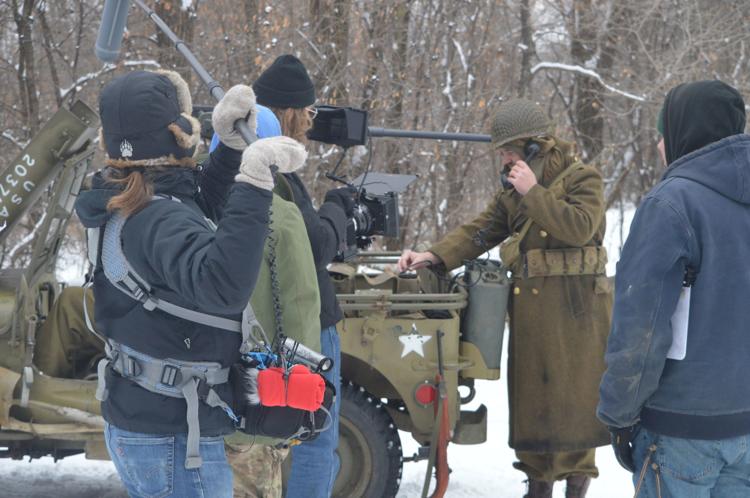 Also returning from "Wunderland" is Minnesota actor and production assistant Andrew Stecker. Growing up in Wisconsin, Stecker moved to St. Paul and fell in love with acting. In the Battle of the Bulge series, Stecker plays 'Doc' Anderson, the squad's medic.
"He stays at the medic station, because his primary job in the war is to keep them alive and keep them going the best he can," said Stecker. "That's something I really enjoy, because that's the role I would fit into. I'm definitely not a fighter, I'm more of a lover in that sense."
For Pereira and Stecker, coming back for the sequel was like returning home. Much of the cast and crew is the same as before and Schuetzle enjoys keeping the same faces around between films.
"Just to be able to put my medic gear back on, I literally just opened up my bin for the first time in four years and reunited myself with that wardrobe and I couldn't help but smile," said Stecker.
Schuetzle finished filming at Drive A Tank during the second week of January. Even for a picture about a winter war, the Minnesota weather proved to be a little too cold for the actors and the vehicles.
"Most of my filmwork was in Chicago, so cold I'm familiar with, but this cold I'm not familiar with," said Pereira. "2 degrees outside, I realized I needed a lot of clothing underneath my war clothing. So that's been fun just to be all packed up."
Production on the film is to resume in February and "Winter War" is expected to be released on home video in October on platforms like iTunes, Amazon and Netflix, and at major retailers like Walmart and Target.