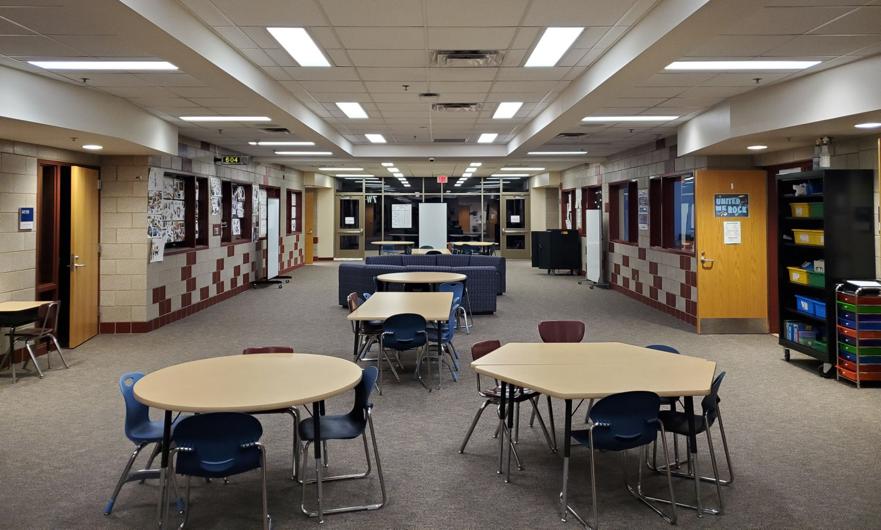 Educators are preparing for best and worst case scenarios before students return to school in the fall.
What the school year will look like for students is still a mystery. In light of the COVID-19 pandemic, districts have been instructed by the Minnesota Department of Education (MDE) to prepare for multiple possibilities including in-person learning, distance learning and a hybrid model, which would split students' time between face-to-face learning and studying at home. The MDE is expected to release its guidelines on July 30.
Here is what school districts have planned for so far.
The Le Sueur-Henderson School Board approved and published completed back-to-school plans for all learning models on July 23.
In-person learning would be similar to a regular school year, but the district plans to have extra precautionary measures in place to prevent the spread of the coronavirus. At the entrance of the school, students would be asked to self-monitor their symptoms to ensure they are asymptomatic before entering.
The district is also planning to set up two separate nurses offices to accommodate COVID-19. One nurse's office would be set up to handle students with coronavirus symptoms exclusively. A student with symptoms of COVID-19 would have to wait at the nurse's office until they are picked up by a parent or guardian. The other nurse's office would be open to students experiencing non-COVID related health issues.
Food service and transportation would be adjusted as well. Cafeteria food will no longer be self-serve. Instead, students will have their meals served by staff. Buses will be enhancing their cleaning policies and transportation will submit a report to the district in August on how they've updated their procedures. In a hybrid model, buses will be limited to 50% capacity.
With a hybrid learning model, all the same restrictions would apply, with added restrictions and reminders such as signage placed throughout the hallways to remind students to keep six feet apart and to help guide student traffic throughout the school. But the way students learn would look much different. At Park and Hilltop Elementary, all students would attend classes in person Monday through Thursday and attend distance learning on Friday. Because the student population is small at the elementary schools, relative to the size of the classrooms, elementary schools could continue to support full classes in a hybrid model.
"We have enough space, due to our population dropping, that we can bring in all students and still be at 50% capacity in a classroom," said Superintendent Marlene Johsnon. "We would utilize our teachers too. The homeroom teacher would teach the content and then another teacher would be supervising the other half of the class while doing different activities that have been co-planned in that area. Then the teachers would swap so they would go to the other students and receive the same thing."
Le Sueur-Henderson Middle/High School students would have a much different schedule. Students would be split into two groups, with one half of a class attending on Mondays and Wednesdays and the other half attending on Tuesdays and Thursdays. On Fridays, the groups would alternate between attending school in person and distance learning.
Students at home in the hybrid model would still be able to follow along in class, said Johnson. They can either log in online and participate in the classroom live or watch a recorded version of the class.
Distance learning, meanwhile, would look much like it did in the spring. Students would have technology distributed so that they can communicate with teachers, attend classes and submit work online. For students without internet access and/or those who want them, packets would be distributed to students by bus.
Meals would also be distributed by bus, but this year only families that qualify for free/reduced lunch would receive their lunches at free/reduced rates. The district will also provide childcare, but unlike last year the service will not be free to emergency workers.
"We tried to listen to what our parents were saying with social, emotional and the academic learning needed," said Johnson. "If we can get them to school, that would be the best option for our students, so that they could be here safely. "
The Tri-City United School District has made preparations for next year, but a finalized plan won't be published until after the state issues its guidelines. One of the major focuses of TCU's planning has been constructing a model for hybrid learning. TCU Superintendent Lonnie Seifert said he felt confident with the district's in-person and distance learning models, but that hybrid learning would be a new experience.
In a hybrid model, students would be divided into an A group and a B group, with each group attending schools at different times. A schedule has not yet been finalized, but students in the A group may attend school Mondays and Wednesdays, while the B group may attend school on Tuesdays and Thursdays. On Fridays, groups would alternate, with one group attending on Friday one week and the other attending on Friday the next week. When not in school, students would be participating in distance learning.
Alternatively, the A group of students may be scheduled to attend class Monday and Tuesday, while the B group attends Wednesday and Thursday with alternating Fridays. Early learners are planned to come in every school day.
On days students are in school, they would be focused on subjects like reading, writing, math and science, while off days would be focused on social studies, art, music and physical education. They would also be able to follow along in class through swivel cameras that could be installed in the classroom.
Currently, the school's plans are receiving feedback from teachers. The plan, which was put together by school administration, is being analyzed by an instructional task force, which will give input, highlight positive aspects of the plan and elements that need to be improved.
Administrators are still dealing with many of the problems posed by the hybrid model, most notably transportation. Under state guidelines for a hybrid model, buses can only be filled to 50% capacity.
"The biggest question that I have and other superintendents have is 'How is the transportation going to work?'" said TCU Superintendent Lonnie Seifert. "How do we get our kids here given the guidelines we've been given at this point?"
For in-person and distance learning models, however, Seifert believed that the learning could continue with minor tweaks. One adjustment the district is considering is narrowing the online platforms teachers use to reach students during distance learning in order to create more consistency across classes.
Cleveland has not yet released its learning models to the public. Superintendent Brian Phillips said that plans are written, but not finalized, and details would be published likely a week after the state guidance is released on July 30.
At a Cleveland School Board meeting, Principal Scott Lusk said the district had around 100 pages written up to prepare, but that there were things that would need to be addressed after the guidelines are released.
Major elements the district is looking to finalize include transportation and food service. Lusk said that the district would need to think outside the box, in order to meet student safety needs while also having them in the building.
"Feeding kids — if we can do that, we're going to need to be creative," said Lusk. "I'm talking outside hallways, gyms, just to get kids to have some sense of normalcy. It will take at least an hour to feed the kids minimum."
"Whatever they're going to say, we're going to be ready for that scenario," Lusk added.