"We've had a lot of really fun days," said Le Sueur-Henderson biology teacher Jeremy Goltz. As one of the new members of this year's faculty, it's his first time at a Le Sueur-Henderson Homecoming. "Very hectic today in the classroom. On Friday, since students are very excited to get to the homecoming football game … But overall its been a great week so far."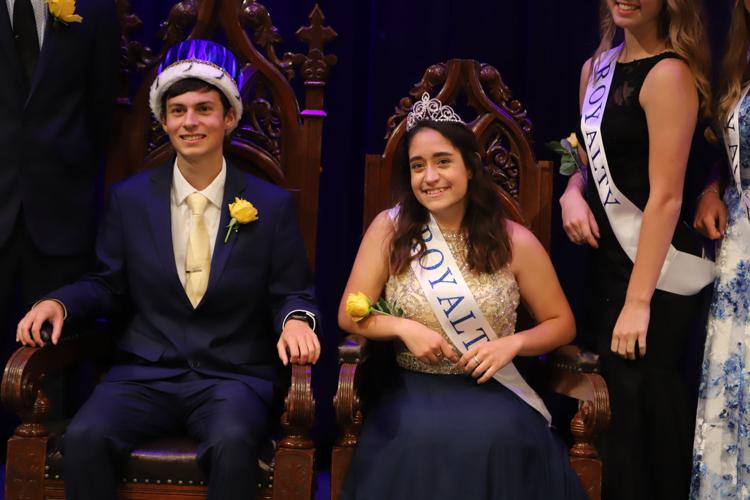 Festivities started off Monday, Sept. 30 with the coronation of the Homecoming King Seth Hardel and Queen Gail Warner. The two were seated in thrones among the court, which included Nolan Maczkowicz, Will Becker, Tommy Gupton, Tanner Hartmann, Callie Miller, Keely Olness, Morgan Goettlicher and Lauren Gregersen.
During the week, each day had a dress-up day and a lunch activity. On Monday, students played a game of musical chairs while wearing their Hawaiian shirts and leis for Hawaiian Day.
Country Day on Tuesday pitted the plain against the posh. Students dressed to represent either the country life or the country club and battled in a game of tug o' war and could even take their tractors to school.
On Wednesday, students competed in a half-court shooting competition while dressed in their most comfortable outfits for VSCO/Lazy Day. Then on Thursday, students were invited to show up to school as their favorite viral characters and compete in an ultimate rock, paper, scissors tournament.
Le Sueur-Henderson took two hours off the class schedule to make room for all of the activities.
Students came in the school colors, blue and gold, to participate in numerous events including bingo, dodgeball, sidewalk chalk coloring, movie showings and a boys vs. staff volleyball tournament.
Goltz boasted that the staff got the better of the sophomore and senior classes in the volleyball tournament.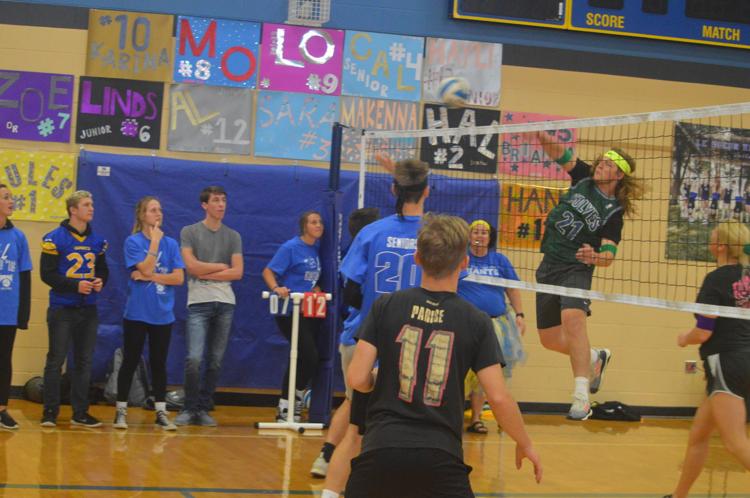 "This is my first year at Le Sueur-Henderson High School and yeah I got to get on the staff Volleyball team and we had a pretty good showing," said Goltz. "Beat the sophomores, beat the seniors, unfortunately, we lost to the juniors, I think that one was a little rigged in my opinion, but next year we'll be out full force, ready to go and we'll sweep the floor next year."
In the final hour of the school day, students and staff attended the Powderpuff football game between the junior and senior girls. For the first time in years, the juniors (pink) scored a 6-0 victory over the seniors (blue).
"We're used to it," said Halle Bemmels on defeating the seniors.
"It's been a long time coming," said Carrigan Strong. "We'd never done powderpuff before so it was a good start. We had no idea what we were doing half the time though."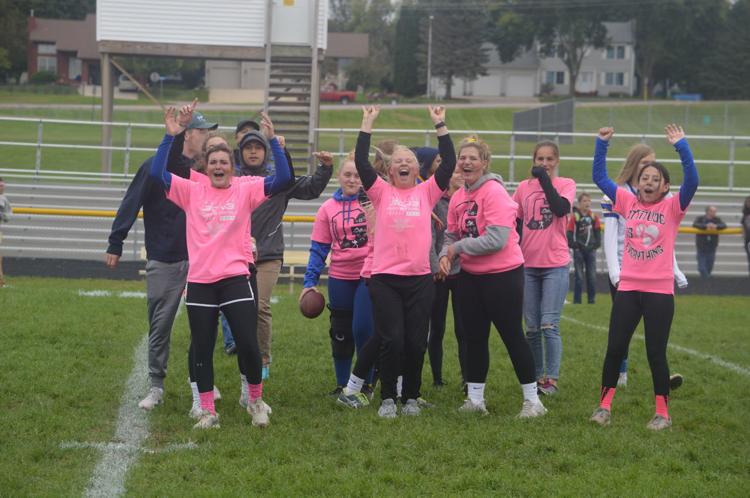 The girls said they couldn't have done it without their coaches: Giants quarterback Zack Berndt, wide receiver Dominic Drent, offensive lineman Isaias Sanchez, wide receiver Jesse Mercado and running back Lukas Graff.
The Giants would play later that night for the homecoming football game against GFW. It was a tough game for Le Sueur-Henderson and the Giants fell 63-0.
But after the game, students and players danced their cares away at the Homecoming Dance to music selected by DJ Halle "HBomb" Bemmels.
As homecoming came to an end, many felt it important to appreciate this time of year not just for the school, but for the community as well.
"There's a lot of school spirit in this town," said LS-H junior Makenna Reinhardt. "It's like a big family."