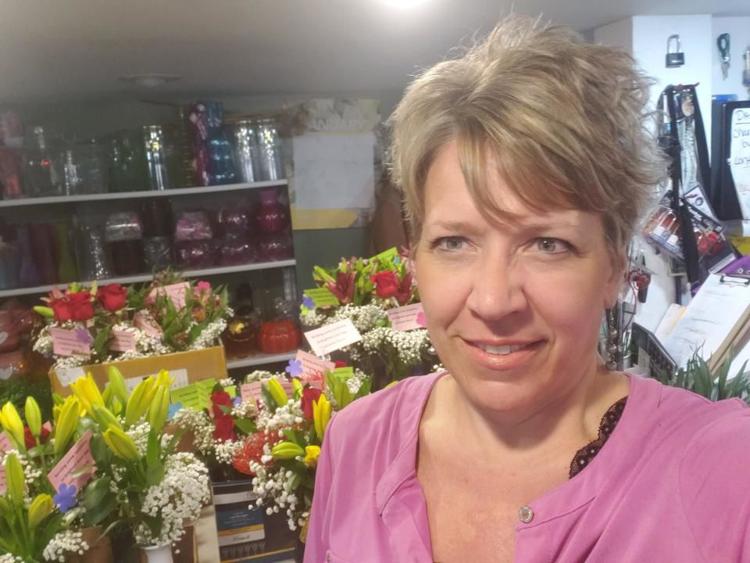 She's giving away more flowers than she's selling, but that's not going to stop Le Center Floral owner Jennifer Smisek.
The Le Center business owner gifted more than 200 floral arrangements to assisted living residents over the past week in Le Center, Le Sueur, New Prague, Montgomery and Lonsdale. Her mission? To cheer up residents who have to live under strict quarantine during the COVID-19 pandemic.
"My hope is that it puts a smile on their face," said Smisek. "And I hope that when they look at them, it just brightens their day. A lot of older people can't have visitors right now, so any type of day brightener for them can make their day go by a little faster."
The donations began just a few days after places of public accommodation were closed in an executive order by Gov. Tim Walz to prevent the spread of the coronavirus. Smisek was unsure if Le Center Floral would be able to stay open and decided to put the shop's aging flowers outside for passersby to pick up for free before they wilted.
But a new shipment was coming in and with weddings and funerals canceled and postponed due to the coronavirus, Smisek realized that she couldn't sell all of her product. Wanting to put her flowers to good use, rather than let them rot, Smisek started calling Horizon Place and Carriage House assisted living and Central Health Care nursing home in Le Center to see if she could send flowers to their residents.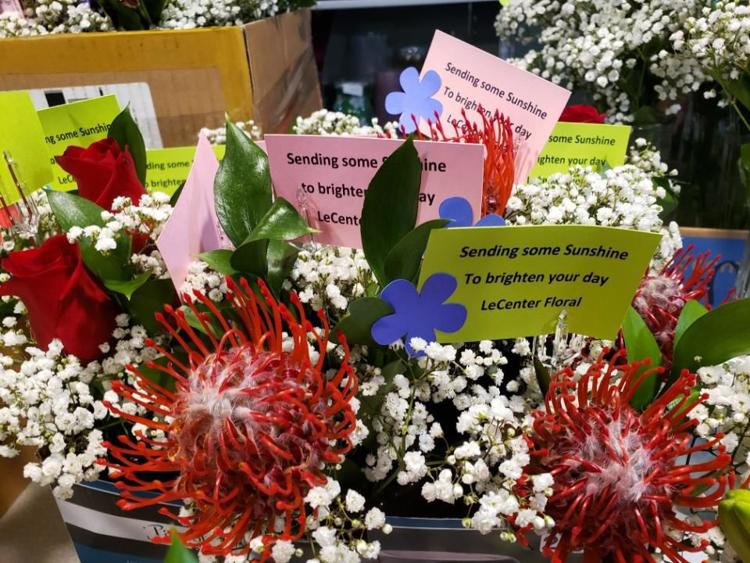 "They were happy and excited and they said it would make their day," said Smisek. "So I did, and within an hour of taking them, I had a couple of phone calls from residents thanking me and the first two calls I got were from men. I was pretty excited. It brought tears to my eyes and I thought 'Oh my gosh, even guys are appreciating this.'"
"They were so thrilled," said Sandy Genlin, a registered nurse with Horizon Place. "They were so happy to get those flowers I'm telling you. The smiles on their face. It's brightened their day. A lot of the flowers are still alive so they're very appreciative. The clients are very happy to get them; Jenny made their day."
"We are very grateful to have a store like that in Le Center and a person like Jenny to make life better for everyone," she continued.
The gratitude she received from the residents encouraged Smisek to redouble her efforts. What had began as 50 donations to local assisted living communities and nursing homes blossomed into an operation that spanned Le Sueur, New Prague, Montgomery and Lonsdale. While selling just two or three floral arrangements a day through pickup and delivery, Smisek was donating hundreds in a couple of weeks.
"My driver says this is a nonprofit organization, you give away more than you take in," said Smisek. "Which is true, but I can make a difference in those people's lives right now, and I had the flowers here that probably would have eventually gone to waste, because we are not busy. So I'm happy to do that. "
"My quest isn't over," she added. "As long as I can continue it on, I just think it's such a day brightener for these people."