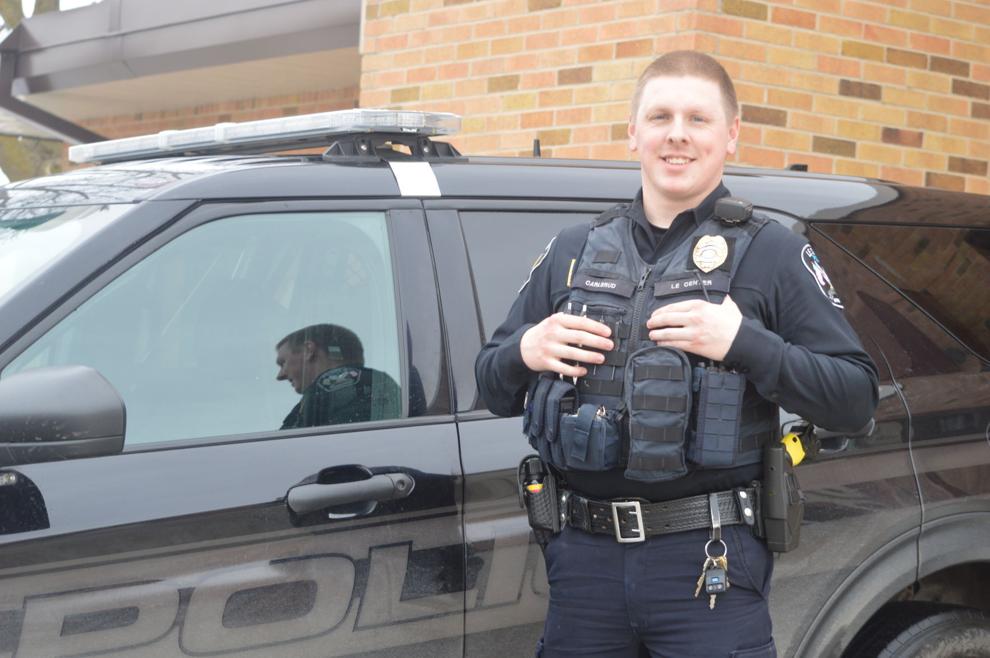 The Le Center Police Department rang in the new year with a major staffing shakeup. On Dec. 30, after 33 years of serving the Le Sueur Police Department, Chief Robert Pfarr handed his badge over to the city's new Police Chief, Derek Carlsrud.
Pfarr left big shoes to fill after three decades with the department, but Carlsrud has been preparing for this moment since he joined the Le Center Police Department in November 2019. Over the past two years, Carlsrud worked alongside Pfarr and learned how to perform many of the chief's administrative duties, such as collecting and reporting crime data through NIBRS.
"He trained me in some of the parts of the job, hoping that I would apply and maybe take over the position that he left," said Carlsrud. "He was very helpful in showing me the ways. Whether I got the job or not, it was nice to know how things worked."
It was that curiosity of how police departments work and function that drew Carlsrud to the position. He described it as a learning opportunity to see how the department operates and how it can work with the city.
"It's a learning thing for me. It's learning to expand my horizons and see what we can turn this department into," said Carlsrud.
The new police chief is not only familiar with the Le Center area, but with small town living as well. Carlsurd originally hails from Twin Valley, a small town in northwest Minnesota with just 800 residents — around a third of the size of Le Center.
After graduating high school, Carlsrud spent four years in the air force as an aircraft mechanic. Setting his sights on policing, Carlsrud graduated from the criminal justice program at North Dakota State University in Fargo. His first policing gig was serving as a reserve deputy for the Cass County Sheriff's Office in North Dakota. He then worked for a little more than a year at the Bismarck Police Department in North Dakota before taking a job in Le Center.
As police chief, Carslrud now finds himself juggling investigative duties next to a host of new responsibilities. Now working a day shift, he often has to follow up on investigations that began the night before, deliver reports to the county and state, answer calls from the public and many more new administrative responsibilities.
"There are a lot of administrative type things that have to be done. I don't think people understand how much he had to do during the day, so I'm starting to learn that here in the first few days," said Carlsrud. "A lot of emails, logins and passwords and phone numbers to remember."
But once settled in, Carlsrud hoped to help the department build up a respected and trustworthy reputation within the community.
"I want us to be a well trained, well respected department and set a balance of being proactive and establishing that community policing — getting out and talking to people and talking to businesses owners, just getting the trust of our citizens here — so they're willing to call us whenever they need us," Carlsrud said.