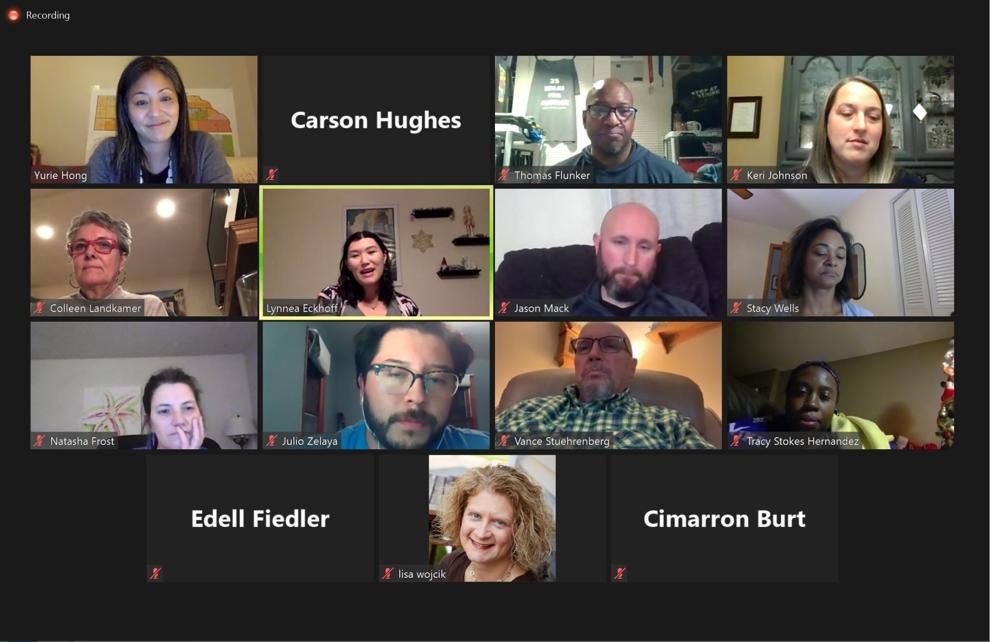 Following the high profile death of George Floyd in Minneapolis that spawned protests nationwide, advocacy groups are pushing for changes to policing practices in the St. Peter and Greater Mankato area.
Last Thursday, local advocates wrapped up a four part "Education and Action" series examining the state of policing in St. Peter, North Mankato and Mankato. The sessions included testimonies from community members who alleged that they had been racially profiled, assumed guilty and dismissed by local police as well as talks with police reform activists and city officials.
At the latest session, advocates representing the Greater Mankato Diversity Council, ACLU Mankato, NAACP Mankato, B.E.A.M., YWCA Mankato, CADA, and Indivisible St. Peter/Greater Mankato discussed a draft of proposed reforms intended to increase local police transparency with local officials including St. Peter City Councilor Keri Johnson and Blue Earth County Commissioners Vance Stuehrenberg and Colleen Landkamer.
"It's a starting point to improve the type of safety in our community," said Julio Zelaya of ACLU Minnesota.
Zelaya and Yurie Hong, head of Indivisible St. Peter/Greater Mankato, presented a draft document listing proposed reforms for all three cities as well as each individual city and sought feedback from the attendees on ways to improve the proposals.
"This really is about here's some things that came out of the series that people had concerns about and here's some recommendations about where we might go," said Yurie Hong, head of Indivisible St. Peter/Greater Mankato. "It really is the responsibility of civic officials and community members engaging in these conversations going forward in 2021. These are complicated problems, there are multiple sides and multiple ways we need to mull this over."
For all cities, the draft document recommended four policy changes. The document called for police and safety departments in St. Peter and Greater Mankato to collaborate and discuss best practices and for police departments and cities to begin collecting data on potential racial profiling by recording the perceived race of people stopped by law enforcement and conducting annual racial climate surveys.
"Perceived race is important because when we talk about racial profiling and racial discrimination, people might not be as accurate," said Zelaya. "What's important to understand is the power dynamic in being stopped by an officer and understanding if race is playing a role in someone being stopped, that is something you would measure by the perceived race of the person being detained."
The draft document also called for the removal of school resource officers from local schools. Policing in schools has come under criticism from racial justice advocates that say it criminalizes behaviors that can be disciplined by school administration and that black students are more likely to be arrested at school. The drafted proposal advised that schools review and withdraw from in-school policing contracts and hire and properly train security guards for school safety.
Commissioner Stuehrenberg, a retired police officer of 27 years that served as an elementary school resource officer, pushed back at the proposal. He said that more data should be collected to see if there is a local issue with school resource officers and that, from his experience, in school police provide a beneficial service.
"I honestly think the school board and the school would be taking a step back by eliminating the school resource officers," said Stuehrenberg. "I know the ones in the city of Mankato at this time and they are truly there to help. I've asked them if anyone has come up to you and complained to you about your job and they said, 'Not a one.'"
"I was there to help the students, I read to the students, I was Santa Claus.," said Stuehrenberg of his experience as a school resource officer. "I did all the stuff and one thing I can tell you, I worked at Franklin and I can recall when the kids came out of class they hugged me like I was Santa Claus because I was a hero to them. Now there were kids because of backgrounds that were very afraid of law enforcement and trust me, I worked with them because I didn't want them growing up to be afraid of a cop."
Kirstin Kronn-Mills, a North Mankato author and teacher at South Central College, suggested that schools take a first step of creating a council to hear the thoughts of students, faculty and administration on the presence of school resource officers.
"This could be a time where we listen to students who have particular thoughts and feelings and school staff and school administration" said Kronn-Mills. "I don't know how it's going to come out because I respect what Vance is saying, but this might be a time to make the evidence qualitative, meaning make the evidence come from the stories that students are sharing."
Lynnea Eckhoff, a former teacher and current staff member of Gustavus Adolphus College said that in her experience as an educator, school resource officers were often poorly utilized. She pushed for more records on how school resource officers were used and more investments into mental health and academic resources for students.
"I always felt like good, bad or otherwise, they were never used appropriately," said Eckhoff of school resource officers. "For our educators who were already overworked and administrators that should be free to work on curriculum, a lot of it was behavioral stuff and when the principals would get overwhelmed, straight to the school resource officer … The potential for the positive impact they could make was reduced because they were dealing with problems all the time that they didn't want to do or weren't trained to do or weren't why they wanted to be there in the first place."
Based on the feedback from the group, Hong believed that it would be important for each city to institute anti-racist framework that would collect data on issues related to race, policing and school resource officers and for all three cities to share this data and coordinate.
"This citywide anti-racist framework, whether it is a racial climate survey or yearly imapct report, each city would be good to have this framework that everything else could run through," said Hong. "Mankato is already in the process of working on something like this that has a racial component in it, but isn't only on race. The data gathering and school resource officers within this larger context would fit as something to include."
Advocates also drafted proposals for ways each individual city could improve police transparency and accountability. One issue the activists identified as unique to St. Peter was a lack of a transparent presence on the city website and social media. The St. Peter Police Department has only one phone number on their website and does not have information on leadership and individual officers outside of the police chief.
The draft proposed that the St. Peter Police Department change its presence on the city website to include a staff directory with pictures of police officers, a display of the Police Department structure, archives of annual end-of-the-year reports and the Police Civil Service minutes and agenda, and an online complaint and submission process. Hong pointed to the North Mankato Police Department website as an example of a more transparent online presence.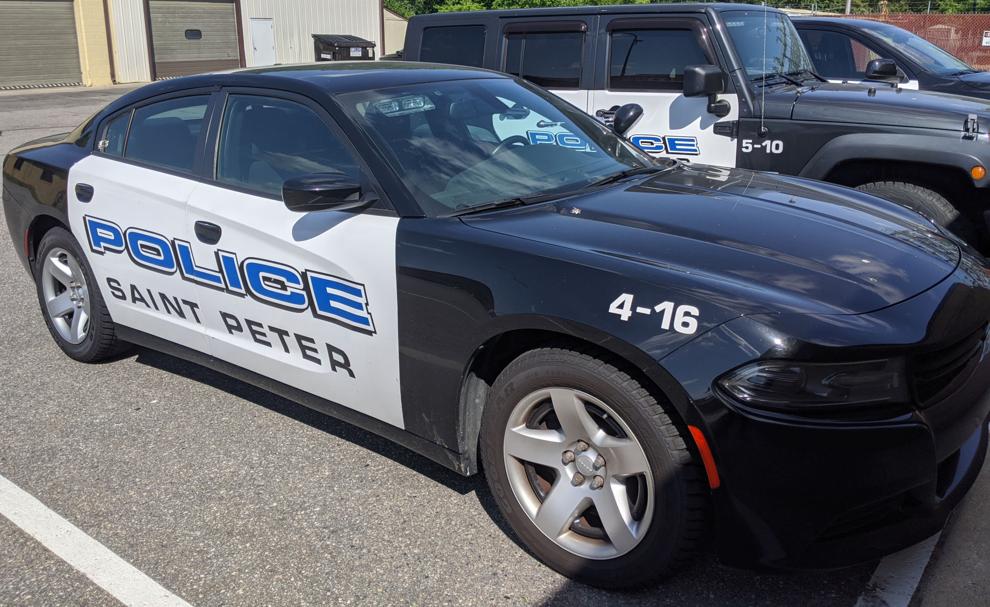 Hong also proposed reforms to strengthen St. Peter's Civil Service Commission, which oversees the hiring and promotion of police officers. The document calls for more community members on the commission, for the commission to recruit people of color, regular commission meetings and independence in the commission's decision-making.
Currently, just three people can serve on the commission at a time according to statute, but City Councilor Keri Johnson believed that the statute does not clarify if more or less than three members can serve on the commission. Johnson said that the city is currently investigating to see if more members can be added under current statute.
"This is really a great timing for this document and I agree with a lot of these recommendations and feel like it aligns with what other council members and I have said that we want to see," said Johnson.
Advocates also wanted to see a civil service commission established in North Mankato that would meet regularly, include community members of color and make decisions independent of the police and for a civil service commission to be re-established in Mankato. Mankato's Joint Civil Service Commission was disbanded in 2012 and replaced with a Civilian Oversight Committee. The current committee does not have the power to review complaints, discipline or the hiring of officers — powers that Hong and Zelaya wanted to see restored.
Further recommendations in the document called for the police departments of St. Peter and North Mankato to hold community-wide sessions on local policing, to report findings from the sessions to the city and to prepare a three-year strategic plan to improve community relations.
In Mankato specifically, the draft document recommended mandatory city council approval of the purchasing of military and surveillance equipment by the police. The measure is intended to increase transparency and oversight over such purchases.
"This is just one extra step," said Zelaya. " If you want those toys, there is a public understanding and a city approved process to get there."