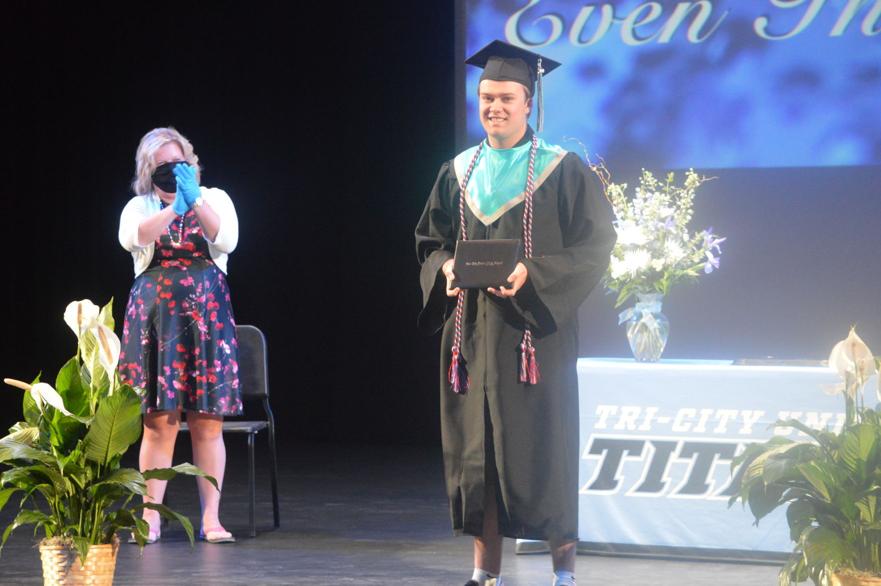 Despite the COVID-19 pandemic, the Tri-City United School District was determined to give its students an in-person graduation experience. However, health and safety guidelines from the Minnesota Department of Health prohibited schools from hosting a traditional graduation. Under the new restrictions, the district opted to give students a hybrid of an in-person and virtual ceremony to celebrate their scholastic achievements.
In a ceremony that lasted from 8 a.m. to 6 p.m. on Friday, May 29, each TCU student was given a 5 minute window to come on the Performing Arts Center stage and receive their diploma. Before they entered the building, each student was given a temperature reading and was given instructions by TCU High School Principal Alan Fitterer on how the ceremony would proceed.
Each graduate then received an introduction and walked on stage to pick up their diploma from a table center-stage which was disinfected between students. The seniors would then show off their diploma, as their parents took pictures from the auditorium and and a group of school administrators shared the stage to applaud the graduates accomplishments.
After leaving the stage, students were guided to an area where they could have professional photos taken. Graduates also had the opportunity to drop off supplies they used for distance learning.
To create a cohesive graduation experience, the Tri-City United School District plans to edit footage of seniors receiving their diplomas together to produce a graduation video. The footage will be set to "Pomp and Circumstance" and will feature student speeches and messages from TCU administration. The video will be shared so that all students may see it.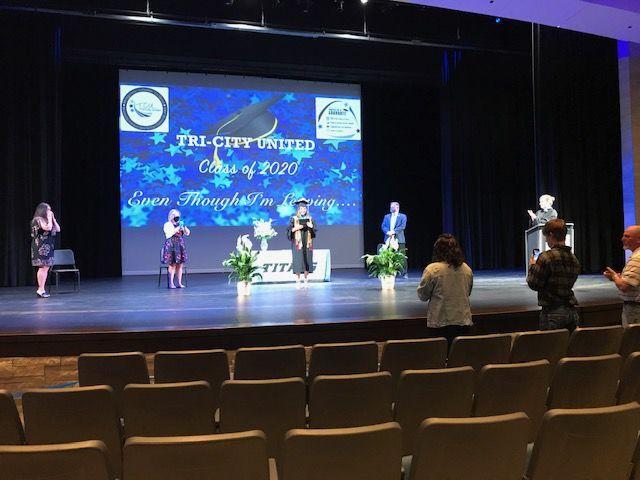 While Tri-City United was able to give students a graduation experience with some creative thinking, the district still hopes to offer seniors a more traditional experience. If public health guidelines allow it, the school will host an official cap toss in the football bleachers on July 15.