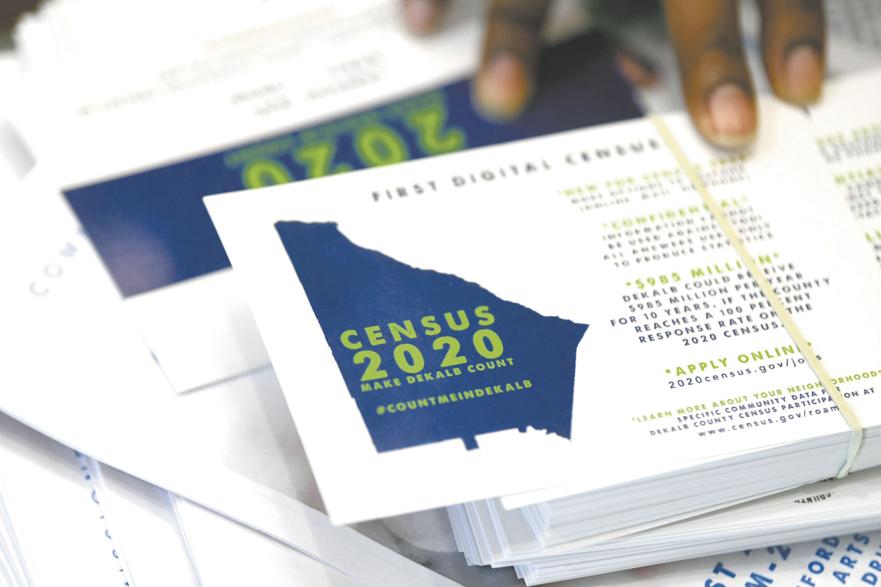 The state of Minnesota is leading the nation in census outreach at a crucial time for the state's reapportionment. And local communities contributed positively to the effort.
Data released by the United States Census showed that 75.1% of Minnesotans voluntarily responded to the census by phone, mail or online more than any other state. Minnesota's voluntary response rate grew by 1% compared to the 2010 census and is seven points ahead of the 67% national average. Self-response in Minnesota also ran nearly three points ahead of Washington and Wisconsin, which held second and third place in voluntary response rates at 72.4% and 72.2% respectively.
High voluntary response rates were seen locally as well. In Le Sueur County, 74% of residents voluntarily responded, just below the state average, while Nicollet County saw an 81.6% response rate, well above state averages.
Local response rates are also well above the national averages. In Le Sueur County, Heidelberg led with an 88.2% response rate followed by Cleveland at 83.8%, Montgomery at 79.9%, Le Center at 79%, Le Sueur at 76.7% and Waterville at 71.7%. In Nicollet County, Cortland had an 89.2% response rate, North Mankato had 84%, New Um 79.4% and St. Peter 78%.
These high voluntary response rates are good news for the state of Minnesota, which has representation in Congress riding on the line this year. Minnesota could lose one representative in the U.S. House after the nationwide count is complete. The state is one of several in the Midwest, including Michigan and Illinois, that is projected to lose representation in 2020 because of major population growth in southern and western states, like Texas, Florida, Arizona and Colorado, which are poised to gain representatives.
A complete count isn't just important for representation. Census data is used when federal and state governments distribute aid and grants to state and local governments and for federal programs like Medicaid and SNAP. It's used in the private sector as well. Businesses use census data when moving into markets and expanding their operations.
"The Census Bureau has told us that they believe that for every person that is not counted, an undercount of a person, that can cost us $15,000 over the next decade," said St. Peter City Administrator Todd Prafke.
Undercounts are most likely to occur with hard-to-reach populations, such as renters. A report from the U.S. Census Office estimates 8.5% of renters were undercounted in the 2010 census.
This has resulted in demographic groups that are more likely to live in rental units, including black and Latino populations, to be undercounted as well. Children ages 4 and younger were also undercounted in the last census by 1.7%
One hard-to-reach group specific to areas like Minnesota is snowbirds — people who reside in the state but head down south during the colder months of the year.
"In St. Peter, one of the things that's important to us is making sure snowbirds are counted here," said Prafke. "Lots of people look at this and think maybe it's the Latino community being undercounted, maybe it's teenagers, maybe it's college kids, but what we found was two primary demographics: snowbirds and children under 5 years old. Families may not have counted those very young children, because they didn't think they needed to, they weren't in school yet."
St. Peter is one of many communities that formed complete count committees to make the community aware of the census. The committee was staffed with volunteers who could reach out to groups within the community and promote the census on posters, social media and the city website.
But for other communities, COVID-19 interrupted those plans. The pandemic hit at the same time communities were beginning to assemble complete count committees and some, like Le Sueur County, declined to form committees. County Administrator Darrell Pettis said the county was too busy responding to the pandemic to put resources into promoting the census.
The city of Le Center had formed a complete count committee, but City Administrator Chris Collins said that the Census Office stopped responding to requests for training for the committee.
The pandemic has also put added pressure on the Census Bureau as deadlines shifted throughout the year. The count was originally supposed to stop at the end of July, but the pandemic shut down the bureau's efforts to count in the spring. The Census Bureau moved their deadline to the end of October, but that was reversed by the Supreme Court. The court sided with the Trump administration on Oct. 13 to immediately halt the census count on Oct. 15.
The White House argued for an immediate end to the count so that the numbers could be reported by Dec. 31 — the congressionally mandated deadline for completing data to apportion House seats. However, activists have raised worries that the early deadline will undermine the accuracy of the census and undercount black and Latino populations, as well as Native Americans on reservations.