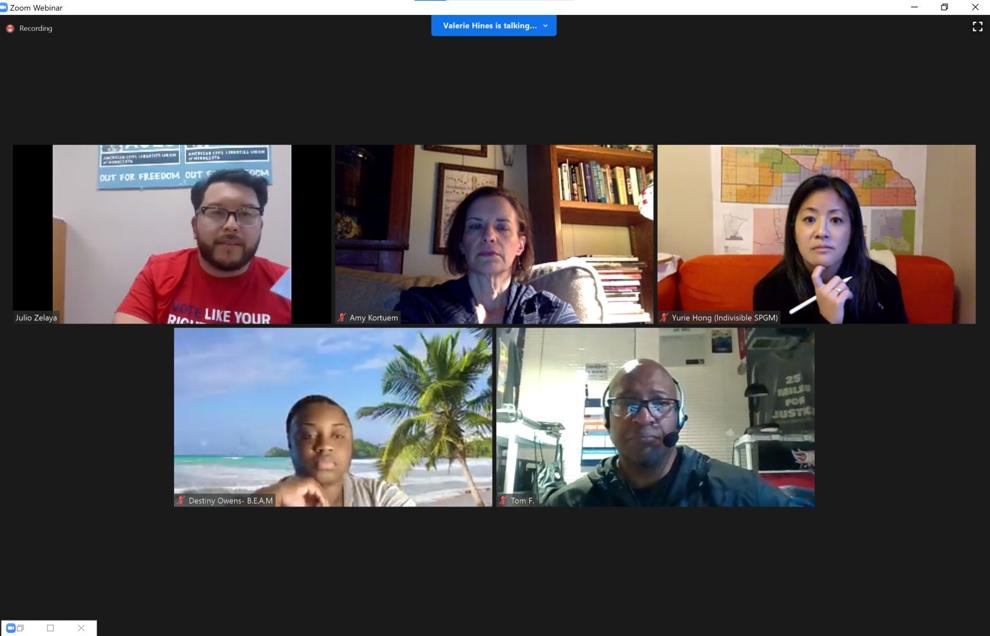 She was an honor roll student at Minnesota State University, Mankato and the daughter of a 13-year retired police officer, so LT never expected law enforcement to be knocking on her door at 4 a.m.
LT was one of seven speakers who shared stories anonymously with the Greater Mankato Diversity Council, NAACP Mankato, ACLU Mankato, B.E.A.M., YWCA Mankato and Indivisible St. Peter/Greater Mankato on Sept. 10. The meeting, which was the first of a four-part series examining policing in St. Peter and Greater Mankato, focused on community experiences with police.
Yurie Hong, of Indivisible, said local law enfrocement officials have been invited to attend and take part in the series; none were on the call during the first session, which was focused on community members and civic leaders. Hong noted law enforcement officials weren't part of the planning of this particular event, but they were invited to take part.
"The goal of this series is to motivate, educate, and empower community members and civic leaders to improve policing in the area," said Hong. "Over the course of the series, attendees will hear from community members, civic leaders, and experts, who will help us move our communities towards a safer, more inclusive, and more equitable standard of law enforcement. Participants will be encouraged to work with local government and public safety departments so that they may be more responsive to community need."
LT's story began on an evening two years ago when a blizzard piled up snow in her apartment building's parking lot. On her way to yoga, LT said she and her friends helped a man push his car out of the snow. But while helping the man, LT said she lost her phone. She found it later that evening in the snow after searching from her balcony. By 9 p.m., LT said she found her phone, put it in a bowl of rice and went to bed.
LT said she woke up to the sound of three police officers knocking on her apartment door. Their first question was if someone had broken into her home after noticing the footprints in the snow on her balcony.
LT explained that she went to search for her phone and without skipping a beat one of the officers asked what she was doing in a stolen vehicle.
"The guy who I helped out of his spot was not there anymore," said LT. "The spot he was parked in, a stolen vehicle pulled into later, so where my phone was in the snow was basically under where the new car was parked. So it looked like I walked to the stolen car and walked back to my apartment."
LT said she told the officers that she had no reason to steal a car, but was met with disbelief. She invited the officers into her home to show them her phone and that she was telling the truth. The officers told her to get dressed and come with them, but LT said the officers never told her where. She asked to call her mom since she didn't know where she was going. The officers told her no repeatedly and put her in handcuffs.
"When you've lived a certain way and you know who you are as a person, looking down and seeing handcuffs is traumatizing," said LT. "So I just started screaming; it was an out of body experience. I can still hear myself screaming."
The officers eventually allowed her to call her mom, but took her to get a warrant to swab for her DNA. When she told officers to call the person she helped out of the snow to verify her story, LT said the police did not follow through. She got support from MSU faculty, the Mankato NAACP, and her mom's best friend who is a current police officer. They met with the Mankato police, she got her DNA back.
While the issue was resolved, the experience has stayed with her. LT said that she had developed PTSD from the encounter. In the weeks afterward, she couldn't sleep, was afraid someone would knock on her door and would even retreat back to her apartment if she heard what sounded like a police officer.
"I don't resent police officers, I'm not anti-cop, but I do recognize that experience is going to stay with me," said LT. "But I'm glad I can now engage in these conversations with other people and not be so naive. I used to think if you just live life right they won't mess with you, and that's just not reality."
Others who spoke at the event had complaints about how they were treated by police as well. Many had stories of coming under suspicion by local police without committing any crimes
A resident of Mankato, who went by Tee, said that when she and her friend were driving and a state trooper pulled them over asking if she had been drinking. Tee said she had a few drinks earlier in the day but believed she was sober enough to drive. The trooper had her run through a number of tests like counting from 100 and reciting the alphabet backwards before taking her breathalyzer. The officer said that she was over the legal limit, but did not let her see the number. When she asked to read the breathalyzer, Tee said the trooper yanked her on the arm hard enough to leave a mark after she did not allow him to search her.
More state troopers were called to the scene and one officer who Tee described as polite took her to the police station. She took another breathalyzer and this time Tee said she blew a .06.
"He was like you look very cooperative and fine with me," said Tee. "He said, I'm not going to waste anymore of your time tonight, I'm taking you home."
After the incident, she said she tried to file a complaint with the police department, but they had no knowledge or record of the incident.
Destiny Owens, founder of BEAM, said that incidents like these demonstrated inappropriate conduct from police officers because people who were being cooperative were still faced with aggression.
"The aggression was the kind of thing that rang out the most for me. Because when we think of incidents like Sandra Bland where you're cooperating, you do what you're supposed to. You go where you're supposed to go and there's still this level of aggression and you're being cooperative, that's a problem."
"These are the things that will dismantle good relations between community and police," she continued. "Because your encounter with one officer was good, right? You talked about your kids, it was protocol, he calibrated the machine the way he was supposed to for you, did the breathalyzer and things and said, ok you can go home. But then the counter-interaction you had with the first officer, it can mess up what the good officer had done because that is something that can be very traumatizing and it stays with you."