Fifty-five years apart, William Nelsen, a young white man, protesting in 1965 in Alabama, and Alaiyah Nelsen Tobechukwu, a young black woman protesting in 2020 in Minnesota, felt the same energy coursing through their veins. The two, grandfather and granddaughter, were connected by DNA, but also by a message — the one of peace, love and equality, shared so eloquently by Martin Luther King, Jr. 
"I would never tell a black person how to experience or process or grieve, because that's their own emotion and trauma that they have to deal with," 19-year-old Nelsen Tobechukwu said. "But I choose to lead with love and to lead with peace."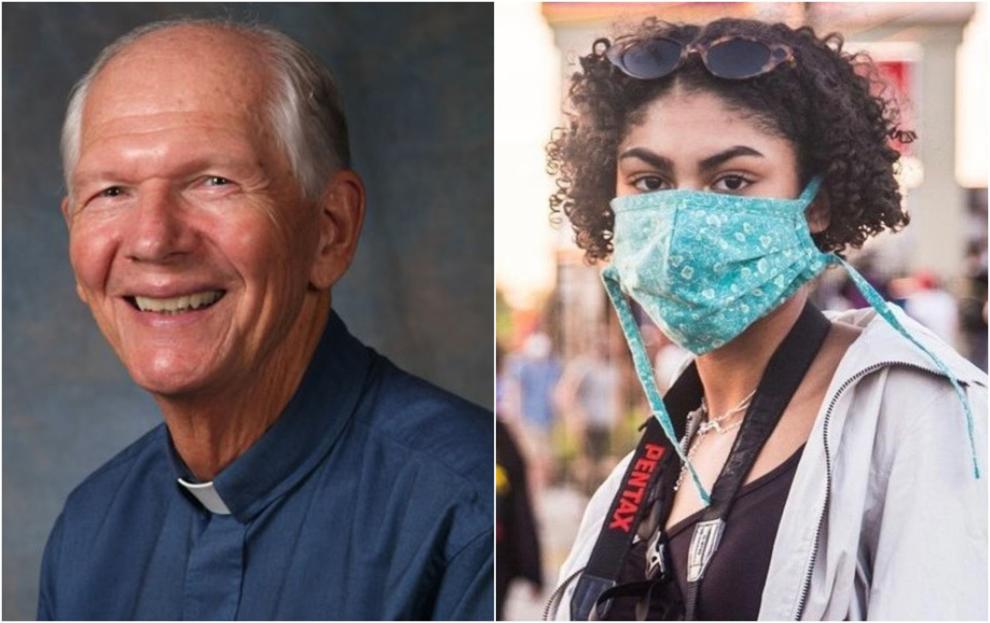 It's a form of activism she has learned from Martin Luther King Jr., who was celebrated Jan. 18 on the annual MLK Jr. Day in America, remembering his non-violent fight for civil rights. But she also learned it from her grandfather, who is not black like her, but who has been supporting the cause far longer than she's been alive.
"I can definitely see the way growing up with my grandpa there, teaching me the values of caring about people and human rights, especially with both our connections to faith, has put me on the right path with my activism and my overall soul," Nelsen Tobechukwu said.
When Nelsen, 79, got word that his granddaughter was participating in the George Floyd Black Lives Matter protests in Minneapolis in summer 2020, he was "deeply worried" about her safety, but he was proud, too.
"I was very pleased to see her courage and willingness to stand up for the rights of those being mistreated, pleased to endorse her joining in a nonviolent way, as I had done for Martin Luther King Jr.," Nelsen said.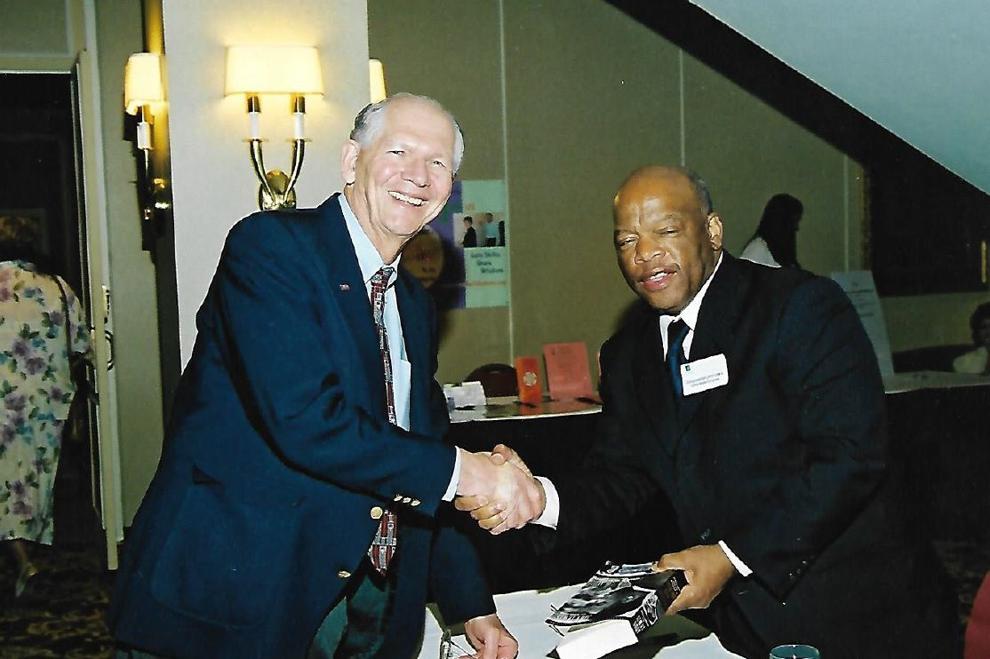 Nelsen has spent most of his decades-long career in the higher education field and more recently has been ordained as a pastor, currently serving at First Lutheran Church in St. Peter. But he has always been aware and active in civil rights causes, and on Sunday, Jan. 17, he encouraged his church to take note, inviting three black guest speakers — his granddaughter Nelsen Tobechukwu, Dr. Richard Green and Ferman Woodberry — to speak about MLK Jr. and the intersection of the Lutheran church and civil rights.
"I think that using MLK Sunday is a very powerful and important and appropriate way to do that, because it brings us back to his vision," Nelsen said. "I think a pastor is called to take some special leadership to remind us of our Constitution and the vision of our country."
William Nelsen grew up in Oregon, his dad working in construction during the second world war. His family instilled values of faith and equality in him growing up, but it was when he moved on to higher education that those values took greater hold. After getting his undergraduate degree in history and speech at Midland University in Nebraska, he received a Fulbright Scholarship to study in Germany; there, his perspective altered.
"It was a time of turmoil in this country, particularly in the south with black people being killed," Nelsen said. "The Germans would look at me and say 'What's wrong with your country? You talk about being a country that respects diversity, but here you are exhibiting the opposite.' That really upset me; it was embarrassing to me. So when I came back to the Untied States, and I saw what was happening with the Voting Rights Act and the call of MLK, it all came together."
Nelsen said this his belief in the Christian gospel and the message "love thy neighbor" was a foundation for being moved by the civil rights movement. He was also influenced by professors and students in higher education and by the diverse collection of persons he played sports with over the years. And he was deeply inspired by MLK. 
"His cry for justice and his vision for a country where people would love each other, care for each other, embrace our diversity," Nelsen said.
In the mid-60s, he was doing a master's in ethics at the University of Columbia in New York in a joint program with Union Theological Seminary; he was also teaching Sunday school at a black Lutheran storefront church in Brooklyn.
At that time, the Voting Rights Act of 1965 was being considered by the U.S. Congress. This act would overturn the Jim Crow laws that had prevented black people from voting in many towns, cities, and counties throughout the south. Black people were frequently forced to pay poll taxes or take tests designed to exclude them from voting or from registering to vote.
Richard Green, 80, a long-time friend of Nelsen in higher education, was at Concordia College in Minnesota at the time. He was the only the black student at the college, and he frequently took part in conversations about his own rights. And while he wasn't able to join the protests in the south that year, he remembers the time, and he remembers that many white allies, like Nelsen, were important to the cause.
"Certainly back then, even in Kentucky where I grew up, I can recall some of the strong supporters of the civil rights movement were some of the white citizens in the city," Green said. "There was strong support. And it was a diverse group of people who found that we had overcome some evils of the past, but we hadn't gone far enough. And we still haven't gone far enough in understanding what equity means as we live in this nation together."
When MLK Jr. made the call for allies to come down south in support of the Voting Rights Act in 1965, Nelsen was ready.
"There was a Northern Students Movement gathering students, particularly graduate students, from the area," Nelsen explained. "I needed a way to get to Alabama, and there were two busloads with black people and white people that headed south."
On the way, Nelsen and his colleagues were trained in non-violent protests by some of MLK's lieutenants. They eventually arrived in Montgomery, as the march from Selma was being organized. Nelsen would not get to participate in the march, as rules limited the number of people, but he was part of a group that spent weeks organizing the logistics of welcoming some 25,000 visitors into Montgomery at the end of the event.
"There were about 100 of us who slept each night in the floor of a little Baptist church, and then we'd go out during the day and carry out our work," he said.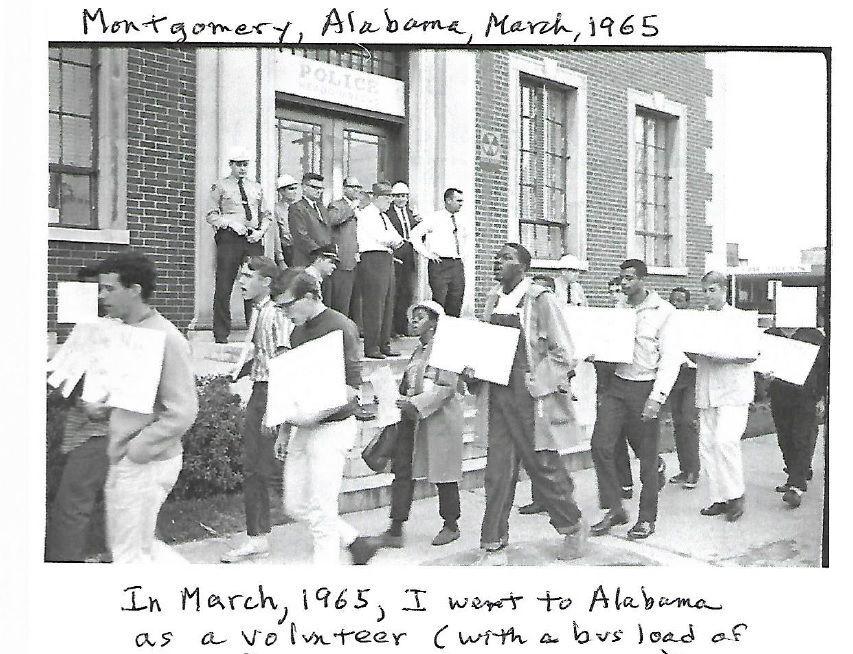 The experience still plays clearly in Nelsen's mind.
"The real sense of satisfaction in joining with others who cared about this cause, and black people and white people working together was just a very positive kind of feeling," Nelsen said. "The other reaction was to see the kind of danger we were in. I remember we were told, working with black people, to never work side by side, because it was dangerous to be seen walking too closely together."
He recalled an anecdote, where he experienced firsthand the discrimination his non-white friends faced often.
"There were six of us in the car, three blacks and three whites. We were on our way from Montgomery to a black college about 40 miles away, known as Tuskegee Institute, for a civil rights rally," Nelsen said. "We stopped for gas on the edge of the city, but the moment we pulled into the gas station, the white owner and his assistant shut off a few lights and announced to our driver that the station was closed. I'm sure it reopened the moment we left."
He continued, "We drove on looking for another service station. About a half-mile down the road, a police car came up behind us with flashing red lights, signaling our driver, one of the three blacks in the car, to pull over. He did so. The Alabama police officer came forward to the side of the car and quickly handed our driver a ticket for two offenses — running a red light and failing to signal a turn. I was appalled at what he said, since there existed no traffic light on that stretch of the road and we had made no turns. The officer ordered us to turn around and report to the police station and courthouse in downtown Montgomery. He followed us there Our driver was arrested and held in jail overnight. The rest of us waited outside throughout the night while the civil rights lawyers worked to get our driver out of jail by the next morning, along with lots of other black and white people who were engaged in civil rights activities and taken to jail on trumped-up charges. Harassment was the order of the day."
The best news from Nelsen's experience was that all the efforts made a difference, and the Voting Rights Act of 1965 was signed into law by President Lyndon B. Johnson. And while voter suppression remains a problem in the U.S., the act is still considered one of the most far reaching and impactful pieces of civil rights legislation ever passed.
Five and a half decades after her grandfather protested in the south,  Nelsen Tobechukwu, 18 at the time, found herself embroiled in the most serious activism of her young life. After the police officer killing of George Floyd in Minneapolis, the streets filled with protesters, advocating for the recognition of black lives and struggles.
The protests were often peaceful, following the steady hand of MLK, but many became violent — both from participants rioting and law enforcement using aggressive tactics. Nelsen Tobechukwu, freshly graduated from high school and now working as a performer at Minneapolis Children's Theater, was in an environment she had never experienced before.
"I had been to a couple protests before that. But the ones in Minneapolis were the first that were a little traumatizing, and a little harder and more real for me to be part of, and also more dangerous," she said.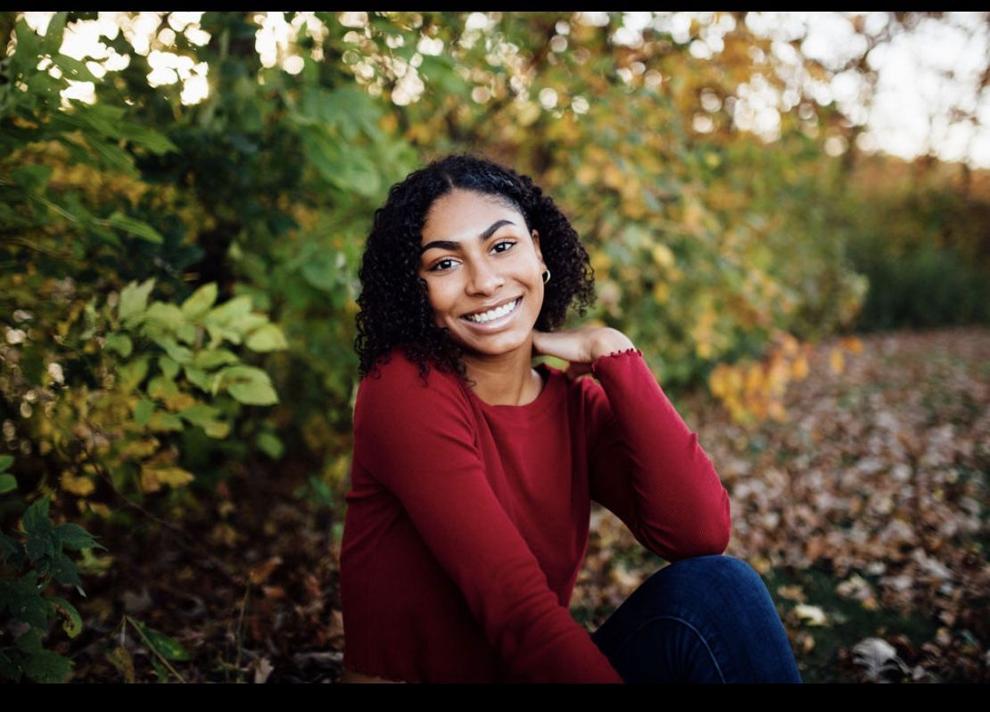 Nelsen Tobechukwu was only in the beginning stretches of adulthood, but she felt she needed to be there in support of herself and her community. Her mother is white and her dad black, and she grew up making visits to her grandparents in St. Peter, where she was the only black person in a house full of white people. She loved her family and they loved her, but she had to get used to the experience of being different. And as she got older, her understanding deepened.
"It wasn't until later when I realized the microagressions and discrimination I faced on a daily basis," she said. "I didn't realize the way it impacted my life until I got more educated."
She said she can't count the number of times she's had negative interactions in society, all related to the color of her skin.
"I've been pulled over multiple times just because my lights were off or tabs expired for a day, or I was literally going under the speed limit and there was absolutely no reason. I was pulled over three different times in one night for no reason when I was with a friend in Arizona," she said. "I've been followed around and harassed in a store, while my white friends were left alone."
At the Minnapolis protests, those negative interactions turned dangerous for Nelsen Tobechukwu. While she did not participate in any rioting or more violent action, she still found herself part of a group that was tear gassed and shot at with rubber bullets. She he was confronted with a question of her own principles — "Do I try to fight back, or what do I do?" She stayed true to herself.
"I remember kneeling on Lake Street with my back turned to police, and the cops were shooting rubber bullets at us and shouting," she said. "And then I saw everyone else get down on their knees, backs turned with me. And in that moment, it was a place of peace and love."
Activism through generations
Speaking about her decision to remain peaceful during the protests, Nelsen Tobechukwu cited MLK. It was her grandfather, though, who first influenced those values. She vividly remembers his stories about his own experiences with civil rights activism, and it's something she's carried with her.
"I was amazed and impressed," she said of her grandfather's stories. "It's definitely amazing to be able to tell my friends that my grandpa helped with the civil rights movement and MLK Jr. I've and an amazing relationship with my grandpa. I love him. He was one of the most important people to me. I look up to him a lot. When I grew up, he would always tell me how much he cared about the world and people."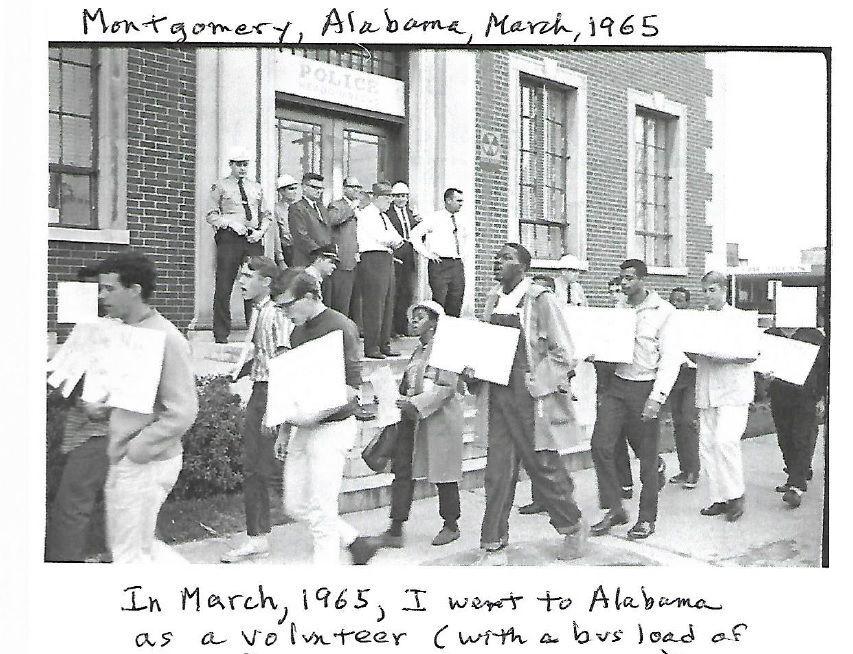 Nelsen expresses great pride in his granddaughter and the person she's become. He worries that she will not always be treated the way she should, because of her skin color, but he has great hopes for her future.
"I have a profound hope that my granddaughter will be able to live in a society that increasingly embraces the beauty and promise of diversity and does not fear it; be able to decide how she wants to identify herself and her various legacies, and not always to be placed in one category, whether in peoples minds and reactions, or on census forms; be able to pursue and realize her dreams for herself and others; be proud of her heritages, while being judged by the quality of her values and talents, and the content of her character," Nelsen said.
While the two were motivated and inspired in their activism in similar ways, Nelsen and Nelsen Tobechukwu undoubtedly participated in different fights. There are distinctions, between the 1960s and the present, in what is being fought for and in the composition of the people fighting.
"What's different is that the civil rights movement today is not just about overcoming segregation and rights that were prohibited by law. It's now a battle in the hearts and minds of people," Nelsen said.
Nelsen's friend, Green, a black man who has seen decades of societal change, noted that the times are different, but he continues to believe in the same approach.
"The situation with George Floyd and Minneapolis; there is a long way to go," Green said. "But as it turns out, one has to decide for themselves how to cope and stand up. And from my perspective, you hope that decision leans toward non-violence. One's approach is affected by their perspective, and this is a complicated time for many situations, but I think the non-violent approach should be taken."
Nelsen and Nelsen Tobechukwu would both agree, and their faith has something to do with it. They believe that the church must acknowledge society and culture, and with that will come power that more violent action would never bring.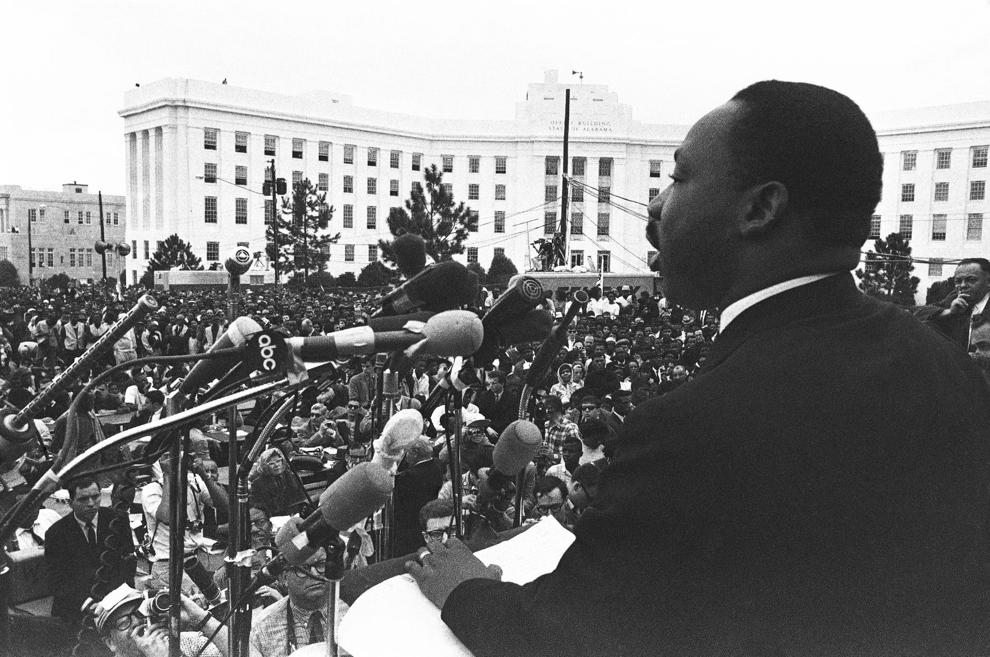 "Especially thinking about MLK Jr, he directed his activism from a place of faith and community," Nelsen Tobechukwu said. "The whole church is a sense of community. Activism starts with the people, and wherever you can find that community and those people, it's a very strong thing to have."
For Nelsen, it's a matter of literally practicing what he preaches. He believes that change will occur locally, and the church, following that message of "love thy neighbor," is the perfect place to start. And from there, it reaches further in the local community.
His granddaughter took the words right out of his mouth: "I choose to lead with peace and love, and I don't know if that's what is going to change the world, but I don't know how else to do that."