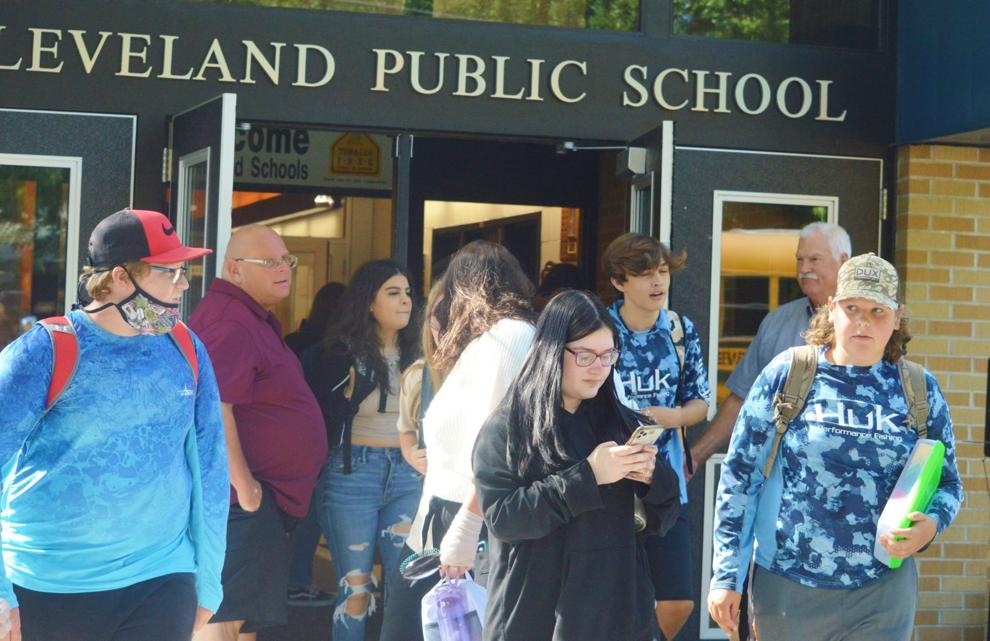 A month into the school year, local districts are sticking to their pandemic policies.
Across the state, COVID-19 cases associated with schools have fallen since hitting nearly 3,000 confirmed cases in one week midway through September. In the latest data from Oct. 10 to Oct. 16, new cases dropped below 1,000, but it's uncertain how long this trend will hold.
Locally, school districts reported minor upticks in their case rates. On Oct. 18, the Le Sueur-Henderson School District said they had 11 total cases among students and staff. Tri-City United reported 29 active cases on Oct. 15, a one case increase over the week before.
Le Sueur-Henderson and Cleveland Public schools both held work sessions this month evaluating the status of COVID policy in the districts. Cleveland Superintendent Brian Phillips said there were no plans to change policy.
"It was a routine follow-up on how we are doing from the board's perspective," said Phillips. "They said things are going great and that they do not see a need to change anything at this time. No policy changes. We continue with mitigation protocols and close monitoring of any numbers.  "
At a School Board work session Oct. 18, Le Sueur-Henderson Superintendent Jim Wagner said that the buildings' sanitation policies appeared to be working. Though the Minnesota Department of Health recommends schools institute mask mandates, LS-H and other area schools, like TCU and Cleveland, have avoided requiring masks.
Wagner said that tightening restrictions would not be very effective in the district, as long as other institutions allow people to congregate without those same requirements.
"The problem that I have is that, unless it's countywide, citywide, full counties, full locations, it's not going to do much," said Wagner. "It would make no sense if we have all that isolation and masks here and everything and they go home and they have their friends over."
But LS-H School Board member Joe Roby worried that the district's policy was not proactive enough on addressing students that have a confirmed case in their household, but have not tested positive themselves.
Roby said everyone in his own household tested positive for COVID recently, except for one of his children. Roby was certain his child would catch the virus eventually, but when he called the school nurse to notify them, there was no recommendation or requirement for the student to stay home. The school board director said he kept his kid home, and they tested positive two days later.
"Is there anything we could or should do with kids like that if someone else is in the home that's tested positive?" Roby asked. "Even just make him put a mask on. He can come to school but he has to wear a mask until you've gotten him tested and it's negative. I could have sent him to school while everyone else in the house was sick and odds are he would get sick or was carrying it at that time."
He was also concerned that the school nurse couldn't recommend that his child stay home, because the nurse's recommendations had to align with school policy. The district currently mandates that kids quarantine for at least 10 days if they test positive, but kids without a confirmed infection in a household with a positive case are not required to quarantine.
School Board member Gretchen Rehm questioned how the policy could be enforced. The district could only act if parents were honest and notified the district.
"They should do the right thing, but they're just not going to tell us. That's the part I struggle with is people are just going to lie about it," said Rehm. "They already do. People don't get tested because they don't want the repercussions of what happens when they get tested. Honestly, I'm that way. If I got sick, I would just stay home, because I know what's going to happen, my whole family is going to stay home."
Roby responded that, while the district couldn't enforce it's policy on everyone, it would set a guideline for the families that do follow school policy and recommendations.
"I know that not everyone will get tested, but for those who might or are uncertain about it or might say 'Well, I don't want to be that one parent who masks their kid when the don't have to,' we level the playing field by saying everyone is going to be treated the same way and get tested," said Roby. "We encourage people to the extent that we can to do the right thing by that policy."
As major holidays, like Halloween, approach, Roby said it was important for the School Board to be proactive in the event the pandemic worsens.
Wagner said that Roby's comments were spot on, but questioned the district's manpower to enforce the rule on individual kids. Rehm agreed and added that while the school should encourage parents to send their kids with a mask, she couldn't justify enforcing masking without state or federal backing.
"As soon as my son leaves this building, he can go to a Vikings game with 60,000 people with no mask. I just can't see us forcing people to do that kind of stuff when you can walk out the door," said Rehm. "I think we can continue to encourage, and I think we have done a really good job, but I have a problem with us forcing or mandating these things when as soon as they walk out this door we have no support."
Matt Hathaway proposed a middle ground where the district encourages parents to keep their children home if a member of the household tests positive, but not to enforce it. Since the meeting was for discussion, there was no voting on any proposed change to policy.