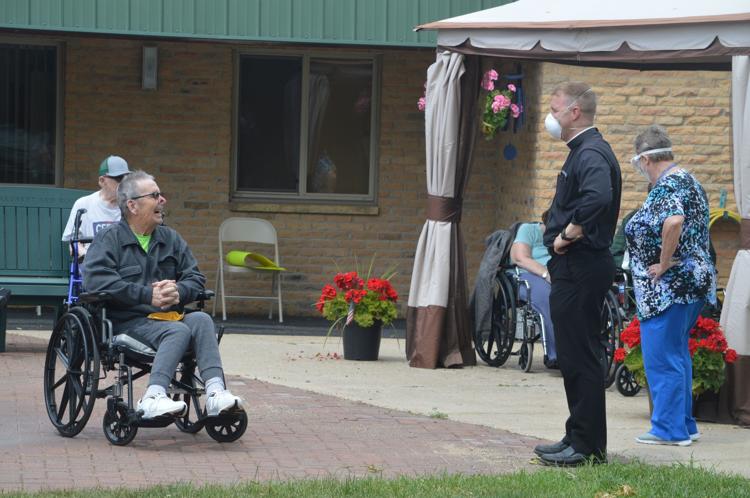 Physical health is one of the utmost concerns during the COVID-19 pandemic, especially for elderly and vulnerable populations, but what can sometimes be overlooked during this public health crisis is mental and spiritual health.
Central Health Care nursing facility in Le Center provided a spiritual remedy to residents and staff on June 18, when Father James Stiles of St. Mary's Catholic Church delivered a prayer of protection, requesting that God keep those at Central Health Care safe from the coronavirus.
"We felt that our residents and families were needing more spiritual support during the COVID virus," said Central Health Care Activities Director Tammy Plonsky. "We were feeling that all the changes and the isolation from the families to the friends to even their nurses, doctors and we felt that extra spiritual support could help us as a community."
For many residents at Central Health Care, the coronavirus has made life a lot more stressful. Due to health restrictions, the facility cannot accept in-person visits. Residents still have the means to contact their loved ones through calls, video chats, mail and even visits through the window, but being able to sit with and hug one's family and friends is a privilege residents don't have. The one exception is compassion visits, where residents and family are allowed to visit only in the most serious circumstances such as a critical illness or family tragedy. Those same restrictions have also limited spiritual visits.
"They really miss seeing Father Stiles and the other pastor and the reverend that can't come in our building," said Plonsky. "Even though we do online services, we do get the bulletins, we do get the scriptures, but it's just not the same as shaking their hand, coming in and giving them their communion. We don't have that anymore. For the residents it's hard. Seeing him is what I think they are looking forward to and seeing that actual presence of spiritual support."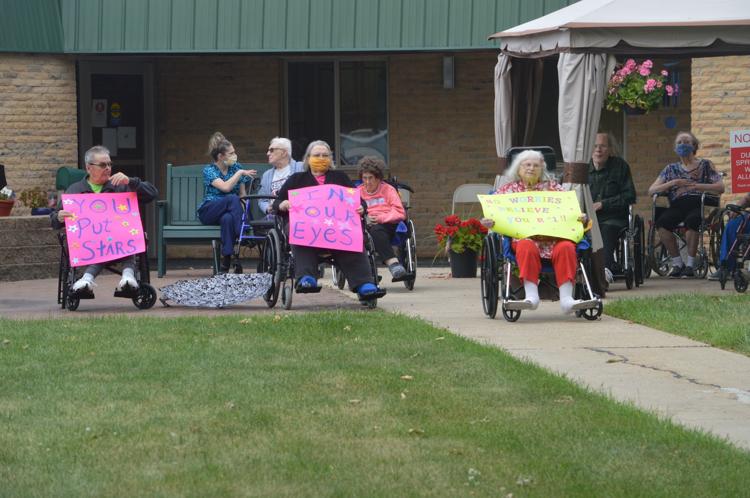 It's also a scary time for residents. Plonsky said that many were fearful of COVID-19, that someone they know could die or that they wouldn't be able to see their families and loved ones again. Plonsky hoped that seeing Father Stiles again and receiving a blessing could assuage some of those fears.
When the day came for the prayer, Central Health Care went all out to make it memorable. Both residents and staffers gathered out with signs displaying positive messages. Families came to support their loved ones from inside their vehicles and with donations from four families, Central Health Care and Le Center Mexican Restaurant El Tacazo provided residents, families and staff with complementary lunches from a food truck.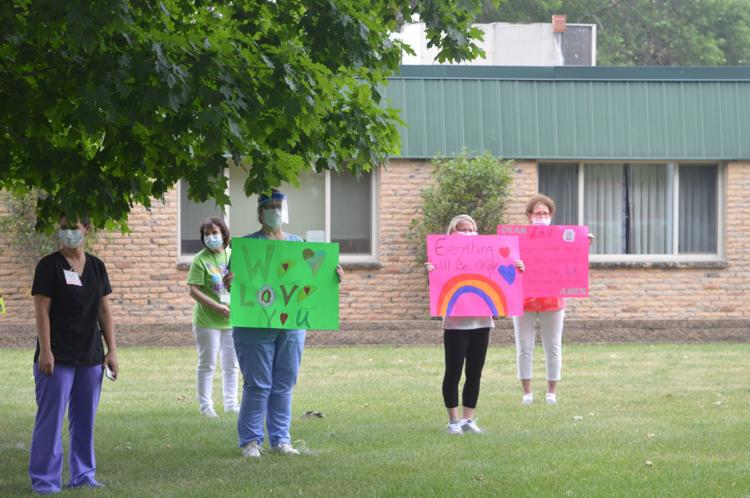 Father Stiles arrived with a message about the importance of community and spiritual health. From a Bible, he read the story of Jesus healing the paralytic at Capernaum — in which a crowd of people carried a paralyzed man who could not get through the mass of people to Jesus. Once the man is before Jesus, he is cured of both his paralysis and his sins.
"Today is a good day to remember that we need to care for both body and soul, the whole person," said Stiles. "This is the way we were created, this is the way God cares for us. Not only do we have our bruises taken care of and our wounds bandaged up and our bodies and so on, but our soul's and heart's deepest needs need to be met."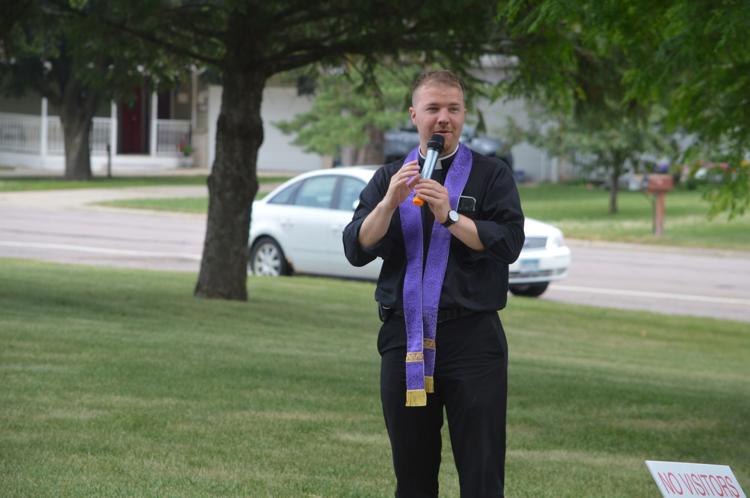 "The other interesting thing about this story is that because this man was so sick he couldn't actually bring himself to Jesus, he needed others to do it," Stiles continued. "So this is also really important for us to remember because here we are, all of us carrying within ourselves something which needs to be healed … It's important that we carry each other. We need each other in this."
At the end of his sermon, Stiles led the attendees in a prayer for safety, for the families that gathered at Central Health Care, for families impacted by the coronavirus and the less fortunate. The group also prayed for the country with a rendition of the song "God Bless America."