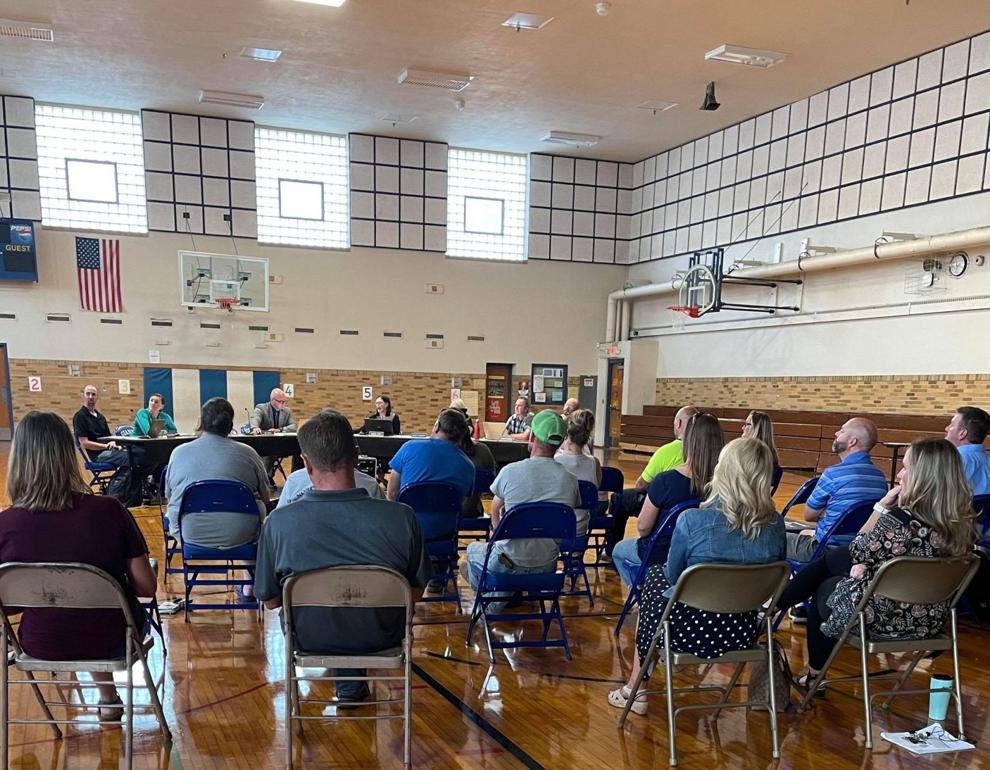 When Gov. Tim Walz ended the statewide mask mandate last May, the Le Sueur-Henderson School District terminated their masking requirements as well. But two months later, the delta variant has complicated Minnesota's pandemic response.
After hitting an all-time pandemic low in June, new cases of COVID-19 have trended upwards through July and the first week of August. In response, the state of Minnesota is recommending, but not requiring, all teachers and students to put on their face masks again for the 2021 school year.
For now, school mask mandates are a decision left up to each individual school board. The Le Sueur-Henderson School District has made no moves toward instituting new masking rules. But as the school year approaches, local parents, like mother of three Kirsten Wagner, wanted the School Board to hear their opposition to mask mandates before the district sets their policy for the year.
"[The decision] needs to be made in consideration of the whole picture," Wagner told the School Board on Monday. "Considering all the effects that masks have, not just medically, but socially, physically and mentally too."
Wagner was joined by more than a dozen community members in the Park Elementary gym for the Monday School Board meeting. The LS-H parent organized a stand against mask mandates over Facebook and raised concern that her oldest child entering Kindergarten would be punished for not fully understanding why he needs to wear a mask.
"Will he be made to feel like a naughty kid by the teacher?" Wagner asked. "Will he be punished in front of his peers and made to feel defeated? Are our kids being conditioned to think mask wearing is the norm and not wearing one is now the taboo thing, the wrong thing to do?"
The LS-H parent requested the School Board refrain from requiring masks for both vaccinated and unvaccinated children.
Registered nurse and district parent Holly Swenson told the board she believed COVID-19 restrictions were doing more harm than good for children. Swenson told the district she was turned against COVID practices by her experience swab testing children for Mayo Clinic Madison East. Many children were afraid of her and the tests, she told the board, and would cry, bite, scream and kick. Sometimes multiple adults needed to hold the child down, Swenson said.
"Mandated masking is unnecessary, dangerously destructive symbolic compliance with government overreach and I won't stand for it," said Swenson. "This will not improve the safety of our children. Dirty, inappropriate, mask wearing isn't evidence based practice, it's not best practice, it's malpractice."
Swenson also raised concern that masking would have a detrimental effect on children's mental health and emotional development outweighing the physiological risks of the virus. She cited data of an increasing number of emergency mental health visits for kids in 2020. While numerous studies have linked the pandemic to skyrocketing symptoms of anxiety and depression, it's less clear what parts of pandemic life — the virus itself, social distancing, quarantines, masking, etc. — are causing distress.
Le Sueur resident Cory Genelin requested that the district make its decision on masking independent from state recommendations.
"If you disagree with me and want my kids to wear a mask, I want that to be your decision," said Genelin. "If you disagree with the state, I want you to make them make you enforce the policy, so that we at least know whose policy it really is."
After the public hearing, School Board member Gretchen Rehm stated that the district's policy on masking has not changed since September 2020, which required a mask mandate only at times when Gov. Tim Walz' mask mandate for schools was in effect. Once the mask mandate expired, so did Le Sueur-Henderson's mandate.
"Our current mask mandate has an asterisk that says this policy is in effect when mandated by the governor's executive order or if demanded by state and federal regulations," said Rehm. "If there are no such mandates, this policy will not be enforced."
The policy may be revised before the next school year, but Superintendent Jim Wagner indicated the district would refrain from instituting a mask mandate unless required by the state.
"Obviously, if it's recommended, I'm going to leave it up to the families to keep themselves safe," said Wagner. "If it's required, then we have a different discussion we have to have."
School Board Chair Brigid Tuck told the community members that she saw no reason for the school's masking policy to change. However, if the district were forced to choose between holding school in-person with a mask mandate or transitioning to hybrid or distance learning, Tuck said she would rather see students masked.
"For me, what was more frustrating was all the quarantines and all the upheaval with the kids," said Tuck. "I feel like, as a district, our highest mission is to have kids in person with their teachers as much as possible. If we don't need a mask policy, we can pull that off, that would be great. But if at some point it becomes the tradeoff, then I'm in favor of a mask policy if it keeps our kids in school."
The board members further added that young children were not punished when forgetting to wear their mask properly. Rehm said that kids were reminded by their teachers to wear their masks and had designated times to take a break from wearing it.
"It was just reminding kids," said Rehm. "I have three kids as well in the district and it was a reminder to put your mask up if you can. There was definitely no, I don't think, bullying from it. It was just a reminder."