January doesn't mark the start to a new school year, but 2021 still signifies a turning point for students as they pivot out of distance learning. in the year ahead, districts including Le Sueur-Henderson, Tri-City United and Cleveland Public Schools are figuring out what the remaining school year will look like.
But it's not just coronavirus that schools are tackling this year. Area districts have plans this year ranging from hiring a new superintendent to opening new facilites. Here's what to look out for at local schools in 2021.
The Le Sueur-Henderson School District is in full transition mode to bring students back into school. School at Park and Hilltop Elementary will be closed on Monday and Tuesday Jan. 11 and 12 for teacher prep time, allowing elementary students to transition into in-person learning on Wednesday, Jan. 13.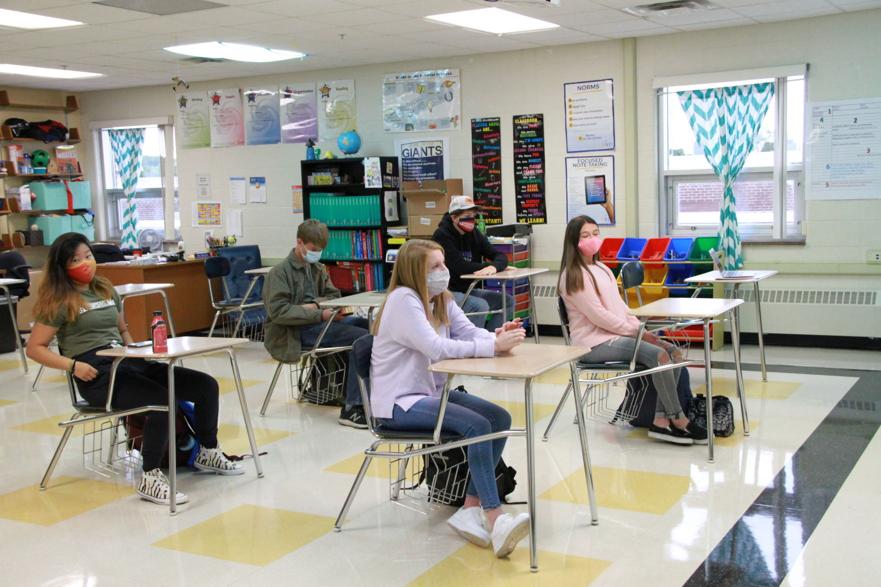 Middle and high school students will have to wait a bit longer. After days out on Thursday and Friday, Jan. 14 and 15, Le Sueur-Henderson students will return to their hybrid schedules on Monday, Jan. 18.
Practices for athletics at Le Sueur-Henderson began even earlier on Jan. 4 after the Minnesota Department of Health gave schools the OK to resume activities. The first games of the season are set to begin Jan. 14.
Spectators at activities will remain limited. Athletes will be allowed two fans per contest and families will be given passes to events. LS-H's One Act Play will also resume, but will be held via livestream like the fall play.
While the district is putting kids back in school, the School Board also has the task of searching for a new superintendent to lead the district. Superintendent Marlene Johnson submitted her resignation letter on June 30, citing differences in leadership style with the School Board. Johnson's contract with the district expires with the district on June 30.
The School Board began its search for a new superintendent in October, hiring the South Central Service Cooperative (SCSC) to assist with their recruitment efforts. Advertisements for the position went out soon afterward and the School Board is scheduled to conduct the first and second rounds of interviews in February with goal of hiring a new superintendent in the spring.
The district is also turning its attentions back to a potential facilities referendum. Designed to allow the district to raise money to update its aging buildings, the referendum process was put on hold last year when the COVID-19 pandemic struck.
Now the district's steering committee is making moves to reconvene a focus group made up of members of the Le Sueur and Henderson communities. The group will be responsible for recommending the type of referendum the district should pursue.
Options that have been presented to the group include but are not limited to simply updating the facilities, closing one of the elementary schools and expanding the other, building a new facility for specialized classes like Career and Technical Education or closing both elementary schools and adding on to the Le Sueur-Henderson building.
Whether a referendum will make it onto the ballot this year is a question that will be left to the focus group.
"I think the [School Board} is progressing in hopes that they can hold the referendum this year," said Superintendent Johnson. "But that will be determined by the focus group as to when everyone is ready. It could be yet this year or in 2021-2022."
Le Sueur-Henderson's fiscal goals in 2021 don't end with the referendum. The district is facing a projected $750,000 deficit and the School Board has indicated that difficult cuts may need to be made to the budget. 30 students left the district in 2020, adding to its fiscal woes.
"We did save some money during the closures of COVID-19," said Johnson. "So we were able to increase our reserve funds, but those expenditures will be carried forward in future years because we're not always going to be close because of COVID-19."
"We do have some reductions to be considering," Johnson added. "Finding ways to increase our revenues and decrease our expenditures. We have some surveys from our staff who are always able to give us feedback and we'll work with administration, the finance committee and the board members to analyze what we can do."
Facing an unprecedented pandemic, Tri-City United is focused this year on how to bring kids back into school and how to bring back some normality for their students.
Tri-City United Superintendent Lonnie Seifert said the district stayed in the hybrid model longer than he expected for the 2020-21 year. It wasn't until 10 weeks into the school year that TCU Schools shifted to full-time distance learning, and following winter break, students return to class the second full week of January, either in person or as hybrid learners.
"I think the biggest issue we faced in the beginning of my first six months here is so many unknowns," said Seifert, who started his tenure with TCU Schools in the midst of the pandemic. " … I think from an administrative standpoint, whether myself or principles at each of the buildings, it's been difficult to do long-term planning."
Even with students returning to school — full-time in person for students in pre-K through sixth grade and hybrid for grades seven through 12 — Seifert recognizes the outcome of the pivot is another unknown. With the vaccine becoming more accessible locally, he is hopeful that students can safely stay in school.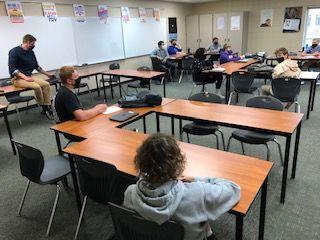 During a year when the district had intended to explore adjustments for the English language arts programming specifically, Seifert said identifying ways to address the instructional needs of students has taken precedence as the piece needing most attention.
The best way the district can gauge student progress for now, said Seifert, is by looking at the results of the FAST (Functional Academic Skills Test) assessment students took in the fall and will again take this winter and spring. Realistically, he predicts the test results will reflect less growth than usual, due to the reduction of direct contact between students and their teachers. But since pre-K-6 students will take the assessments immediately following distance learning this month and again in the spring, after some time back in the classroom, the results will help teachers compare the impact of one format over the other.
To evaluate TCU's implementation of the hybrid model, the district released a survey for parents in the fall. According to Seifert, in breaking down the four district buildings, 60% to 67% of families felt the online pieces were better or significantly better than spring 2020, when the district had limited time to prepare for distance learning. The biggest frustration for parents, as noted in the survey, is needing to act as a teacher to their children after coming home from work.
Winter sports began Jan. 4, and athletes start participating in games and competitions Jan. 14. As of the first day athletics resumed, Seifert said no spectators are allowed. Basketball and hockey players must wear masks while playing, which is a stricter guideline than what health professionals recommended for fall sports.
Although he once struggled with the idea of starting activities before students return to class, Seifert said he realizes now that giving those opportunities to students, when they're already separated from friends, could benefit their mental health.
Non-athletic activities have also resumed in whatever format works best. Theater students have been preparing their one act play submission for competitions, and the department hopes to push back the musical to later in the spring. Students in activities, such as knowledge bowl, have participated in practices virtually.
By the middle to the end of February, Seifert said the administration will need to decide how to go about prom, which typically lands in April or early May. Discussions about graduation will start in March.
"We're trying to make decisions for things four or five months down the road and we don't know what the guidelines will be at that time," Seifert said.
Thinking ahead to summer, one goal of the staff is to consider ways to make up for the broken instructional patterns that resulted from school closures. One option he mentioned involves enhanced summer school programming to support students who fell behind while navigating distance and hybrid learning.
Seifert also acknowledged that some students have realized they prefer distance learning over instruction in person, so the district plans to explore potential online options for those students.
"I think everybody's goal is that now, as we come back, hopefully we don't have to take a step backwards but can stay in this model," Seifert said. "Ideally, when September 2021 comes around, we can go back to what is a normal educational setting."
This year, Cleveland isn't just opening up the school for hybrid learning, the district is also opening up new facilities.
Beginning on Thursday, Jan. 14, Cleveland Public Schools is planning to move grades Pre-K-3 back into in-person learning after two days of prep time for teachers on Monday and Tuesday. Grades 4-6 will be back at school on Monday, Jan. 18 and finally Grades 7-12 will enter the building on Monday Jan. 25.
Our goal is to get everybody back in-person and monitor things," said Cleveland Superintendent Brian Phillips. "We're hopeful that our numbers are low enough and we won't be having to switch between in-person and hybrid learning. They need to be back and we're comfortable at this point with what we've planned."
Same as the other local districts, Cleveland resumed sports and activities Jan. 4 with the first competitions starting Jan. 14.
The Cleveland School District is also opening new facilities in the new year including new fifth- and sixth-grade classrooms, a STEM lab, biology lab, AgTech lab, teacher training lab, gym and weight room, locker rooms, cafeteria and kitchen and a larger band room.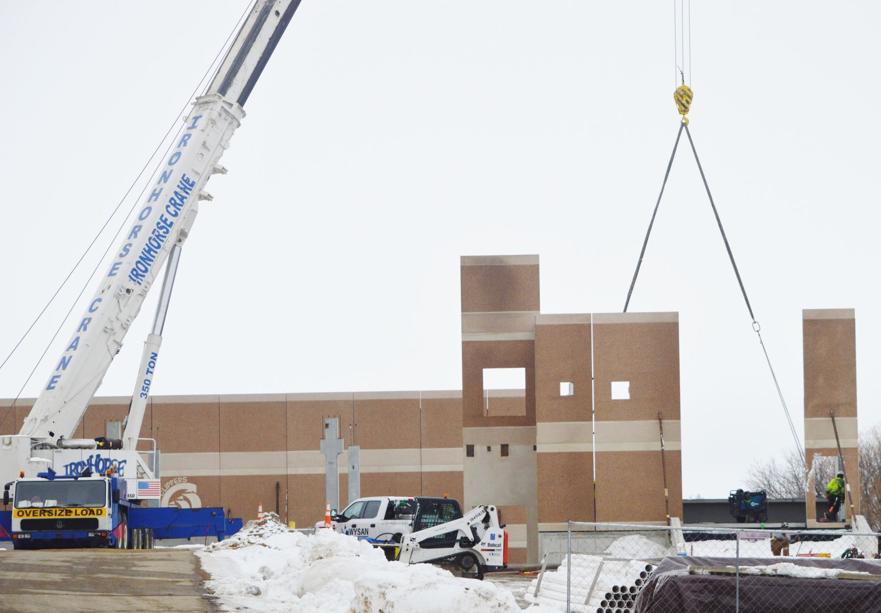 These facilities were recently constructed and paid for with the passage of a $14.4 million referendum in 2018. New programming options including the makerspace, where students can explore problem-solving through play, and the expansion of robotics and addition of digital electronics classes.
However, the facilities will only be partially available to students at the start of the year since there is still work left to be done on the building.
"It is our hope that we'll still get into it this school year and we've been assured that that will happen," said Phillips. "But you know when they round construction you have to go through a punch list, and the punch list can take X amount of time depending on what you find and corrections that need to be made."
Some of the areas that will be immediately available include the first floor, fifth- and sixth-grade classrooms, the STEM Lab, art room, biology lab and new offices for the athletic director and counselor. These spaces have been prioritized to free up space in the rest of the building.
One thing that may not be on the agenda this year was a proposed increase to the district's operating levy. In November, the district sought the approval of a levy increase that would have collected $100,000 in additional revenue. The School Board pursued the referendum to cover additional staffing costs related to the COVID-19 pandemic, but it was rejected by 62% of Cleveland district voters.
But with the potential for a new federal relief package on the horizon, Philips indicated that an operational levy increase may not be necessary.
"We were short $100,000 so if there's another round to meet those expenses it probably won't be necessary to go back to the voters and ask them for more money," said Philips. "We just may look at a renewal of what we currently have or even a reduction if CARES funding is to a point. We're not trying to make money off of this, we're just trying to meet our needs."