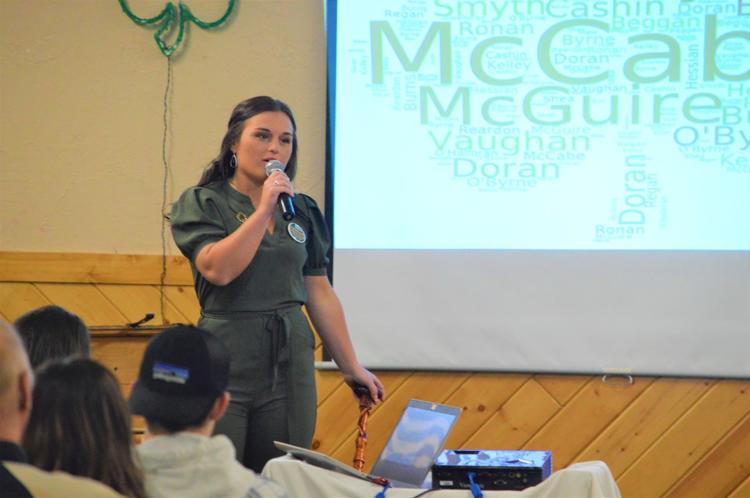 Each of the Miss Shamrock candidates were hoping they had the luck of the Irish on their side at the Queen Candidate Talent Show Saturday. The show, held at the Le Center American Legion Post, was a chance for the community to learn more about the 2020 St. Patrick's royalty.
The event began with a welcome by Grand Marshals Don and Mary Louise Hayden, of Le Center, and a meeting of the candidates — St. Peter High School senior Allison McCabe, Le Sueur-Henderson senior Erin Schultz and Cleveland senior Brooklynn Anderley. But before they shared their talents, the attendees were treated to a performance by Hudson Irish Dance, who have competed at regional, national and world championship levels.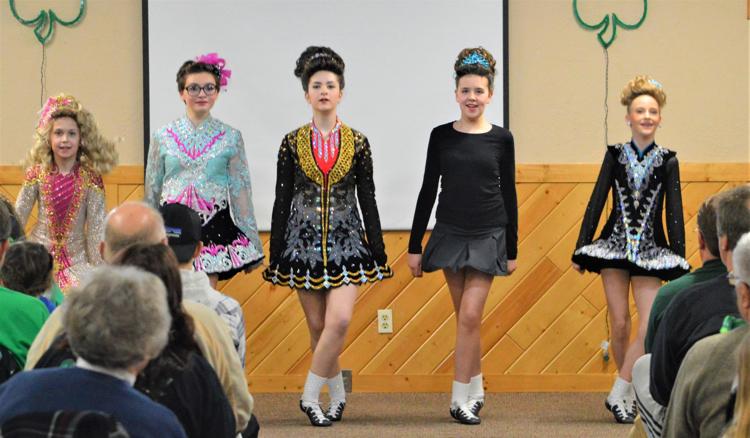 Allison McCabe was the first to take the stage, escorted by Cecilia McCabe. The queen candidate is known for her athletic talents as a captain of the Saints varsity volleyball, basketball and softball teams, but McCabe brought her knack for stand-up comedy to the Le Center stage with a set about the struggles of being short and Irish.
She then told the story of how her family had arrived to the United States during the Irish Potato Famine. Her great-great-great-grandmother had to deal with incredible hardship during the trip to America and had to bury her sister Alice at sea, who McCabe and the other Alices, Alicias and Allisons in her family take their names from. McCabe ended with a performance of the song "Isle of Hope, Isle of Tears" by Irish songwriter Brendan Graham.
"This whole experience has really taught me a lot about my heritage in a fun way with all these girls and learning from them from each other," said McCabe. "You really just get to inspire people and it's a fun thing to do if you're interested in it To see how you became who you are today."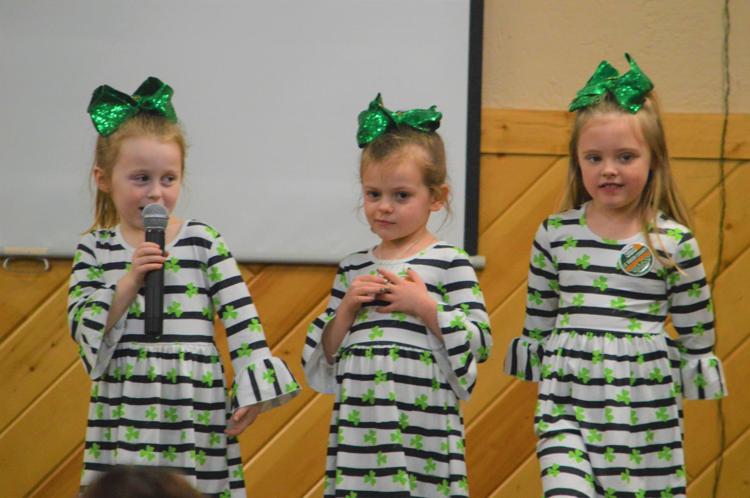 McCabe has a number of achievements under her belt as a student at St. Peter High School. She has been on the A Honor Roll, National Honor Society, a class officer and a student council representative. In her athletic career, she's lettered all four years, received an All-Conference award in volleyball, All-Section and All-State awards in softball and played on the state basketball and softball teams in 2019. Beyond athletics, McCabe participates in choir, was a Saints Ambassador, Project for Teens Leader and Courage and Kindness Retreat Leader. She works as a PCA and volunteers as an altar server and is involved in the youth group at the Church of Nativity in Cleveland. When she graduates, McCabe plans to attend Iowa Lakes Community College in Estherville, IA to pursue a degree in Special Education and further her softball career.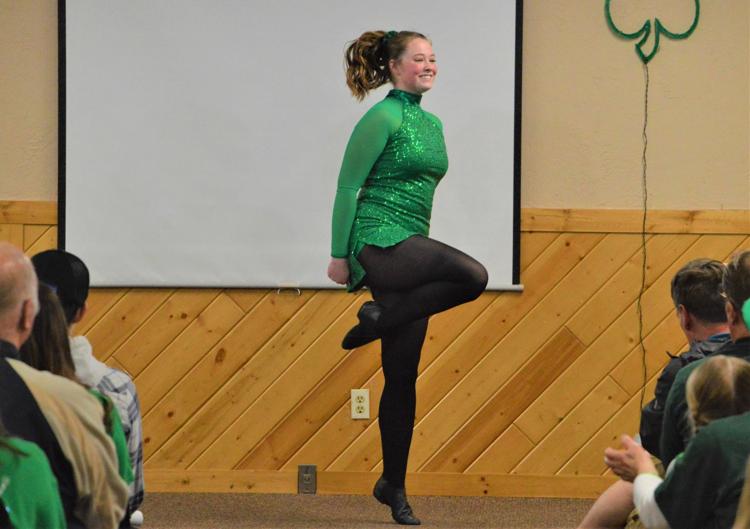 Erin Schultz was escorted by Ruthie O'Malley to dance to her own choreographed Irish step-dance. Schultz has been dancing ever since she was four years old, whether it was at daddy-daughter dances, the Center Stage Dance Company or as the sole Le Sueur-Henderson student on the joint LS-H and Tri-City United dance team, the Black Diamonds. On the team, she's lettered for three years and won an All-Conference award.
"It was an opportunity for me to learn about my Irish heritage more," said Schultz on why she pursued becoming Miss Shamrock. "I've always wanted to take part in something like this and be a leader in my community and represent a community."
When she's not dancing, Schultz participates in the Target (DARE) program, the Bakers Dozen singing group, works as a lifeguard and teaches religious education and bible school at the First Lutheran Church in Le Sueur. Her Irish heritage traces back to the O'Rourke family of County Sligo and the Schied family of County Ulster. Once she graduates, Schultz plans to attend St. Catherine's University in St. Paul to pursue a degree in nursing.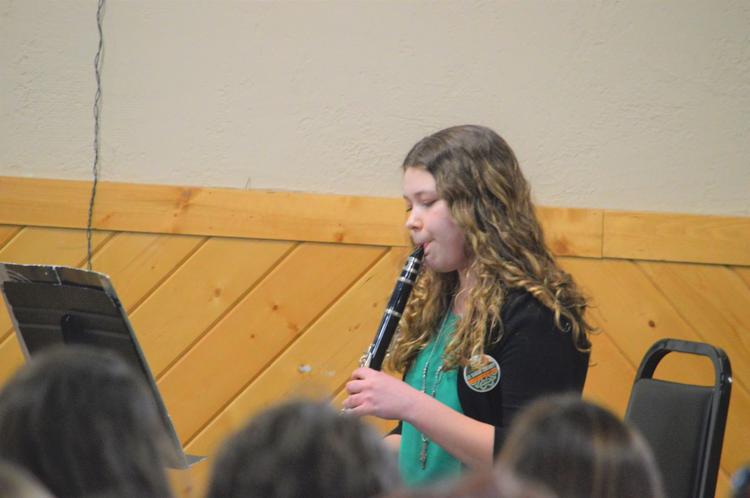 Last but not least of the queen candidates was Brooklynn Anderley, escorted by Maggie Closser. Anderley played a number of Irish folk songs on her clarinet, includingDanny Boy," "My Wild Irish Rose" and "Irish Washerwoman."
"I'm here just for the experience and fun of meeting new people," said Anderley. "You get to learn about everybody's heritage and my Irish heritage, meet new people and have fun this summer."
Anderley's Irish family tree goes back to the Osborne family from the village of Mullacrew in County Louth. As a student at Cleveland High School, she's a regular on the A honor roll, a student council representative and a SADD (Students Against Destructive Decisions) representative. She's played volleyball and enjoys ice skating and horseback riding. She volunteers for Red Cross Blood drives, food shelf collections and numerous school events and the religious education program and church festivals at St. Mary's Catholic Church in Le Center. She currently works as a dietary aide at Central Health Care and plans to pursue an X-Ray Technician degree at Riverland Community College in Austin.
The queen candidates will receive their crowns and titles at the coronation on Friday, March 13 at 7 p.m at the Le Center Legion.
The scholarships and titles available to the candidates include the $3,000 Ms. Shamrock Scholarship, the Ms. Leprechaun $2,000 scholarship, the Ms. Irish Rose $1,000 scholarship and the Ms. John Gregory O'Connell Memorial Scholarship at $1,000. After the coronation, attendees will be entertained by a DJ and can win prizes in the Luck of the Irish raffle drawing. Admission to the coronation requires the purchase of a $3 button which will be available at the door.Reach Reporter Carson Hughes at 507-931-8575. ©Copyright 2020 APG Media of Southern Minnesota. All Rights Reserved.