Salon owners and stylists across the region are going into their second week of state-mandated closure, with an extension likely on the horizon. While many note that employee and client health comes first, the small businesses and independent contractors are also trying to figure out ways to make it through the pandemic financially.
Although the March 16 executive order called for a temporary closure of bars, restaurants, movie theaters, fitness centers and more — set to end March 27 — many in the region believe it will be extended beyond the end of the month as the upper respiratory illness continues to spread throughout the state.
In a media briefing Tuesday afternoon, Gov. Tim Walz also noted that the closure would be extended, without providing a new timeline.
With the number of COVID-19 cases confirmed by the Minnesota Department of Health at 262 as of Tuesday afternoon, state officials have said repeatedly that the actual number is likely much higher . Given limited access to testing materials, not all cases are being reported. The novel coronavirus is most commonly spread via respiratory droplets transmitted during close person-to-person contact and the MDH is advising individuals to keep a minimum of six feet away from others during the pandemic.
When reviewing the governor's executive order last Monday, many salon owners said it wasn't immediately clear that they were among the businesses being asked to close down. Owner Tracy Grieves of Serendipity Salon in Le Sueur said the initial use of the word "spa" left many unsure.
"We were supposed to have closed at 5 p.m. on March 17, but many of us continued to work until 9 p.m. that night," said Grieves. "That was when the Minnesota Board of Cosmetology received clarification that we were included in the order."
At-home removal vs. at-home treatments
The next day, Grieves said she reached out immediately to clients, letting them know she would have to cancel their appointments temporarily until the situation improves. Offering waxing, skin care and nail services, she added that many of her customers come in on a fairly regular basis. For polish, this could be as often as every two weeks as nails grow out and require touch-ups.
"I've created some kits with the proper remover, some cotton pads and some foil. I put those on the front porch of the salon to allow [clients] to come pick that up, so at least they can do something at home to safely remove their product," Grieves noted, adding that she worries many might not come back as soon after breaking their habitual two-week cycle.
She and many other salons have also been posting advice and videos on social media for those now needing to remove polish or care for their treatments at home.
"We're still advising that people not take anything into their own hands," said Sarah Chelmo, who manages Sisters Salon & Day Spa in Owatonna. "Just wait for us, if you can. Otherwise, you're going to end up having to fix something versus just waiting for your stylist."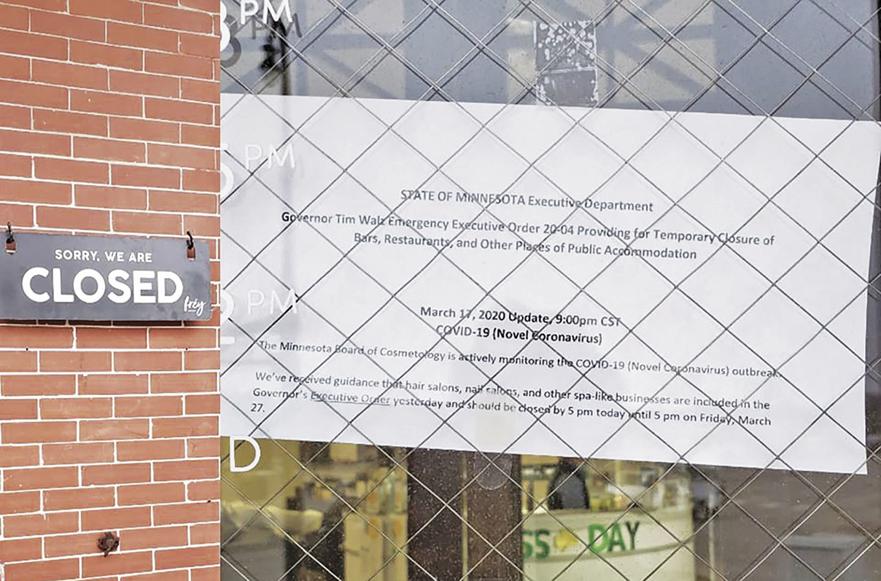 In St. Peter, Fréy Salon & Spa posted a similar sentiment on its Facebook page, noting that stylists will likely be especially busy when salons are allowed to reopen and that it can take a fair amount of time and money to fix a botched dye.
"We're going to end up working 12-hour days," co-owner Emily Schoper said, of what life will likely look like after the pandemic. "In our heads, we're probably not going to be back to work on Saturday."
Independent contractors hit hardest
While closed down, Schoper said the six stylists, two massage therapists and four guest service workers have been able to apply for unemployment as official employees of the salon. She added that the shop has kept its general manager on on an hourly basis to field phone calls, sell gift certificates and provide products via curbside pick-up and delivery.
"Nobody is an independent contractor, which in this case has been great because all the girls can ask for unemployment insurance with no questions asked. [My co-owner] and I were also paying premiums ourselves, so we can get unemployment, too," Schoper explained, noting that she's still waiting on final confirmation from the Minnesota Department of Employment and Economic Development.
Under most circumstances, wages paid to an employee are also used to establish an unemployment insurance benefit account if a worker is laid off or gets their hours reduced through no fault of their own. According to DEED's website, this is done through payments on taxable wages made by the employer to the state to reimburse benefits collected by former employees.
However, in some cases — often for small business owners or independent contractors — an employer is not required to pay unemployment insurance tax on wages.
In these cases, unless they've previously opted in, they may not qualify for unemployment insurance. Grieves noted that many self-employed individuals, like herself, now are unable to apply for benefits in the wake of the pandemic.
In a press conference Monday afternoon, DEED Commissioner Steve Grove acknowledged that small business owners and independent contractors will be among the hardest hit by the economic toll of COVID-19.
"We've been evaluating every option at our disposal to help," he said.
Earlier this week, the agency also introduced an emergency loan program for small business owners intended to help those impacted by last Monday's executive order. The initiative will make $30 million available from special revenue funds and the agency's lender network will be able to offer between $2,500 and $35,000 for qualifying operations. Loans will be 50% forgivable and issued at a 0% interest rate.
Still, half of the money will need to be paid back at some point and for Grieves, she said she's hesitant to commit herself to another payment down the line — especially while still paying off the mortgage on her home and business. "It's still something you have to worry about paying back, on top of the fact that you're worried about paying your monthly bills."
'We're all brainstorming'
Something Grieves has done in the meantime to try to keep the business afloat has been to create gift certificates that clients can purchase online to use for services at a later date. In talking with other area salon owners via social media, she said she's trying to come up with additional ways to keep at least some revenue coming in while the physical business is closed.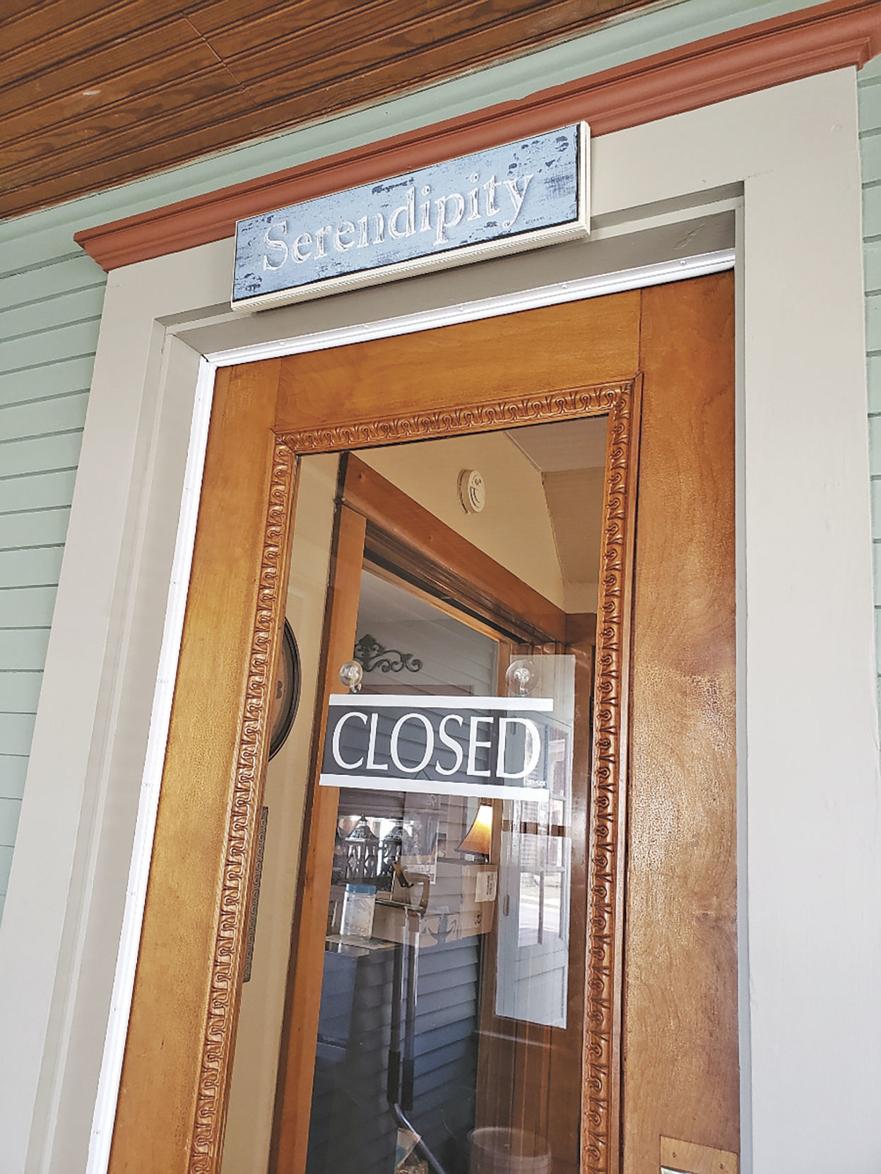 "We're all brainstorming. We're all in the same boat," she noted, adding she may start trying to arrange curbside product pick-up or delivery.
Cole Johnson, who owns Haute Skin Spa & Tanning in Faribault and Owatonna, seconded Grieves, adding that many of the events that clients would use his services for have also been postponed due to the virus' spread.
"There's really not a ton that we can do. Right now, my big markets are spring break, prom season and wedding season, which are all kind of cancelled," said Johnson. "Even if we could figure out a way to sell a self-tanner, no one has any use for it right now because there's nothing to do."
He added that he's been working with a banker to apply for federal and state loans, and Schoper said she is doing the same thing — noting that qualifying for unemployment insurance has provided a welcome cushion to be able to talk options out with the business' financial advisor.
"The silver lining to me is after this is all done, people are going to need self-care even more than they did before," said Schoper. "We're just trying to stay positive and look forward. The safety of our team and our guests is what comes first and foremost."