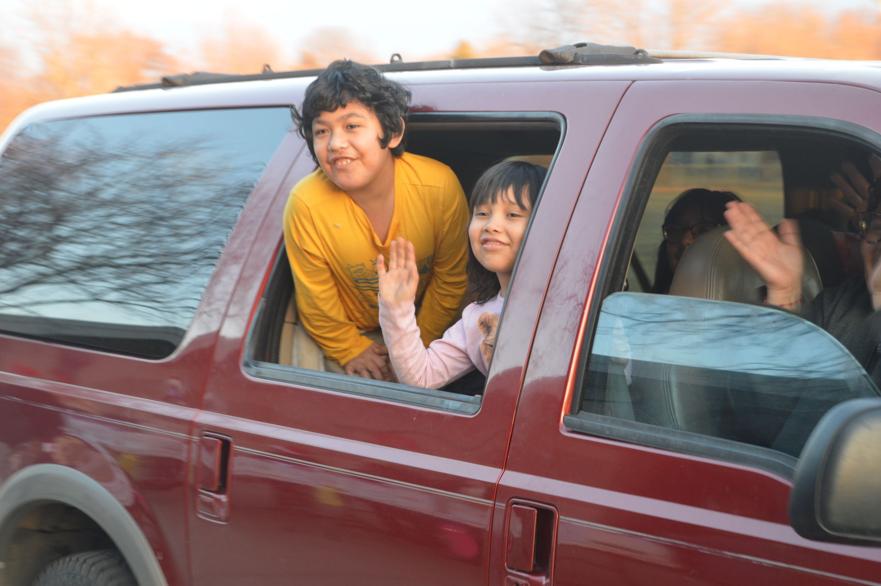 Park and Hilltop Elementary kicked off holiday break by reuniting students and teachers after two months of distance learning.
Teachers K-5, along with principals and staff, lined up along the back of the Park Elementary building on Dec. 21 for a holiday "reverse parade." Instead of a holiday parade riding through the streets, families drove through the elementary parking lot to see faculty in their Christmas best.
The parking lot was turned into a winter wonderland. Gingerbread houses, snowmen and light-up reindeer dotted the scene while faculty and staff dressed head-to-toe as Santa Claus, Christmas lights, elves and reindeer. The full-body costumes and some outdoor fire pits kept them cozy in the chilly evening.
Once the clock hit 4 p.m.,vehicles tickled in one by one. Christmas carols sang from the speakers and kids shouted and giggled from their windows as their teachers waved back.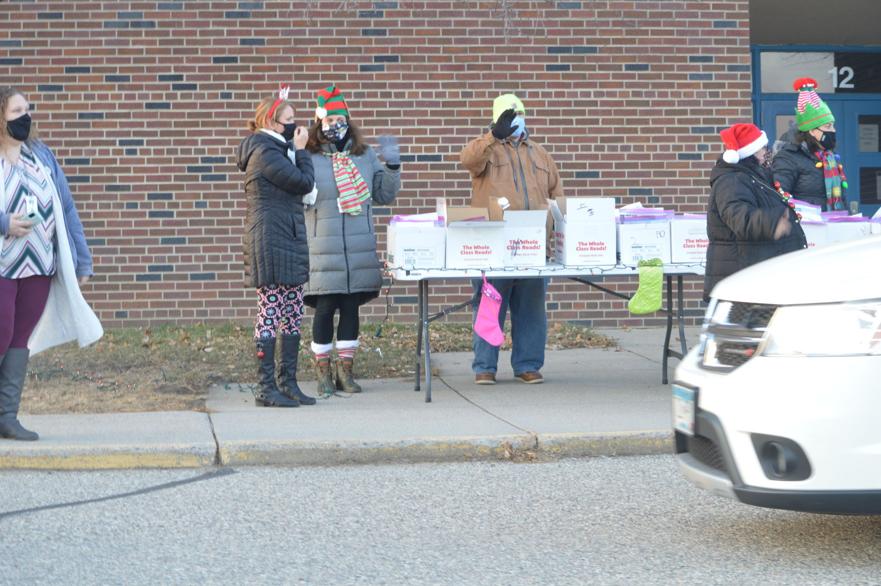 "We just missed our kids," said Park Elementary Principal Christine McDonald. "Because of distance learning we weren't able to do all of our traditions like Santa breakfast and gingerbread houses and holiday concerts so we came up with this idea thanks to the Marines Readers Foundation."
With books donated by the Marines Readers Foundation, the elementary schools assembled gift bags featuring a story, snacks and a toy for each student that dropped by. On their way put of the parking lot, each student received a jolly goodbye from St. Nick.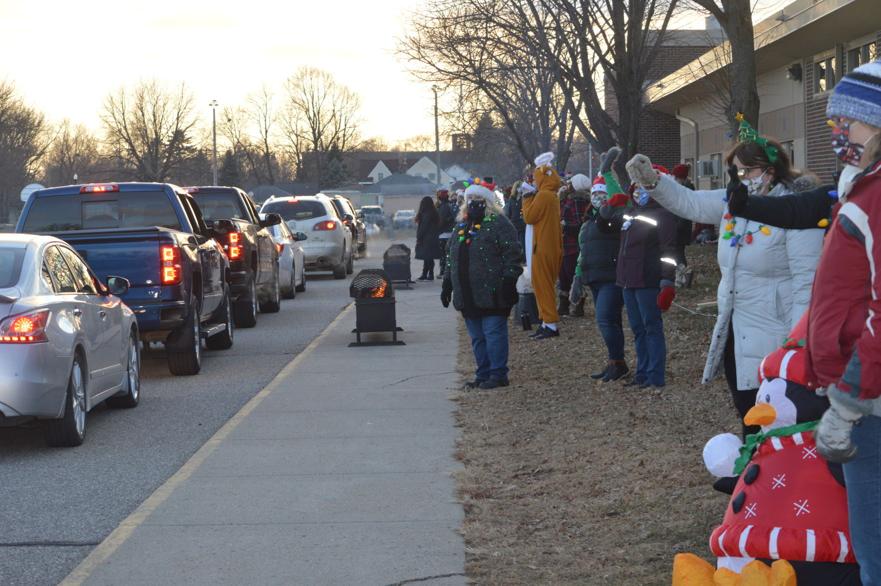 The reverse parade was the last time students and teachers would see each other before the end of the year. It was an emotional reunion. Though teachers were seeing their pupils online, it's been nearly two months since they've shared the same classroom.
"You can tell they're smiling through the mask and it's nice to see them," said second grade teacher John Siepel. "It's been so long."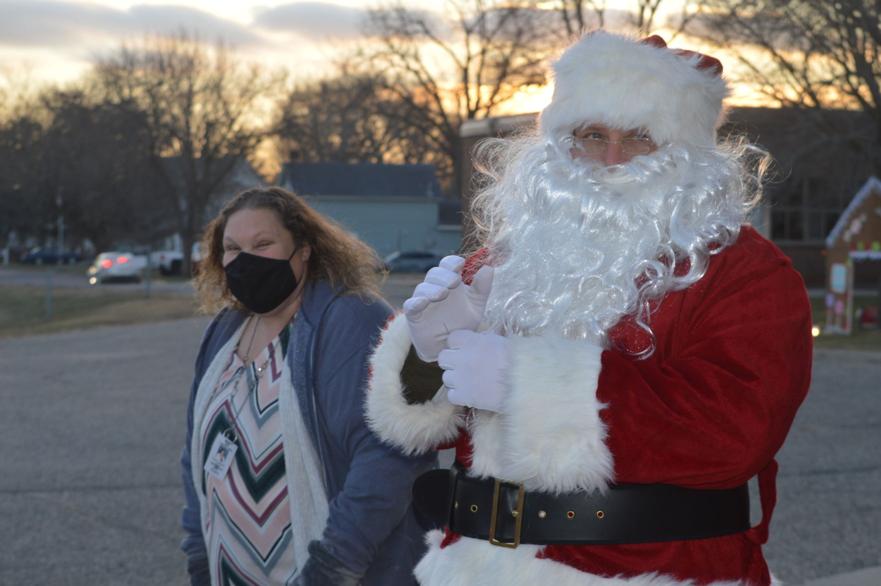 "It's fun to see the students because they're really excited to see us," said fourth grade teacher Rebecca Roe. " They're shouting through the window and it's fun to see them. We see them on Zoom everyday, but it's not the same."
For third-grade teacher Adina Gupton, the parade was a reminder of how much she wanted to see her pupils.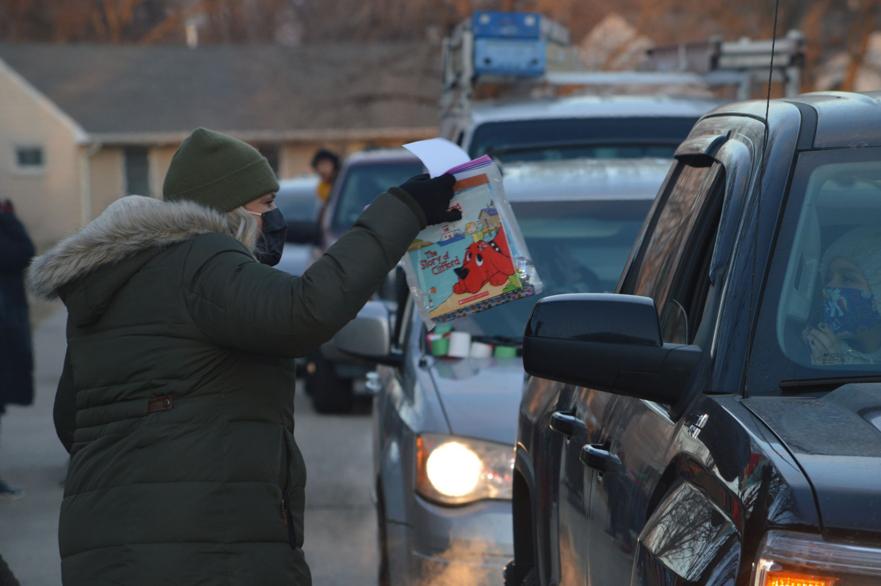 "I don't think you realize how much you miss the students," said Gupton. "Everyday you see them on Zoom, but being able to actually interact with them even though you're this far apart — I think it's really bittersweet. I'm grateful that families could come out and participate."