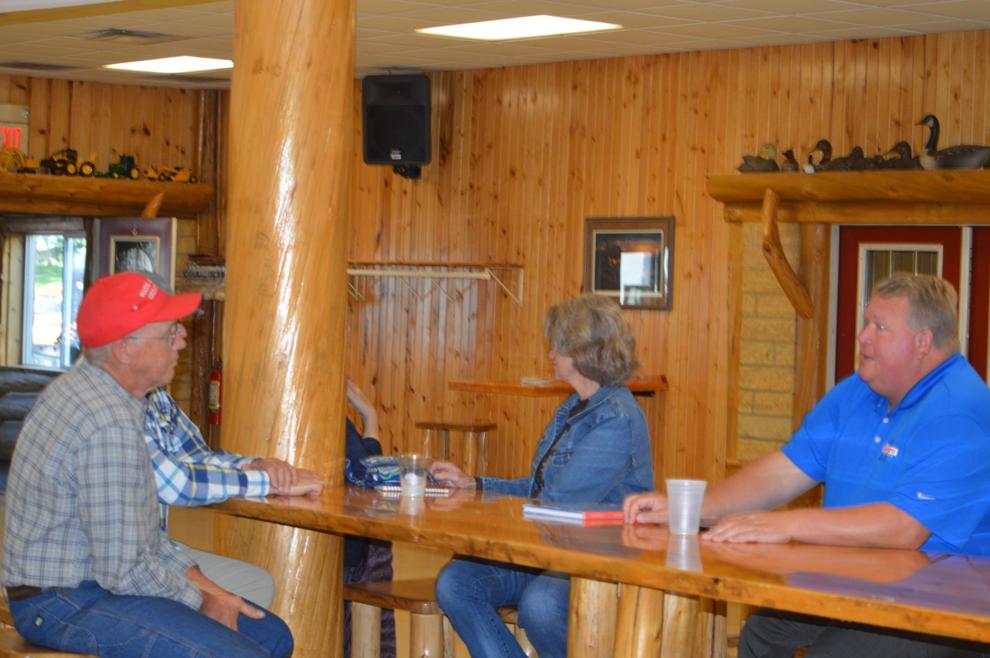 Southern Minnesota became a focal point for the Minnesota Republican Party last week, as elected officials, members of the Trump campaign and party chair Jennifer Carnahan toured the region. On Thursday, Sept. 10, the Caribou Gun Club in Le Sueur hosted Carnahan, United States Rep. Jim Hagedorn, R-MN, state Sen. Rich Draheim, R-Madison Lake, and state house district 20A candidate Brian Pfarr, R-Le Sueur, to update citizens and party members on the GOP's goals this election.
The biggest thing on their mind? Flipping Minnesota red. A Republican presidential candidate hasn't won the state since Richard Nixon in 1972, but in 2016, Donald Trump made significant gains and came just 44,000 votes behind Democratic candidate Hillary Clinton in Minnesota.
"He was able to tap into the Minnesota voters that compelled people to flip their vote — lifelong Democrats who voted for president, people who never voted before — and turned out the base of our party as well," said Carnahan, who is married to Hagedorn. "There was no statewide coordinated effort or national investment in Minnesota and he still came that close."
Trump's new level of support in Minnesota, compared to previous Republican challengers, has turned the state into a battleground. The Trump campaign has stepped up its efforts in the state, and Trump himself visited Mankato last month and plans to visit the state again on Sept. 18 in a push to overcome Democratic nominee Joe Biden's current lead in Minnesota.
"The Trump campaign is heavily invested in our state, with our state in the strongest financial operational condition it's ever been in with the strongest ticket of candidates on the ballot top-to-bottom," said Carnahan. "It's perfect in a way; all the stars are aligned and it really is our opportunity to make history on Nov. 3."
Republicans are now on the move to boost turnout across the state. Canahan's stop in Le Sueur and 11 other southern Minnesota communities was part of series of tours across the state to get local Republicans involved, give a platform to local candidates and register citizens for early voting, which begins on Sept. 18.
The lineup of candidates included Rep. Hagedorn, who talked to voters about his accomplishments in office, including a recent $22 million grant from the Department of Transportation necessary to expand Hwy. 14 into four lanes between Nicollet and New Ulm. Hagedorn was part of a bipartisan team which included Gov. Tim Walz, state legislators, local officials and MNDOT that aimed to acquire the funding.
Pfarr, the president of First Farmers & Merchants Bank in Le Sueur and a 32-year veteran of the Minnesota Army National Guard made the case for his candidacy in District 20A. If elected, Pfarr would succeed outgoing Rep. Bob Vogel (R-Elko New Market) who announced his retirement earlier this year.
Draheim called on voters to preserve the current GOP majority in the Minnesota State Senate and what he has been working on. The state senator said that a recent focus of his has been assisting long term health care facilities whose COVID testing has been turned down by the governor's office.
"They're saying they can't handle the quantity of tests," said Draheim. "So it's very concerning for that population because that's where a lot of the deaths are recorded at long term care facilities … For me, if you're going to put mandates on all the nursing homes and long-term care facilities, they're all trying to do the right things because they love their patients, they're like family and then to have the state come in and put all these other requirements on it and not follow through because they can't get their tests done is concerning."
Draheim also spoke on recent findings by the Republican-controlled Transportation and Public Safety Committee, which received testimony that Minneapolis police called for help from the National Guard in the wake of civil unrest following George Floyd's death on May 27, contradicting Gov. Walz' claim that there was no request for help from the guard until the day after.
"It wasn't acted on for about a day," said Draheim. "Either there's a failure at the [Public Safety] Commissioner's level or at Walz's level."
Reactions from local Republicans at the Caribou Gun Club were positive, with several agreeing with Carnahan that this could be the year they could win Minnesota.
"Trump is making inroads in Minnesota, so we're kind of hopeful that we could take Minnesota," said Anne Losinski, of Le Sueur. "We're staying positive."