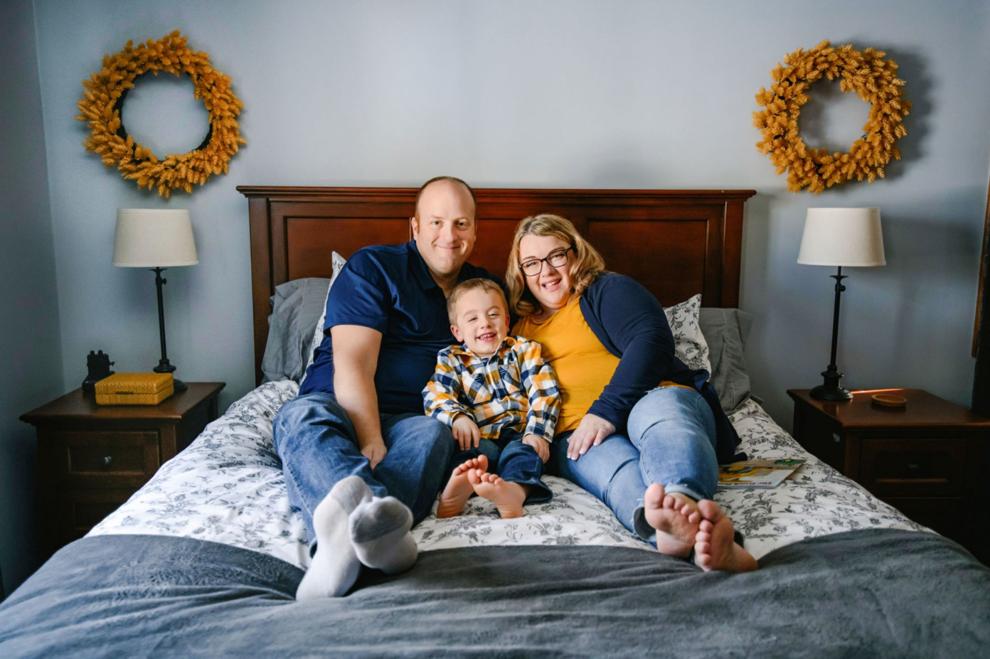 Travis Muchow was more than just an officer of the law, he was an officer of the community. Among his colleagues, Muchow was well respected for his ability to empathize with the community and relate that back to the rest of the department.
After spending more than 15 years at the Le Sueur Police Department, Muchow, only 41 years old, handed in his resignation this spring following a brain cancer diagnosis, which restricted his ability to do the required work and pushed him to focus on family.
Diagnosed with grade 4 glioblastoma, one of the most aggressive forms, Muchow's condition is very likely terminal. His life expectancy could range from months to years.
His presence on the force will be missed.
"Travis has been essential in teaching other officers, including myself, the importance of empathy in police work and how it can positively change any situation," said Le Sueur Police Captain Aaron Thieke at an April 27 City Council meeting honoring Muchow for his years of service. "It's for this reason that Travis has become an irreplaceable asset to the Le Sueur Police Department."
Before Muchow planted his roots in Le Sueur, he lived and grew up in Sioux Falls, South Dakota with an older brother and sister. While in South Dakota, he would earn his general education and criminal justice degree from Sioux Falls' Kilian Community College.
Fresh out of college, Muchow wasn't sure what he wanted to do. His girlfriend and now wife, Monica, pushed him to consider law enforcement, believing that he had the makings of a good police officer.
"He's always been a fair person, very authentic and fair." said Monica. "I just thought it would be a good profession for him, because he likes structure and for things to be orderly, and he actually didn't mind customer service in college. That aspect becomes a big part of law enforcement, of course."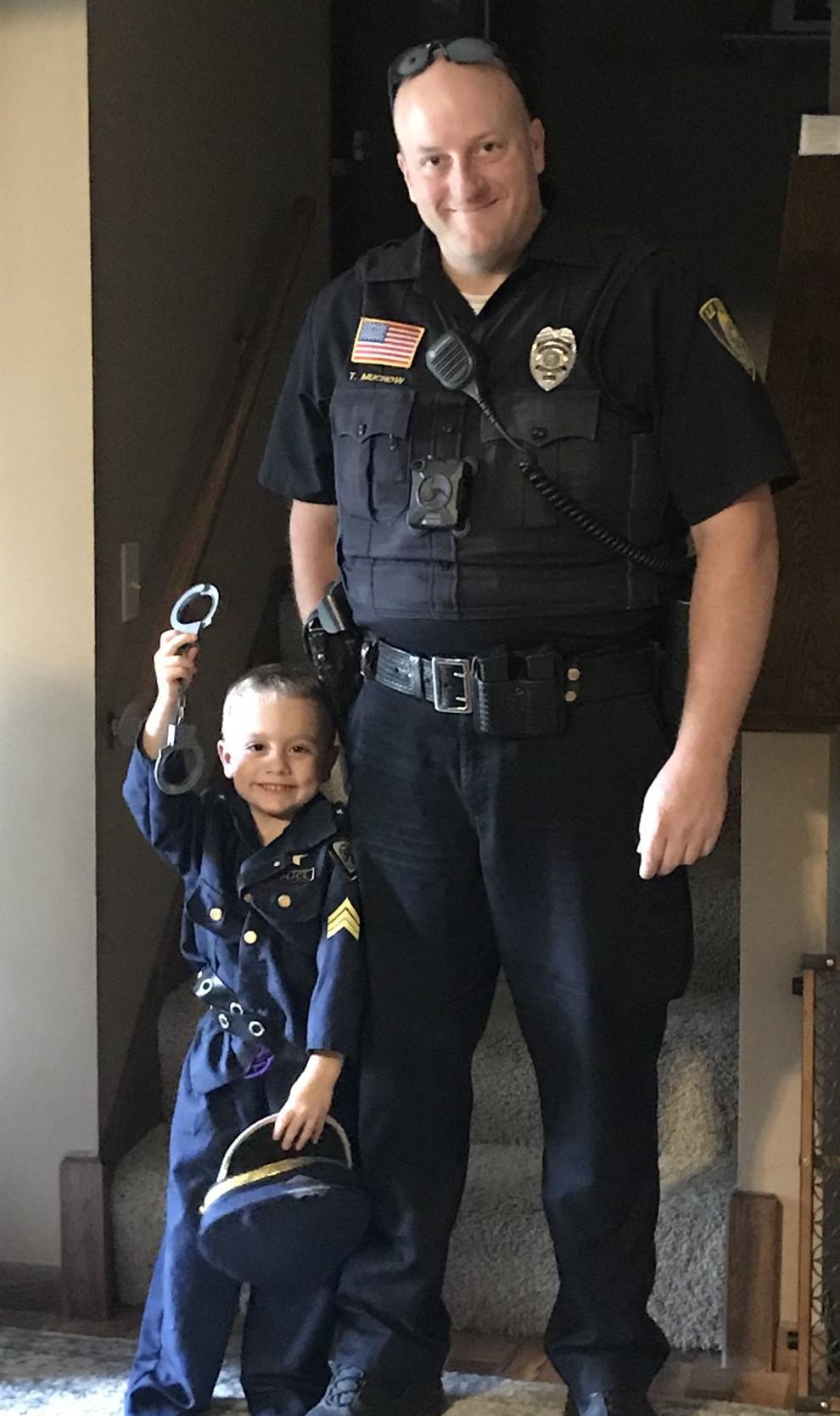 Muchow decided to follow Monica's recommendation and would receive his law enforcement certificate in 2003. It was a highly competitive field at the time and Muchow spent 9 months working security at Treasure Island Resort and Casino while sending out applications.
Eventually, his efforts paid off, and Muchow would join the Le Sueur Police Department and a community which would become his home for the next 15 years.
When Muchow joined the Le Sueur Police Department, he established himself as an officer who would treat situations with fairness and empathy. His attitude toward policing has earned him not just respect from friends and colleagues, but even people he's arrested.
"He had a unique ability to empathize with the community he served," said Captain Thieke. "Travis can approach a serious problem and not only see it from his perspective, but he has the distinct ability to put himself in someone else's shoes and see issues from their point of view."
Muchow said that when he's responding to a situation, it's important that he can develop an understanding of the people involved.
"A long time ago, it was explained to me you have the type A cops and type B cops," said Muchow. "The type A, if you were to describe it, would be like the alpha male mentality. Then there's the type B, which is 'Let's work through this problem.' I have found it easier to be that guy, be more empathetic. Understand where they're coming from, even though they're doing wrong."
That sense of fairness had endeared him to his community. So has his his happy-go-lucky attitude and sense of humor, as described by his colleagues.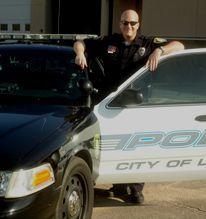 "I think people had great trust in Travis, because he's an active member of the community and they knew him personally as well as professionally," said Thieke. "He was always good at making us laugh. He could bring a lighter atmosphere to serious situations."
Fostering relationships with his fellow officers and the community became an important part of the job for Muchow. Initially, he dreamed of working for a large police department, like Minneapolis or St. Paul, but he realized that he couldn't build the small town relationships he learned to love if he moved.
"After a few years, I recognized that you don't get to meet people in the community and maintain a trust and relationship with them," said Muchow. "And I liked the guys that I worked with, so it was hard to leave that."
But policing a community as small as Le Sueur has still proven to be an adventure. Muchow has responded to plenty of situations over the years, from basic patrol to investigations to being a first responder. One of his most memorable calls was when he had to wrangle horses that had escaped from a farm.
"I think if I had gone to a bigger city or a bigger department, I would have missed out on a lot of that," said Muchow.
Unfortunately, Muchow was forced to leave the Le Sueur Police Department sooner than he had planned.
In November 2019, Muchow started having trouble speaking while working a case. He said he chalked it up to stress at the time, but his doctor recommended he visit Mayo Clinic in Mankato for a scan. The clinic found a brain tumor around 2.5 cm in size. The tumor led to a diagnosis of glioblastoma, an aggressive form of cancer which originates in the brain or the spine.
Muchow has since had a resection surgery had some 30 rounds of radiation treatment as well as chemotherapy. It's an aggressive condition which typically recurs in a few months, even with surgery and other forms of treatment.
A possible recurrence of the cancer has already been detected, but Monica said that it wasn't certain. The area of concern could also be tissue scarring from radiation treatment. Besides some fatigue and minor tremors, Muchow is currently holding up well and can enjoy his favorite activities such as motorcycling, four wheeling and camping.
But there are no sure things going forward for the family.
One of the methods Muchow is using to treat the cancer is an optune. The device is a portable field generator carried in a backpack or bag, which transmits wave-like electric fields to the brain through transducer arrays, bandage-like electronic transmitters attached to the head.
These electronic fields interfere with the division of tumor cells, causing tumor growth to slow down or stop. Tumor cells may even be destroyed through this method. Because the device must be carried and charged, Muchow can't respond to situations like he used to and had to retire.
"If I wouldn't have to wear this device, I could about guarantee you I would be at work," said Muchow.
While the cancer has stopped him from continuing his work as an officer, it hasn't stopped him from living his life. He is spending his retirement making the most of each day with Monica and their son Braden, who is 4 years old.
"My wife and I had a conversation about it," said Muchow. "And she goes, 'Why don't you enjoy life and ride your motorcycle?' And I said, 'You know, that's a great idea. So I'm spending time with my kid, riding the motorcycle when I can and spending time with family.'"