Businesses large and small have been tormented by shortages of computer chips, construction materials, plastics, lumber and everything in between, but it's not just material goods that companies are running low on. Employers across greater Minnesota are missing another valuable resource: employees.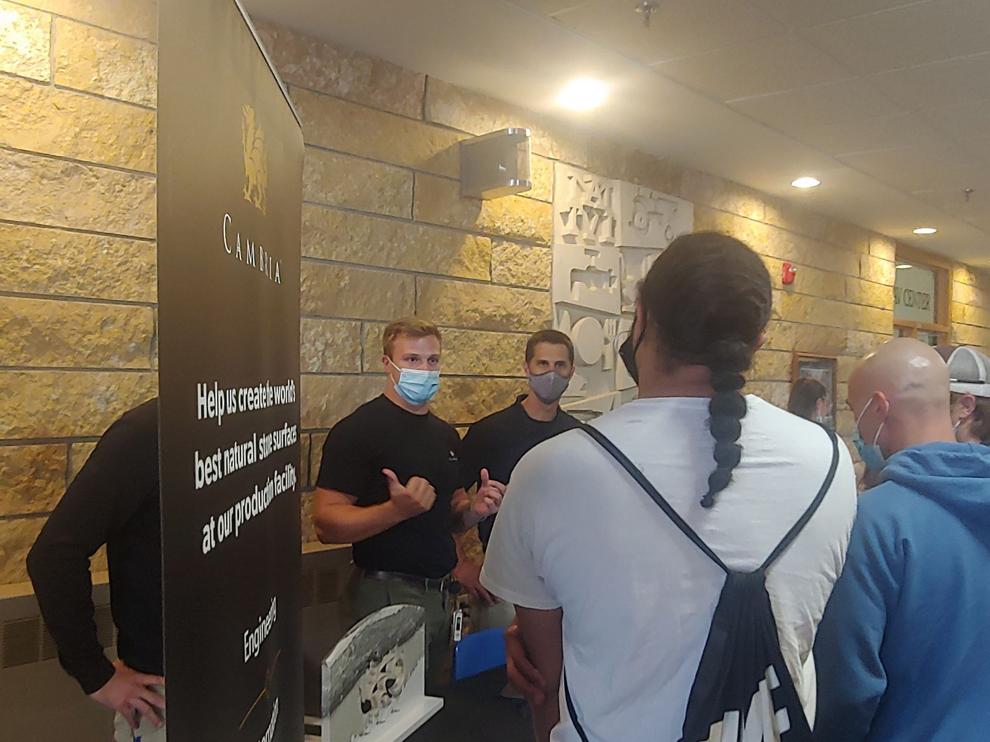 The search for new recruits brought businesses from Le Sueur, Le Center, Faribault, St. Peter, Owatonna, Waseca, Mankato and other communities into the Conference Center of South Central College in North Mankato for the Southern Minnesota Regional Job Fair. Hosted by the office of Rep. Jim Hagedorn, R-Minnesota, the Tuesday fair featured 26 businesses across the 1st Congressional District.
The regional job fair was a well needed boon for firms like Ellingson Companies, a drainage construction firm based out of West Concord. Recruitment and Employee Development Manager Ralph Anderson set up a booth at the fair to recruit for project managers, welders, software managers and more skilled positions.
Openings in positions like these aren't too hard to find, but recruiting the right people to fill them is the challenge. Job vacancy rates in southwestern Minnesota have risen since 2008 and reached a peak of 6% in 2019, partially due to a lack of skilled job seekers available to fill in-demand positions. The problems have only been exacerbated by the pandemic.
COVID-19 further compromised hiring opportunities, as businesses shut down and many workers were laid off. Even as companies have reopened, the region still hasn't recovered the jobs lost during the pandemic.
Some have suggested that laborers aren't returning to the workforce out of fear of the virus. Others have theorized that extended unemployment benefits are allowing workers to stay home.
"It's probably influenced by the pandemic," said Anderson. "We hire a lot of entry level employees, and that's where the government subsidy comes into play the most."
Now, as more companies open their doors to new employees, recruiters like Anderson are doing whatever they can to attract workers. At the fair, Anderson handed out flyers that allowed people to apply by phone, text and even a QR code. Job fairs are an important place to hire new and young talent that fill roles with more training.
"I go to every [job fair] I can go to which is approximately two or three a month," said Anderson. "We have to get to the school age students to start recruiting and we look for people with IT project management, trucks and project management, while they're still in school."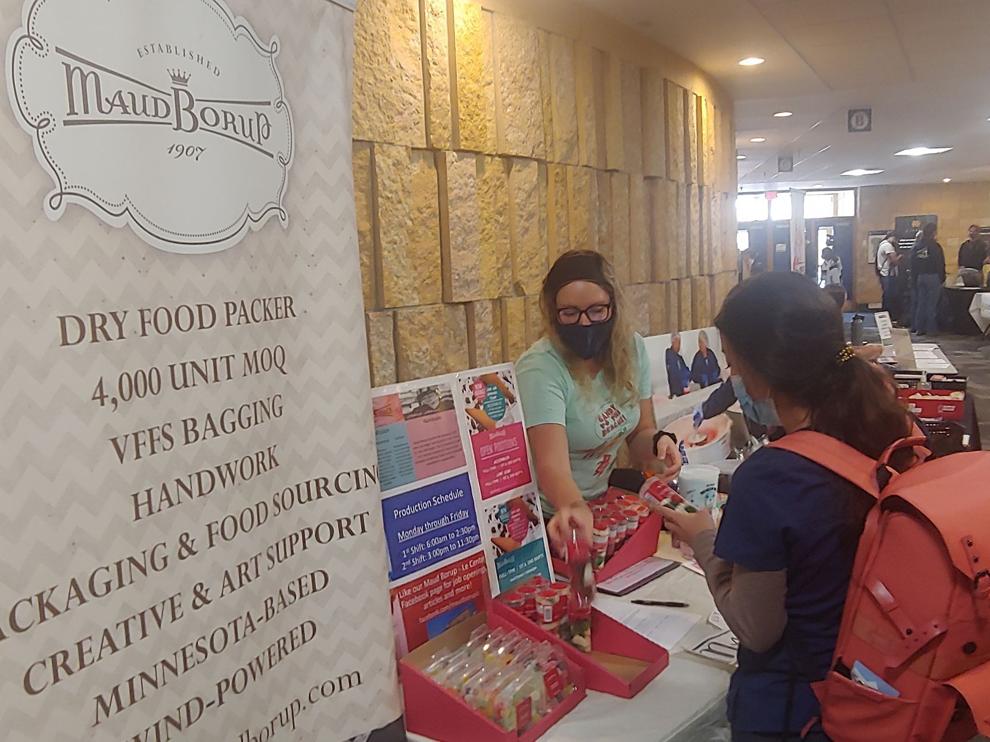 The competitive job market is also pushing employers to offer higher wages and benefits. Maud Borup, a candy and sweets manufacturing company from Le Center, raised wages in hopes of bringing in more employees to fill assembly roles and more skilled positions like maintenance, sanitation and warehouse.
"With COVID, we did stay open so we did have a lot of people stay on and work year round. It has been good retention-wise," said Human Resources Generalist Sam Poquette. "However, hiring does get complicated, especially in a small area like Le Center. With COVID and how everybody is hurting right now it is competitive, so we rose our wages to try and keep competitive with that."
Poquette hoped to not only attract potential employers, but new customers at the job fair with free samples of chocolate colored pretzels and gummy candies.
Job Fair Host Rep. Hagedorn said that connecting southern Minnesota businesses with workers was more critical than ever, as the state moves out of the pandemic. The congressman also highlighted the skills gap contributing to labor shortage and proposed an expansion to 529 savings accounts to promote technical skills.
The American Workforce Empowerment Act was introduced to the House of Representatives by Hagedorn in April and calls for tax-preferred college savings plans to fund certain programs such as technical schools, trade apprenticeships, and certificate programs outside of a traditional four-year college degree.
"For far too long our country has pushed people into this mindset of if you don't go to a four-year college, you'll never amount to anything," said Hagedon. "That was unfortunate, because there were a lot of people that inside really wanted to work with their hands, get inside one of those technical fields and they were pushed out of them … Now I think we need to say 'If you want it, go for it, because there is opportunity everywhere.'"