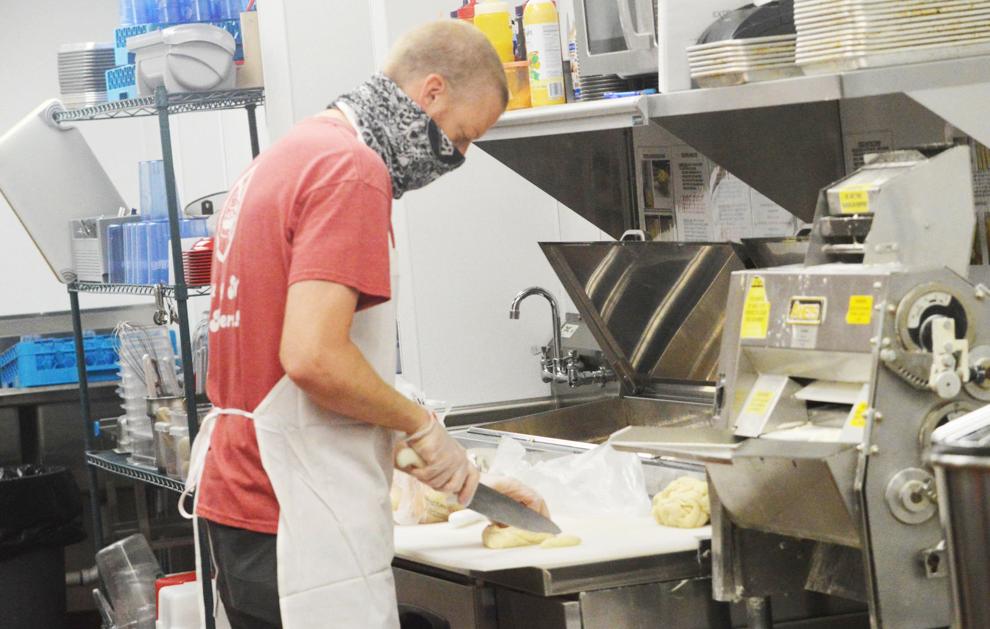 Restaurants finally reopened last month, but COVID-19 is still taking its toll on business.
On June 10, Minnesota Gov. Tim Walz loosened restrictions on restaurants, allowing dining rooms to open at 50% capacity and seat up to 250 people. The change has been welcomed by restaurateurs, but a month in, indoor service has still been slow at many establishments.
"The actual dine-in service hasn't been that popular of an option," said Stefan Brekke, general manager of Extra Innings Paninos and Pizza in St. Peter. "I think a lot of people are still weary about going out and being around other people. There are some days that we have several tables in there and some where we don't have any."
Brekke said that Extra Innings has seen more customer engagement through the restaurants' curbside pickup and delivery service.
Amber Talbert, general manager of Crooked Pint Ale House in Faribault, reported a similar experience. Between the bar and grill's outdoor and indoor seating, customers typically prefer sitting out on the patio.
"A lot of people I think are still hesitant to sit in the building," said Talbert. "They would rather sit on the patio but we only have limited spacing out there."
Both Brekke and Talbert said that their restaurants have been following Minnesota Department of Health and Center of Disease Control guidelines for public safety. Even with these precautions, some restaurant owners shared anxieties about the potential spread of COVID-19, including Maria Isabel, owner of Chabelita's Yummy Foods and Fruits in Le Sueur.
"We've been a bit scared too because we don't know if people out there that are coming in here might be sick," Isabel said through an interpreter. "So we've been trying really hard with cleaning our tables, pens — we are just trying to be as clean as possible. We're hoping this all goes by and everything comes back to normal. We're just always hoping that all our customers are staying safe."
Like other establishments, curbside pickup and delivery has been more profitable for the Le Sueur-based Mexican restaurant.
"Now that restaurants are reopened not as many people come here because they go to bigger businesses," said Isabel, "But the people that have mainly been coming here since the beginning are still coming in and supporting us … We're just always hoping that all our customers are staying safe. We're really hoping that more people start coming in to eat."
Minnesota guidelines for indoor dining have required restaurants to find different ways to operate. Restaurants must ensure a minimum of six feet between tables, limit service to tables of four or less, (six or less if the customers are family) and require reservations. Employees are to wear masks at all times while encouraging customers to wear masks when not eating or drinking.
For Don Juan Cantina in Owatonna, the restrictions have been manageable. Owner Silvestre Medina said that business has been fair, but it has been a change of pace for the restaurant.
"The only challenge is when we are open for dining, we have customers waiting in the lobby," said Medina. "We have to tell them to wait outside so that we are promoting social distancing."
However, for Crooked Pint Ale House, serving customers both indoors and outdoors while wearing face masks has made work harder for staff.
"The masks are an extreme challenge for us," said Talbert. "It's hard to hear us; it's hard to breathe; it's hot. I had one employee that had to go to the emergency room for having chest pains and air troubles, especially going inside and outside."
She added, "I know that we're doing everything we can to make sure everyone is safe. Everything is extremely sanitized and clean. We're following all CDC guidelines and social distancing regulations. We hope people aren't as fearful to come out."
While COVID-19 has forced restaurants to approach service differently, Brekke believed that this experience could lead to better standards and practices in the restaurant industry.
"We're just being more conscious in taking that extra step or extra bit of effort to go out of our way to make the customer feel more comfortable," said Brekke. "We make sure to have sanitizer for people's hands available at the front and back entrances, sanitizing surfaces every hour — things that ordinarily wouldn't be sanitized like door handles, pens that people use to sign credit card slips. It's just created a more conscious restaurant environment."