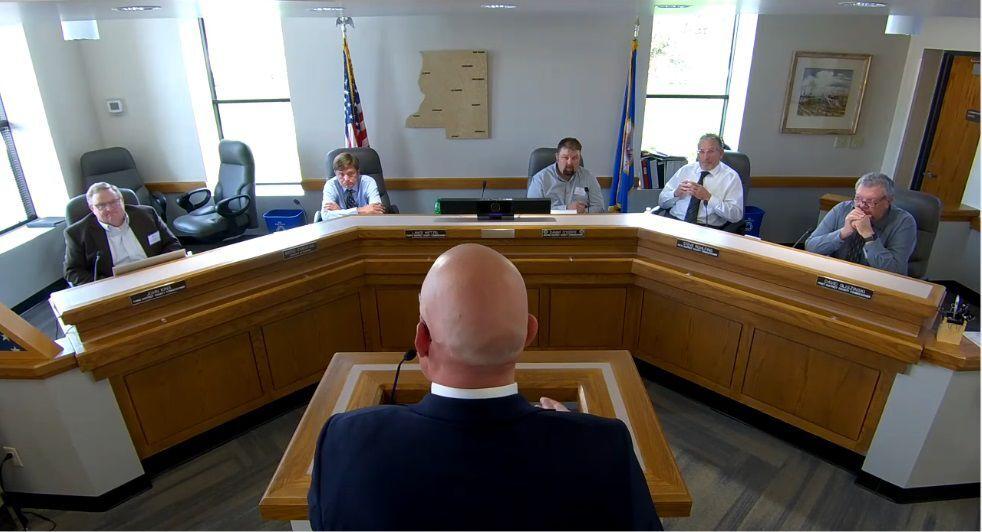 With the departure of former Le Sueur County Administrator Darrell Pettis, the position responsible for directing the county departments has been vacant since January. But after a months-long search, the Board of Commissioners finally had the opportunity to interview four finalists on Monday intent on filling the position.
Applicants came with varying levels of public and private experience, ranging from city administration, county administration, county coordination and directing a federal agency. Each finalist came before the board for a public interview after going through a recruitment and screening process by hiring consultants David Drown Associates. The candidate chosen by the board is expected to begin their first day as county administrator on June 25.
The first candidate was Joseph Martin, who most recently served as the state executive director for the USDA Farm Service Agency in St. Paul, where he served as a political appointee for a four-year term. Prior to this position, he served as the owner and president of a private consulting business serving various sectors in communications and management for approximately five years. Martin also served as a communications manager for DuPont Pioneer in Mankato for two years and as assistant commissioner for the Minnesota Department of Agriculture in St. Paul for five years. Martin holds a bachelor's degree in Communications and Political Science.
Martin described himself as a man with a diversity of experience leading people in the public and private domain and as a direct communicator. He spoke on his experience managing his department's budget with the Department of Agriculture and pointed to transportation, water quality and broadband infrastructure as priorities for the county.
"We live in a diverse county, so water quality is a huge issue," said Martin. "We have to balance between agriculture and business and recreation. That's not easy, there's nothing easy about water."
"Broadband has to be made a priority," Martin added. "COVID has changed our lives forever and its changed how people are going to work. I think the idea of people all going back to the office is long gone."
The second finalist was Joe Stremcha, who currently serves as city administrator for the city of Springfield, where he has worked for two and a half years. Prior to this, he was an account executive for RITALKA, Inc. where he has been employed for 2 years. He also serves as the boys varsity hockey head coach for Redwood Valley Public Schools and served as the association hockey director for the New Ulm Hockey Association and the District 4 hockey director for Minnesota Hockey organization. Stremcha attended Southwest Minnesota State University and has earned 120 credits toward a bachelor's degree in political science and public administration.
Stremcha described his leadership style as business friendly. As city administrator for Springfield, Stremcha said he helped the town adapt to COVID and placed park benches outside to give businesses outdoor dining options. On economic development, Stremcha said the city made decisions favoring business over short-term city interests, such as selling a building to be renovated by a new business at a lower price than it was originally worth.
"I think I'm very engaging, I can work well with a team and create a culture that people want to feel a part of," Stremcha told the board. "I feel like, from a communication standpoint, communication is the focus and it's something I would establish early on with my board, and it's what I would want to do with this board of commissioners."
The third finalist was Pat Oman, who was most recently the Mille Lacs county administrator, where he served for six years. Prior to this, he was the city administrator/executive director pf the HRA for the City of Moose Lake for two years, the director of economic development/executive director of the county EDA/HRA for Carlton County for eight years, the economic development director/community development director for the East Central Regional Development Commission for one year, and the executive director for the Chippewa County Economic Development Corporation in Wisconsin for two years. Oman holds a bachelor's degree in Arts History, a bachelor's degree in Biology, a master's degree in manufacturing systems and a master's degree in business administration.
Oman drew from his previous experience as a county administrator during the interview and said he could help grow wealth in rural counties. The Mille Lacs city administrator said he recalled a time when he noticed that his county was putting very little money into roads. Oman said that the board was reluctant to impose a local options sales tax to generate street funding, but the city administrator walked the group through the fist steps of the process, holding public hearings and recruiting a third party to analyze the impacts of the sales tax.
"After the extension's analysis was done, we found it would generate $1 million revenues and that 50% of the tax would be paid by people outside the county," said Oman. "After the public heard that public opinion changed and we pushed the local option sales tax. It solved our road issues for now and in the future."
The final candidate was Joseph Hatch, who is currently serving as the director of human resource business operations for the city of Minneapolis, where he has served for approximately 13 months. Prior to this, Hatch was employed as a labor relations coordinator for the city of Minneapolis, where he has served for 22 months. Prior to that, Hatch was the county coordinator/HR director/solid waste director for Todd County, where he served for over one year, an HR generalist for Tree Trust Incorporated for four months, and a management analyst/HR specialist for the city of New Brighton, where he was employed for nine years. Hatch holds a bachelor's degree in political science and a master's degree in public administration.
Hatch highlighted broadband and equity as important priorities for Le Sueur County and said he was drawn to county administration work for the potential to set long-term foundations.
"My values as a leader are about building good, trusting relationships," said Hatch. I'm not going to waver on that."