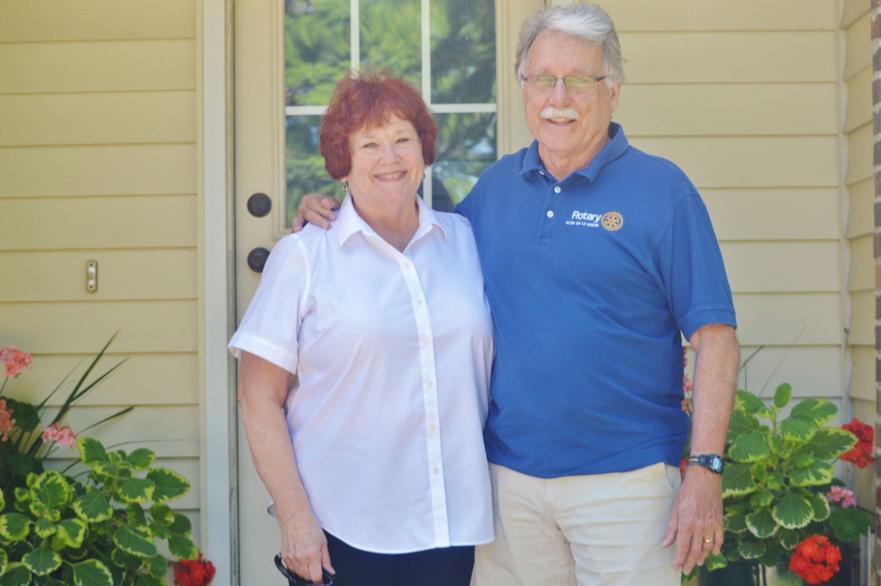 A teacher, a coach, a principal, a superintendent, a city councilor, a chamber president, a volunteer — it seems like Dave Johnson has done it all.
After 31 years of donating his time to the Le Sueur area, Dave Johnson was recognized by the Le Sueur Community Foundation and received the Arthur E. Anderson award. Named after a charter member of the Le Sueur Rotary Club, First Lieutenant and longtime attorney for the city of Le Sueur and the Le Sueur-Henderson School District, the award recognizes those that have spent their careers making a difference in the community.
"We have all witnessed his excellence, creativity and personal initiative with personality and a sense of humor, attention to detail, while honoring those who he works with by respecting them, their time and their values," said Ron Grothe, who nominated Johnson for the award. "Dave, as a Rotarian, continues to serve our community always considering: 'Is it the truth? Is it fair to all concerned? Will it build goodwill and better friendship? And will it be beneficial to all concerned?' Not only does Dave consider this four-way test, he embodies it."
The award was given over a Zoom call in light of the COVID-19 pandemic, but the Le Sueur Community Foundation is looking to hold an in-person ceremony for Johnson in the future. Johnson accepted the award with gratitude, especially since it was named in the honor of a colleague he had worked for decades.
"I knew Art a lot having worked for the school district for 20 years as a high school principal and also a superintendent," said Johnson. "He always reminded me of an Arthur Hitchcock with his demeanor and dry sense of humor, his control of his emotions, his articulate way of expressing things. To be mentioned as an Arthur E. Anderson Community Leader, it is an honor."
Johnson has held many leadership roles over his career, but he first took on the reigns of leadership when he decided to pursue a career in education. While initially pursuing a graduate degree in exercise physiology, his work as a teaching assistant at the University of Toledo sparked a love of education and he soon shifted his focus, earning a Master's of Education from the university in 1971. Johnson believed his career in education helped him branch out in other ways to serve the community.
"Every teacher, every staff member in a school is a leader, so as a teacher, as a coach, as an administrator, you end up being a leader among leaders," said Johnson. "That's such a rewarding, collaborative, positive environment in public education that also spreads out into the community and enables you to identify and coexist with other leaders in the communities that we've been apart of."
When he took on his first teaching job at Blue Earth High School, where he stayed for 17 years, Johnson was introduced to coaching. Starting with B-squad basketball, Johnson would eventually become known in the athletic arena for coaching cross country and track and field.
"I decided to go to Blue Earth because it offered the opportunity to coach as well as teach," said Johnson. "At that time I didn't realize coaches got paid anything. It was
Johnson's leadership was soon recognized by educators in Le Sueur. He became principal of Le Sueur High School in 1988 and helped oversee the inclusion of Henderson schools and the formation of the Le Sueur-Henderson Henderson School District, which he became superintendent of between 2000-2011.
Outside of his role as an educator, Johnson continued to make a difference for LS-H students. As a 20-year member and former president of the Le Sueur Rotary Club, Johnson initiated the STRIVE program (Students taking a Renewed Interest in the Value of Education) and the Giants Reality Challenge in connection with Le Sueur-Henderson. STRIVE is a mentorship program to assist students with their academics, while the Giants Reality Challenge is a new program that puts students through a simulation where they must budget their lives with the salary of their chosen career.
Over the years, Johnson has taken an active interest in the community development of Le Sueur. He served his first and only term as a city councilor between 2015-2018, where he sat on the Le Sueur Hospital Board, Economic Development Authority and several other committees. He was on the Board of Directors, and later the president of the Le Sueur Chamber of Commerce. Johnson is an active singer as well, being a member of The Notables Community Chorus and a choir member of the First Lutheran Church, where he was also a councilor for two years.
One of the keys to becoming a leader in one's community, said Johnson, is finding both good and bad examples of leadership.
"Strive to be a leader, rather than a misleader. I got confidence by learning from the example of people who weren't very good leaders," said Johnson. "You learn over the years not only from positive people you emulate, you also learn from bad leaders what not to do."
Throughout his life, Johnson said he has often relied on his co-leader, his wife Sandra. As a FACS teacher herself, Sandra and Johnson frequently collaborate in education and in the household, where Johnson said he learned a lot.
"Teachers are leaders, but parents are leaders," said Johnson. "So when you're a parent, you discover you're a first-flying teacher. She taught me a lot about child development and she is really the primary leader of our house, I'm kind of an assistant to her."