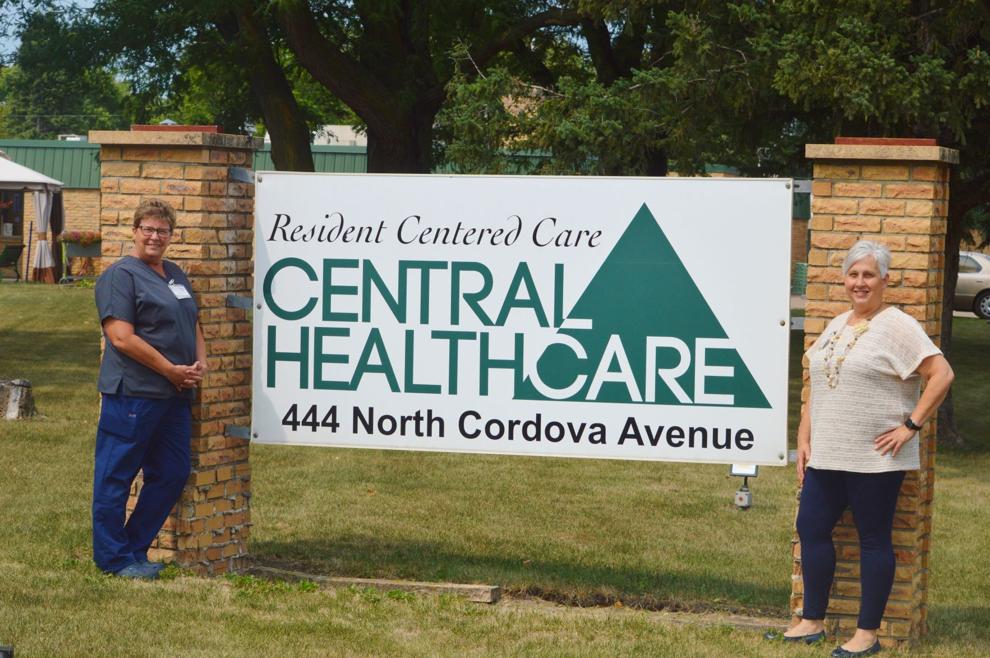 Over a tumultuous year, Central Health Care in Le Center was forced to adapt like many nursing homes across the country. The facility integrated new technology to connect residents to loved ones in periods of isolation and is welcoming new staff members, including a new nursing director.
One of the biggest potential changes yet to come to Central Health Care is a change in ownership. Since 2018, the Central Health Care building has been up for the sale following the death of owner Karl Pelovsky. Interim Administrator Dori Mutch said the facility now has two buyers that have expressed interest in purchasing Central Health Care. If the building were sold, Mutch said it would continue to operate as a nursing home.
"They are very much interested in getting an organization involved that understands and appreciates rural living. The intimacy of rural living, the camaraderie of it," said Mutch.
Like many nursing homes, Central Health Care and its residents were thrust into a new reality as pandemic restrictions set in last spring. Early on, Central Health Care was competing with other institutions as high level of demand set in for PPI. Mutch said the facility encountered a number of obstacles, including price gouging from suppliers and purchasing N95 masks that didn't meet fit tests.
As quarantining became the new standard for nursing homes, pressure mounted to not only protect residents from the virus, but the stresses of isolation. Central Health Care was fortunate to benefit from a Minnesota Area Agency on Aging Grant that allowed the facility to purchase three iPads, three laptops, upgrade two SMART TVs, set up Zoom facetime meetings and amplify the telephone systems.
These new technologies bettered communication with the outside world as residents were under quarantine. Not only could residents connect with loved ones, they could also attend online church services and even watch virtual concerts by local musician Doug Traxler. Mutch credited the grant with softening feelings of isolation and reported that the facility did not see an uptick in residents seeking mental health services.
"For one resident, just speaking with his son it created a great, more enriching experience for him because that phone was amplified," said Mutch.
Support from the community also eased the stress of the pandemic. To lift the weight of the pandemic off the shoulders of residents, staff decorated the facility floor to ceiling in Christmas decorations last holiday season and asked the community to donate gifts for residents that did not have friends or family involved in their care.
"I don't believe we had a resident that had less than six or seven Christmas presents this last year because of donations," said Mutch. "The outpouring of appreciation, we had people donating all the way from Albert Lea, Minnesota who had heard our little nursing home existed and said 'We would like to buy Christmas gifts for your residents,' and 'How many?' and 'What do you need?" and she drove all the way up here because of a Facebook post."
Today, Central Health Care reports a 99.6% vaccination rate among residents, 76% among staff and has remained COVID-free through the pandemic so far.
One of the lingering challenges of the pandemic is its impact on staffing. Mutch said the health care field is seeing a dampened interest among potential nursing assistants.
"I believe in part, [it's] because of the pandemic and additional economic entitlements that people can obtain," said Mutch. "That's affected our ability to attract staff. That and just the infections alone. I've heard folks do in-depth surveys and people who would maybe be interested in healthcare careers would put it on hold."
Central Health Care is in the process of filling several nursing and dietary positions on staff and recently found a new director of nursing in Diane Holicky. Holicky started her nursing career at Central Health Care at 16 years old. Over the years, she's served as a director of nursing in New Prague, Chaska, Waconia and Mankato.
"I've always been with the geriatric population, and that's my love, my niche," said Holicky. "I've been working out of town for a while, but I have family that lives here, I live here, so it's nice to be home."