Being a mom is one of the hardest jobs there is, and now more than ever, it seems like parents need something to take the edge off. Several Le Sueur ladies got together last month to deliver that something to mothers in the community with specialized wine baskets.
A Facebook group, consisting of more than 250 people, called "Wined Le Sueur Moms," helped make the start of summer a bit more fun. The process was simple. Members would share a short description of themselves, their favorite beverage and how they want their basket delivered and another member would gift a basket specialized for the recipient. People who signed up to be wined would then choose to wine another person in the group.
"It's such a great way to put a forever smile on someone's face during such trying times," said Jennifer Latzke, a member of the group. "I know I had lots of fun treating others."
The group was organized by Kelsey Maczkowicz after she became involved with a Mankato wining group. However, Maczkowicz was uncomfortable that members were asked to share their addresses publicly, so she created a private group for the moms of Le Sueur to join. What she imagined would just be a small group of 20 people quickly became more popular than she had even considered.
"It was a way, way bigger response than I ever imagined in like two days basically," said Maczkowicz. "It just goes to show that people need a little lift me up."
With Wined Le Sueur Moms becoming so popular, Maczkowicz had a lot to keep up with as the group's admin. Maczkowicz said she spent a lot of time on her phone, and had to place a May 31 deadline to keep the group manageable.
"A lot of people were very grateful," said Maczkowicz. "They said it hit at the perfect time. It was the end of the school year; it brought a lot of joy to people. It worked out at a really good time to spread the joy around."
The large size had plenty of advantages though. With so many involved, the Le Sueur Wined Moms were able to spread the love outside the group — delivering spirits to mothers in Henderson, seniors who weren't on Facebook and people who were nominated to be wined.
"I love giving gifts so it was really fun to shop for someone else and then make their day especially during such a stressful time," said group member Michelle Stein Sampson. "I can't wait to do it again."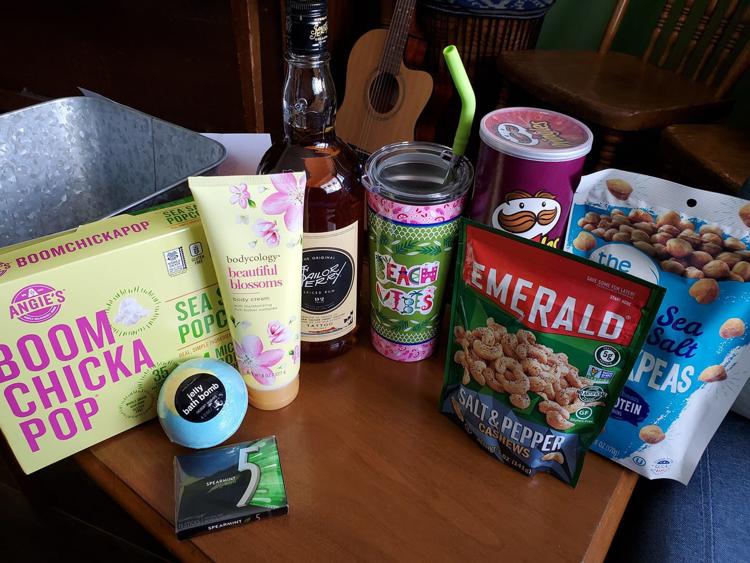 Members described the community as being very helpful and some members, like Heather Hoernemann, made the most of it and delivered baskets to multiple people. Hoernemann makes homemade wines with her husband and was eager to share.
"It was a nice way to share the wine that people like because many people like sweeter wines," Hoernemann. "And it was just a nice way to give back to people and to meet people. I've had two people that had really traumatic things happen in their life, so it just made my day seeing them smile."
The baskets had a lot more than just wine in them. With the information members were given, the women presented each other with assortments of personalized gifts, including candies, snacks and toys for children. Even women who don't like wine or don't dink alcohol could get in on the fun by requesting alternative gifts.
"When people included things about themselves, they included things about their kids so the kids could have things too," said Hoernemann. "I have seven grandkids so there were bubbles and different things for my grandkids in my package."
At the end of the month, the successfully wined moms all shared pictures with each other of the baskets they received. While the deadline has passed, this isn't the end of the group. Maczkowicz plans to embark on another round of gifting in the future.
"I think we'll definitely do another round — maybe near the end of the summer," said Maczkowicz. "We'll definitely do another round of it at some point."