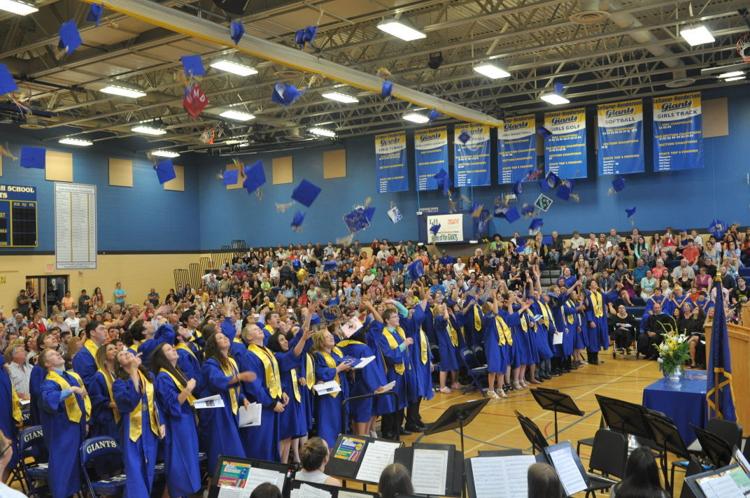 The Le Sueur-Henderson School District has found a way to hold an in-person graduation, but it will look a lot different from previous years. Instead of a line of students walking up to receive their diploma, seniors will be rolling down their car windows.
It's a different ceremony for a different time. In the wake of the COVID-19 pandemic, the Minnesota Department of Health released a guidance to ban large in-person school gatherings, including graduations, on May 8 for the foreseeable future. Instead, schools wishing to hold ceremonies must either do some from home or through their vehicles to prevent the spread of the coronavirus.
LS-H has opted for the latter, planning a parking lot graduation ceremony for Sunday, May 24 at 2 p.m. The school has aimed to create a ceremony that will feel like an ordinary graduation, while also implementing safety requirements issued by the state.
"We have relied heavily and followed closely the graduation guidance that was given by the Minnesota Department of Education," said LS-H High School Principal Brian Thorstad.
The ceremony will be open to only graduating seniors and their immediate family members, who will be required to remain in their vehicles at all times. The general public and extended family will not be allowed at the ceremony. Attendees will be limited to one vehicle, but if a graduate's immediate family requires more than one, families may contact LS-H Activities Director Jeff Christ.
To enforce social distancing guidelines, a group of 12 volunteers will be instructing attendees where to park in the South and West parking lots of LS-H High School. The district is also in the process of creating a map for graduates and families to use when navigating the parking lot.
No caps will be flying, but the commencement ceremony will feature student speakers. Each speaker is asked to wear a facemask, will have their own separate, labeled microphone and the podium is to be cleaned between each address. Those who are not attending the ceremony can still listen in as its broadcast through KCHK radio. A tent will be set up over the podium to ensure that no matter the weather, the graduation can proceed.
"We really are set up for a rain or shine event," said Brian Thorstad. "Those are obviously elements we can't control, but we did want to make sure we were considerate for whatever may come our way."
"We're trying to do as many things as possible to add nice touches to the ceremony, to have it be a dignified ceremony," he continued. "We have some LS-H face masks being created right now that will add a touch. We have signage being created to just add to the professionalism that our ceremony is going to convey to our graduates."
Once the ceremony has ended, local police, fire and emergency services will lead a vehicle parade throughout the communities of Le Sueur and Henderson, ending at Bender Park in Henderson.
"I just want to say thank you for including both communities and making sure Henderson is as involved as Le Sueur is," said School Board Director Gretchen Rehm. "The people of Henderson definitely appreciate that."
While families may want to stick around for photos, school administration is encouraging parents to take their pictures at home to prevent a crowd from forming. Police will also be involved to ensure that attendees are following social distancing guidelines.
"I'm glad to see that you got the chiefs involved," said School Board Director Matt Hathaway. "Because as we've seen all over the place, not only are there a lot of opinions, there are also a lot of actions that are not in concert with what we're trying to accomplish."