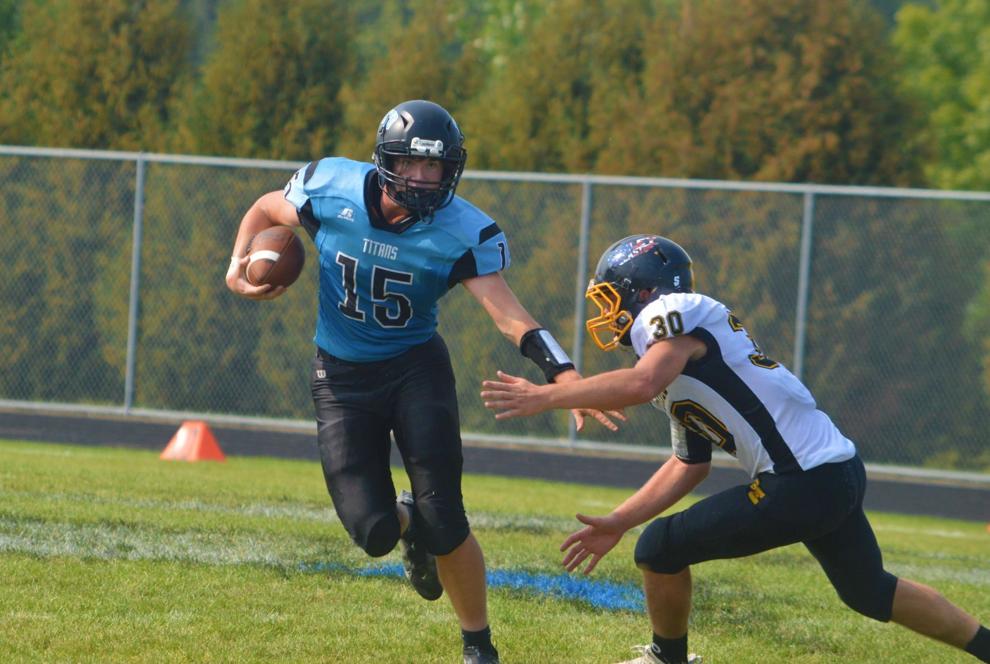 The Tri-City United football team continued its winning streak on Saturday. The Titans moved to a 2-0 record this season with their latest 20-7 victory over Sibley East.
TCU benefited from aggressive, offensive play by Reice Narum, Cole Franek and Carter O'Malley. Through the first half, the Titans running backs kept the ball in the opponent's territory and broke past the Wolverine defense to rack up the score. Narum scored the team's first rushing touchdown and had 12 carries for 58 yards. O'Malley added another six points to the board on a rushing touchdown and had 13 carries for 41 yards.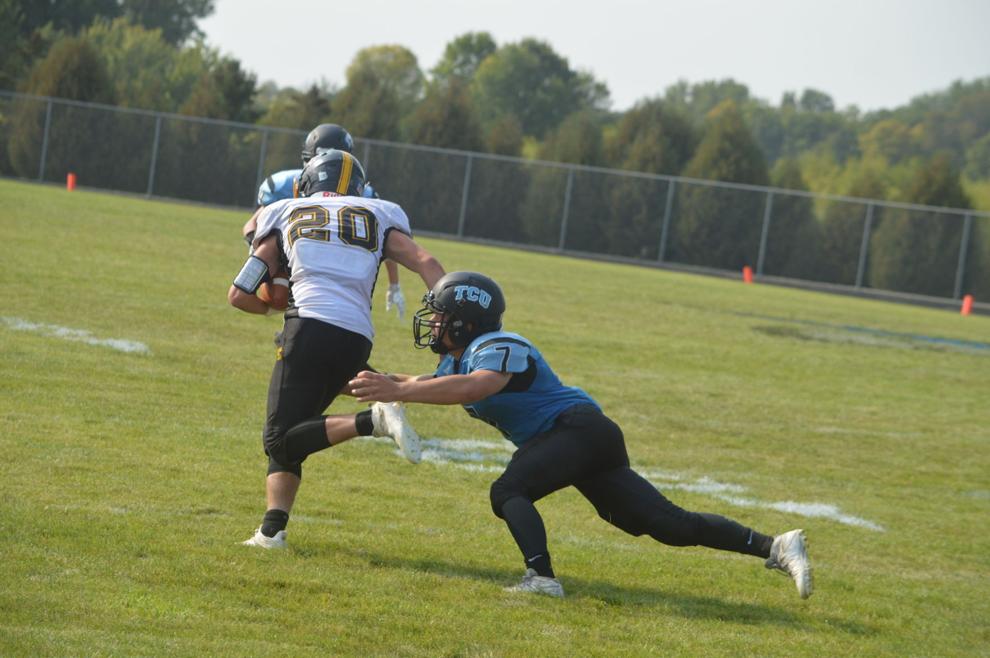 "I really like the physicality we brought to the game today," said TCU Coach Matt Collins. "We didn't throw the ball a lot but played a lot of the game on the ground and had a really physical mindset. I think that's something we're going to try to continue to do."
While the Titans pushed the Wolverines downfield, TCU's defensive line prevented Sibley East from running too close to the end zone. Dylan Hollom and Cole Franek caught several key interceptions for a quick turnaround.
TCU collected their third touchdown on a pass from quarterback Payton Hennen to Hank Holicky. Hennen was 8 for 13 on passing and threw a total 79 yards. The Titans were pressing up against the end zone in the fourth quarter when Hennen through an eight-yard pass to Holicky for the team's final touchdown.
"We really had some efficient passing, third downs, from Payton Hennen to Hank Holicky a couple different times," said Collins. "Our defense, especially our linebackers, really had another great game, so I think that's a group we want to highlight."
It appeared the Titans would take home another shutout victory, but with just 49 seconds on the clock, the Wolverines threw for a receiving touchdown. The Titans defender was on top of the scoring Wolverine, but he kept a tight grip on the ball.
Still, TCU was commanding in victory.
"Anytime you get a win against a district team, a league team, it's a good thing," said Collins. "We did a lot of good things today, and so we'll take a win anyway we can get it."
The Titans can;t get too comfortable just yet. On Friday, they play against another undefeated 2-0 team: Waseca. The game may turn out to be the most challenging of the season so far.
"We have a tough battle this week with Waseca so I'm looking forward to a great battle," said Collins.