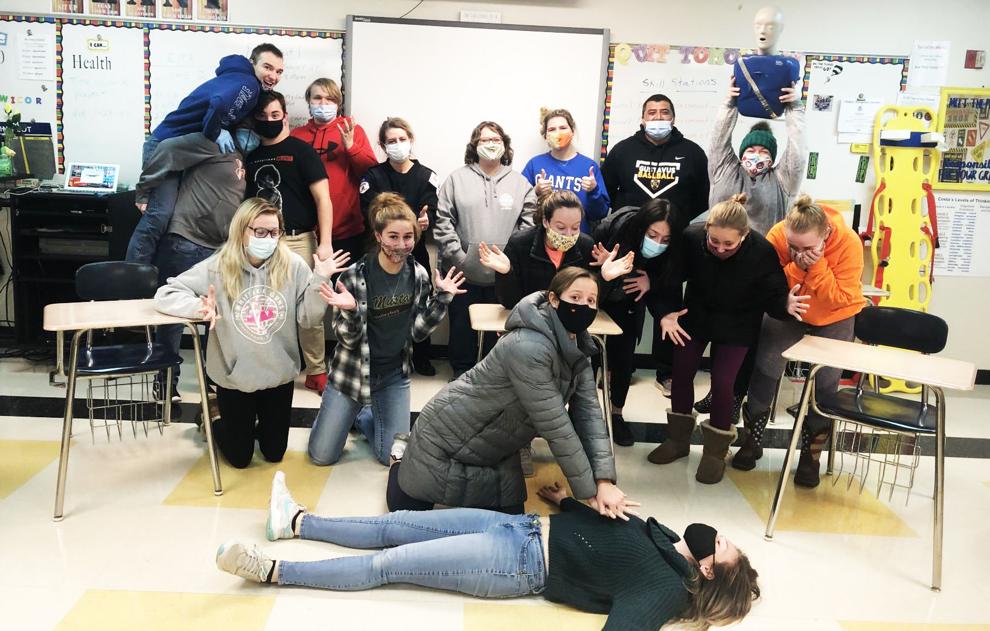 Le Sueur-Henderson senior Riley Shepherd is driven by his desire to help others. That passion led Shepherd to spend his high school career preparing to one day become a registered nurse. But through a new class offered by his high school, Shepherd found a different way to aid the sick and injured.
This school year, Le Sueur-Henderson debuted an emergency medical responder (EMR) certification class to teach students life-saving skills. Students 10-12 learned the basics of how to address a plethora of emergency situations: trauma, childbirth, bleeding control, diabetic emergencies, cardiac emergencies, strokes, and many more.
The idea for an EMR class emerged when former Le Sueur-Henderson Principal Brian Thorstad found an opportunity to collaborate with South Central College.
For LS-H physical education and health instructor Jen Hovick, it was a perfect assignment. Hovick is an EMT outside of the classroom and previously worked on the Le Sueur Ambulance team, so the course was an opportunity for the teacher to instruct students on the skills she's employed throughout her career.
"I am passionate about EMS and was excited at the opportunity to offer such a useful course for the students of LS-H," said Hovick. "CTE courses are so important for students to learn hands-on skills that will put them on the path to their future careers."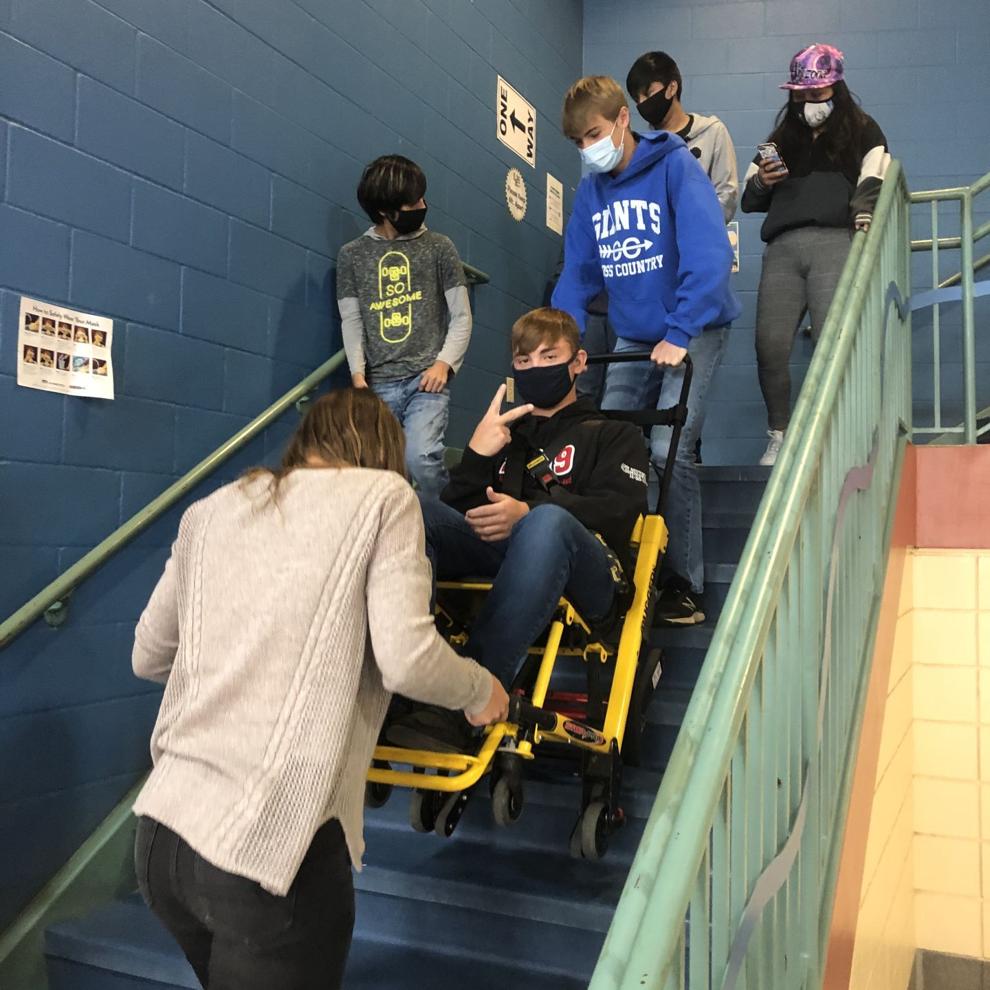 The course was an intensive look at a high-pressure career. Students put their training into action through hands-on practices with CPR, bleeding control and transporting their classmates on wheelchairs. They also had the opportunity to learn from guest speakers and take a tour of the Ridgeview Ambulance.
Hovick had even more planned for the year, including a medical helicopter visit from North Memorial Air Care. The helicopter was planned to land on the football field so students could see how patients are transported in the air, but unfortunately the visit was cancelled due to COVID-19.
With the skills they've learned, 13 students are now certified as EMRs and can use their life saving knowledge in real life situations. Hovick said that EMR-trained students could become a safety resource at school events.
"I'm hoping to put together a student first responder team here at LS-H," said Hovick. "My vision is EMR students will have the opportunity to sign up to be 'on-call' at sporting events, after-school activities, plays, community events, concerts. In the case of an emergency, EMR students will respond and provide care until the ambulance arrives."
For Shepherd, the experience of learning how to be an EMR changed his whole outlook on the profession. Now Shepherd says he wants to be an EMT and is now continuing his training in a course at Crown College.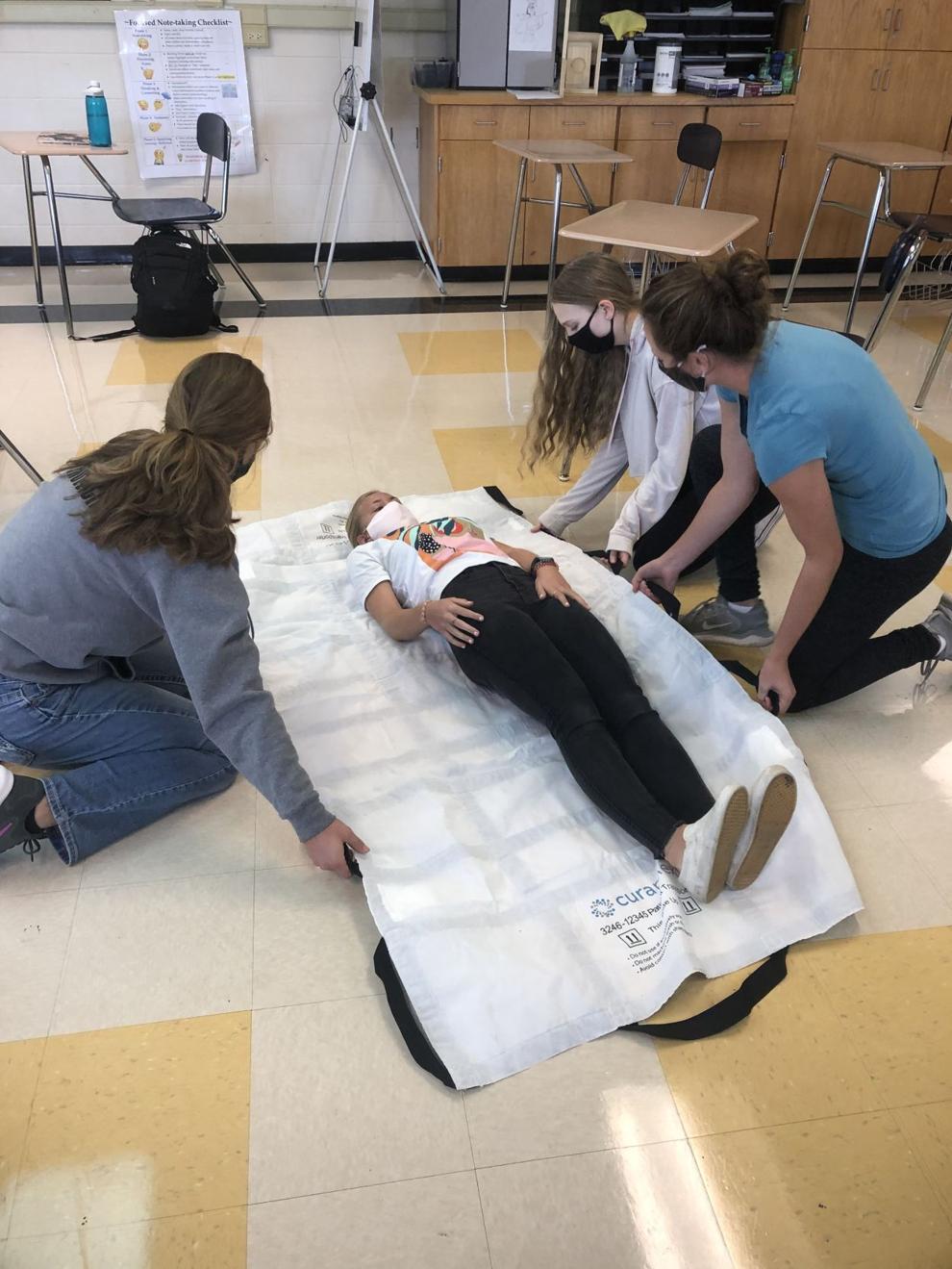 "Six months ago I would have had no desire in EMS," said Shepherd. "But I thought I'd take the EMR class for nursing school. But the more I dug into it I realized EMS is more what I would like to do. So I asked Jen about any EMT classes in the area and she told me about Crown College and I jumped right into it."
Shepherd wasn't the only one. Of the 13 students certified as EMRs, three are pursuing a career to become an EMT.
"The response to the course has been extremely positive," said Hovick. "There has been a lot of talk and interest by students wanting to take the course next year. The EMR course was such a positive experience, that I'm hoping to be able to offer two sections next year."