When Cleveland High School senior Lucas Mueller first learned how to perform the Heimlich maneuver, an abdominal thrust technique used to save someone from choking, he never dreamed he'd have to use it…especially on his own brother.
But by applying the Heimlich last week, Mueller is credited with rescuing his only sibling. He learned the technique during a CPR class taught at the school by Stan Stocker of the Le Center Volunteer Ambulance.
"Quite frankly, you saved your brother's life," said Cleveland Fire Chief Brady Hahn as he presented Mueller with an award on Tuesday, March 24 outside the Mueller home in Cleveland.
Last Tuesday noon, Mueller and brother Isaac, a junior at CHS, were at home when Isaac began choking on some food.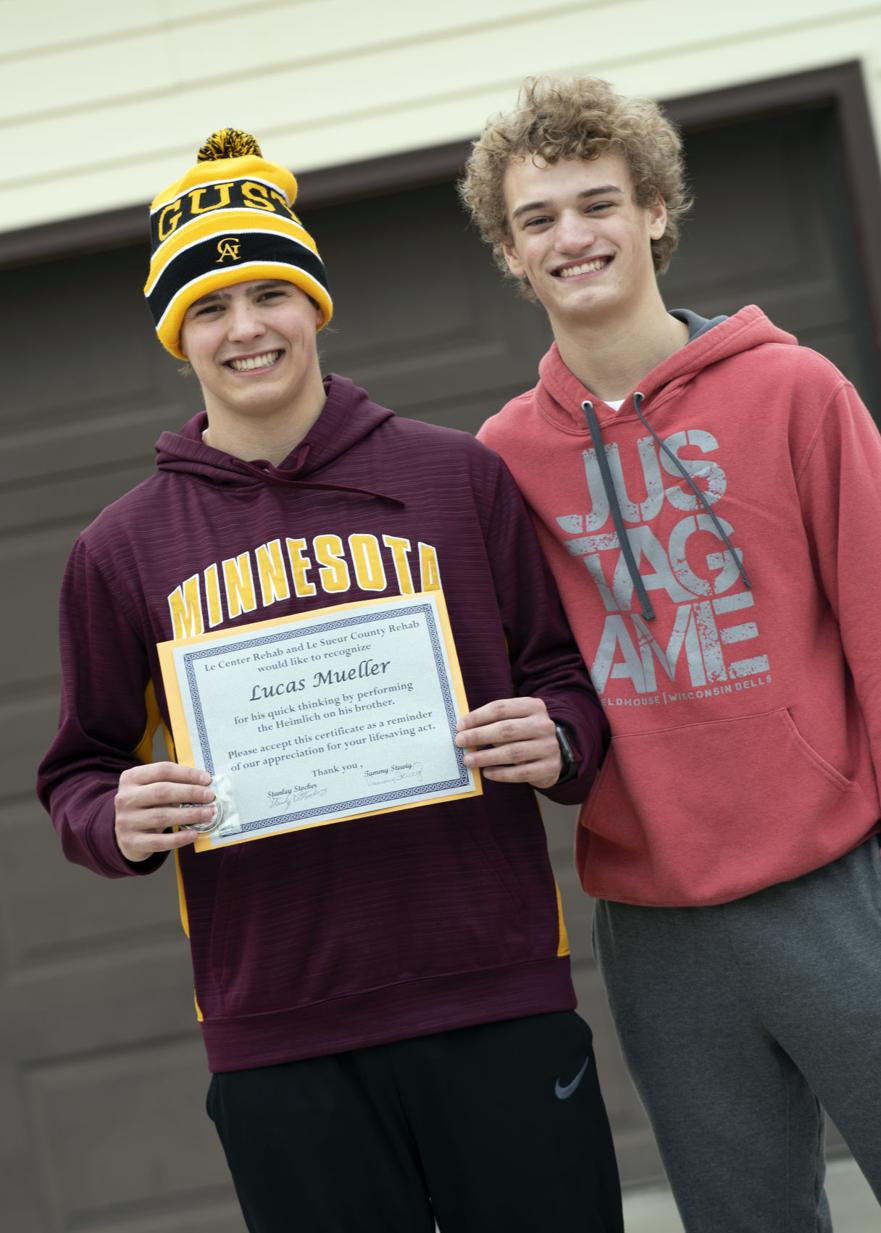 "All of a sudden he started freaking out, and at first I thought it was Isaac just being Isaac," said Mueller.
But he quickly determined his brother wasn't goofing around. He sprang into action, grasped Isaac from behind and successfully applied the Heimlich so Isaac could at least partially breathe again.
"I wasn't nervous about doing it because I just knew I had to react," Mueller said. "I had to move the piece in his throat."
But Mueller, who also studied anatomy at CHS, knew if the blockage shifted his brother may still be in danger, so he dialed 911.
"I just had to stay calm until someone got there. I knew if I were to freak out, that would only make it worse.'
It was when emergency personnel arrived that the seriousness of situation finally took effect.
"My heart started to beat fast when all the cops and rescue people got there, but other than that, I think I was pretty calm."
After receiving further assistance from the Cleveland First Responders and paramedics with the St. Peter ambulance, the younger Mueller took a ride to Mayo Health Systems in Mankato, where emergency room staff cleared the rest of his airway so he could breathe normally.
The Le Center Rehab and Le Sueur County Rehab drafted an award for Mueller's lifesaving act. Hahn presented the award for Stocker, who had a prior commitment.
Hahn, one of the responders to arrive on the scene, said that choking calls are among the scariest. While an open airway is the first thing to maintain when someone in distress, a quick response is vital, and you never know how far the victim could have deteriorated by the time help arrives.
"There are so many questions and so many things that can go wrong," he said. "And once it gets lodged, there are a whole measure of things you have to do to clear it."
Mueller first learned the Heimlich maneuver after he signed up for a CPR class at CHS two years ago and then got a refresher when Stocker taught the course there again this winter. Now, the CPR class is presented each year to all sophomores and seniors, said Hahn, who is also a teacher at the school.
"I think general life saving stuff is greatly beneficial, for just everybody," he said.
As for Isaac, he said he and his older brother are pretty close as far as siblings go and he is indebted to him.
"It was pretty cool. I am definitely grateful."