Ryan Reineke and Joel Boehlke have a mutually beneficial relationship.
High school junior Reineke has someone who can support him, believe in him and look out for him at school in teacher Boehlke. And Boehlke, meanwhile, has someone who will give him the help he's never asked for in Reineke.
The student and teacher, both from St. Peter but attending/working at Cleveland Public School, have formed a friendship that extends beyond the classroom. And the latest proof is in Reineke's efforts to secure an all new, high quality all-terrain wheelchaire for Boehlke, who has been unable to walk on his own since a sledding accident 12 years ago.
"He's made such a difference in my life, and I've seen him make differences in other students' lives," Reineke said of Boehlke. "And he's wanted something like this, but he just hasn't had the money. He was going to design one on his own, but he hasn't been able to get everything he needs."
Reineke started a fundraiser on GoFundMe, hoping to raise $20,000 (or more) for the wheelchair purchase, and as of Jan. 20, he was well on his way to achieving that goal; over $19,000 had been raised from over 300 donors.
Boehlke, who has never asked for much help and has never really felt negatively about being in a wheelchair, was moved by Reineke's individual act of kindness.
"When he called me and told me about it, I was dumbfounded. I didn't have the words," Boehlke said. "I've had people offer to do fundraisers for me, but he recognized something I enjoyed doing, and it's not even something we talked about."
The all-terrain wheelchair will make it easier for Boehlke to get around in various conditions, especially the winter, a season he has always loved.
"I get to winter time, and truthfully my first winter, I tried to go through snowdrifts and get to places, and it wasn't as easy as it was when I could walk. And so this opens up a whole new reality," he said. "A buddy of mine and I have been trying to find a way to get me ice fishing for the last three years, and we started talking about how to get me out there. We have to make sure the ice is thick of enough, then that paths are wheelchair accessible and then he built an ice house with a really wide door. That's what I'm looking forward to is getting out there and getting some outdoor time I don't normally get in the winter."
Reineke has gone through some tough times in his young life. He has a few learning disabilities, which can sometimes make school more difficult. At home, he had difficult circumstances, too, though that has improved now with his mother and step-dad caring for him. He originally attended school in St. Peter, but he was often bullied.
"I was beat up at St. Peter and there were all sorts of bullying issues," he said. "People were going and making fun of me and making it harder to do school. I was just a little different."
Reineke and his family thought it would be best to get a new start, and so he transferred to Cleveland Public School. It was still tough for him there, especially at the start when he didn't know anyone. But over time, he found places to fit it, the most prominent being his electronics and robotics courses with Mr. Boehlke.
"He just seemed to be a lot more responsive and seemed to care a lot more and wanted to know a lot more," Reineke said. "He helped me get along with people and feel like I was meant to be there."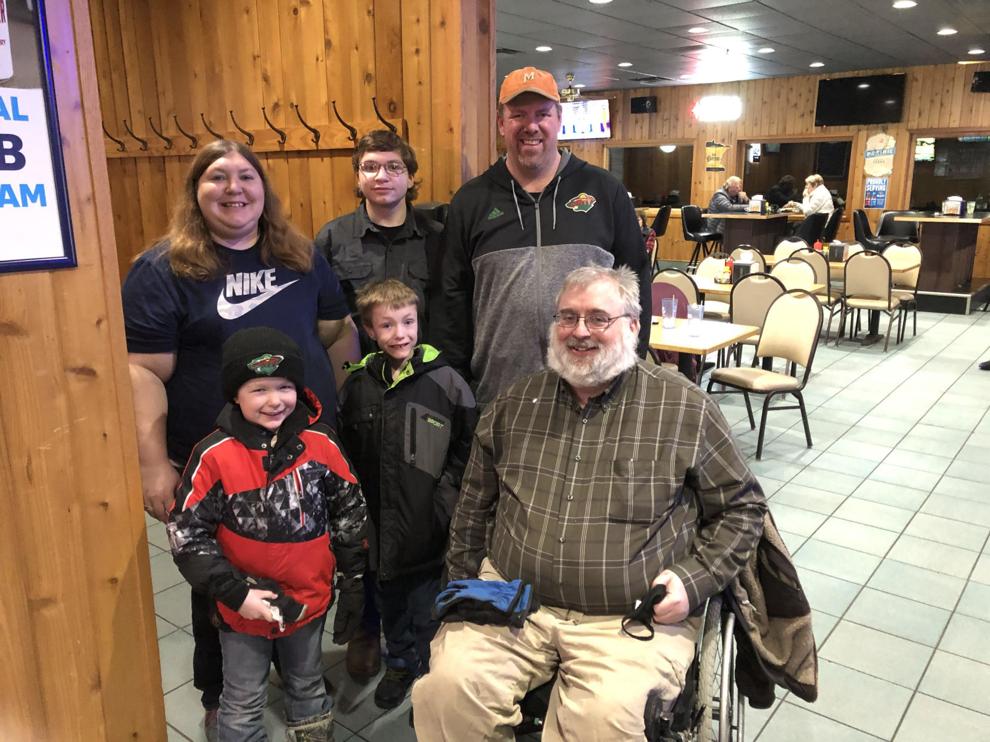 Boehlke said Reineke was quite when he first came into his class, but he quickly surprised him with some insights that not all students come up with.
"At first, I wasn't sure what Ryan was thinking, but as I've gotten to know him, he's become more outspoken, and now we're actually staying in contact outside of school, talking about things he's doing and things I'm doing," Boehlke said. "It's nice to get to know a student on this level. It helps a teacher sometimes to understand where a student comes from to really get them to latch on to what you're teaching in a class. Knowing the history and all the little relationships that make him work really does make for a better teaching experience, I think."
The two even developed a working relationship. When Reineke went to Boehlke asking for any leads on a job, Boehlke's wife suggested they have him work at their house. Reineke took the job, and throughout the summer he performed miscellaneous tasks at Boehlke's direction, helping him get some jobs done that would've otherwise been difficult.
"It was fun and enjoyable," Reineke said of the work. "And it was easy for me to do, because it was stuff I knew or stuff that he could easily teach me how to do. He would instruct me."
While their bond is certainly unique, Boehlke has told Reineke that he would build a relationship like theirs with any student who wanted it or needed it. Reineke just happened to be the person who asked.
"Seeing students struggle and have to deal with outside influences that just aren't positive, every kid should be told they can do it," Boehlke said. "Every kid should be told that, even if it's hard, there is a worthwhile struggle there to try to figure it out. If a person believes in themselves, it makes things a lot easier."
Reineke has taken notice of the effort Boehlke puts in, and he just wants to give something back: "I want to help him the way he's helped me and other students."