Neither snow, nor rain, nor heat, nor gloom of night stops postal workers from the swift completion of their appointed rounds.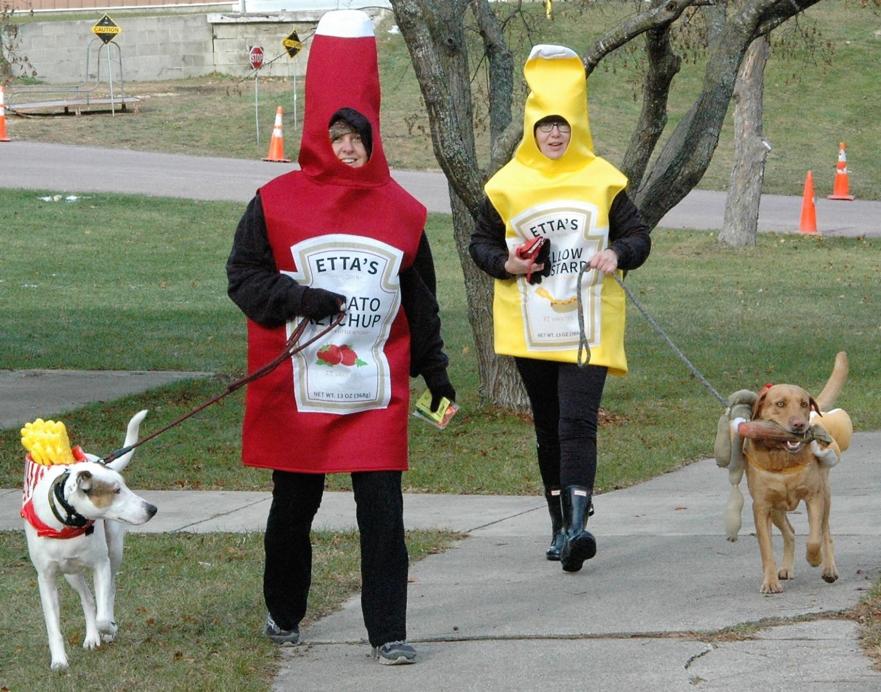 The same was true for 52 walkers and their dogs, who followed that motto Saturday morning in the 20th annual P.A.W.S. — Providing Animals With Shelter — Trick or Treat Walk around St. Peter. While they didn't have to endure heat or gloom of night, they did have to endure 25-degree temperatures with remnants of the first snow of the season on the ground.
Held for the benefit of St. Peter- and Le Center-based Kind Veterinary Clinic's shelter, the event raised $5,190. Each person raises funds and donates a minimum of $20.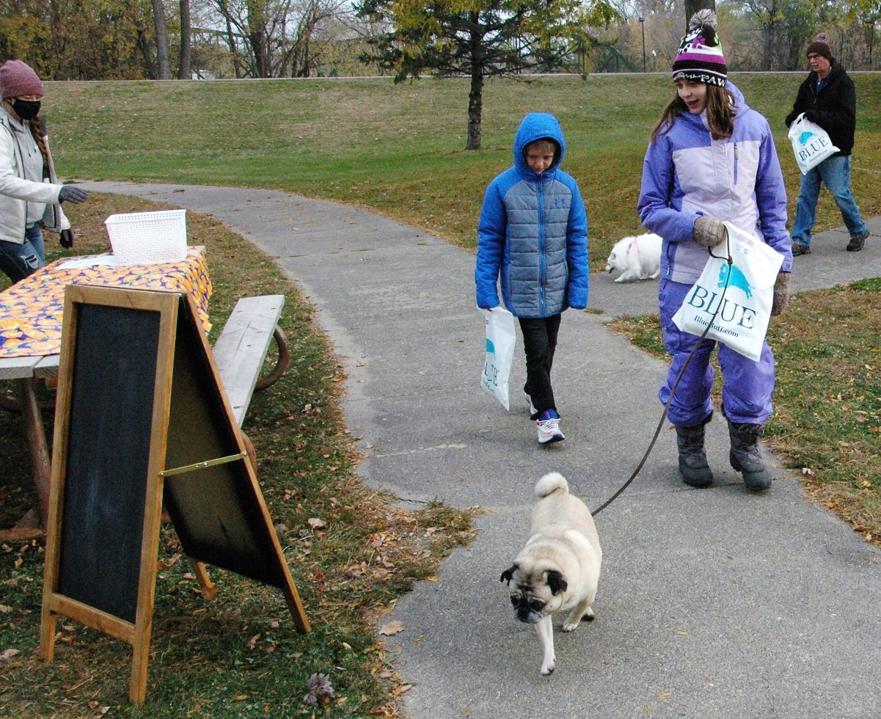 "Even though we had a lot colder weather than we were hoping, we're still excited to see people turning out," said St. Peter Police Community Service Officer Janet Ireland, who coordinates the annual event with Alena Olson from Kind Vet. "It's especially really important with coronavirus this year and limited access to adopting out our animals, because the clinic has been closed so much, we've had to drop down a lot of our prices for adoptions. That doesn't always cover all of the expenses, so this is still a vital fundraiser today. So this should cover the expenses to help take care of our pets for the entire year.
"I'm very thankful that people still show up. We have so many supporters that come out annually. We thank them for their continued support."
In their third time participating in the walk, Dave and Diana Hering, of Waterville, brought their British Labrador Rufus along.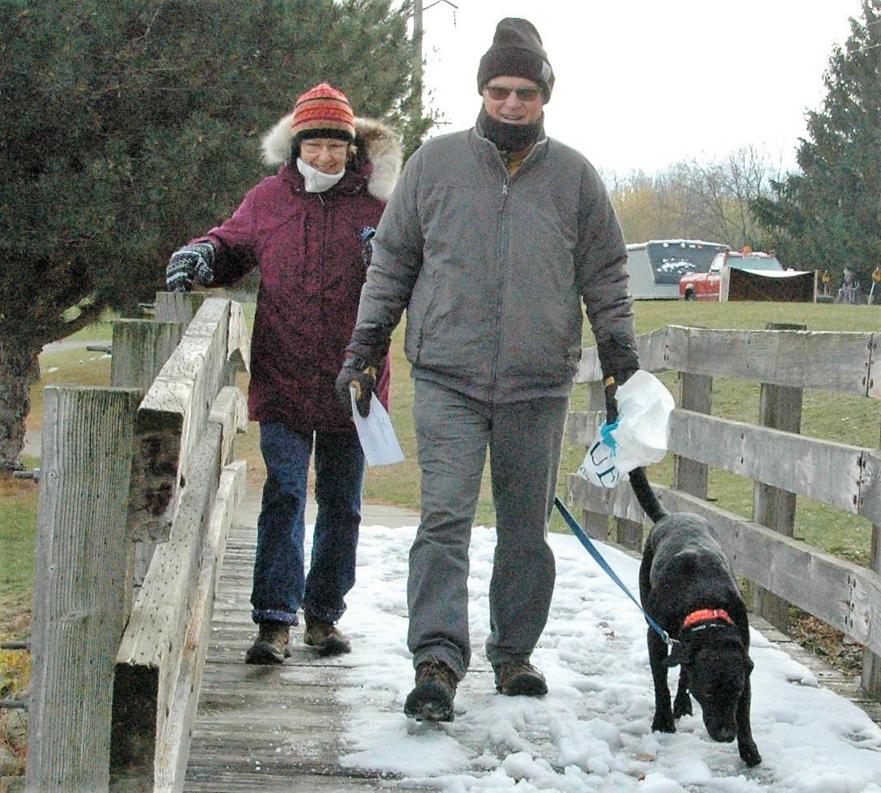 "I like this event," Diana Hering said. "We can do something fun walking around a beautiful community and all proceeds benefit animals in (the area). Everybody wins."
Hering said, "He loves the treats and toys."
Each of the 10 stops had two treats for people and for dogs, including a face mask with paws on it, hand sanitizers, apple slices, dog treats, cookies and coupons. Everyone who donates received a white bag to collect treats along the way.
About 15 Gustavus Adolphus College students were among the 30 volunteers who helped. The students also volunteer at the shelter to help socialize animals.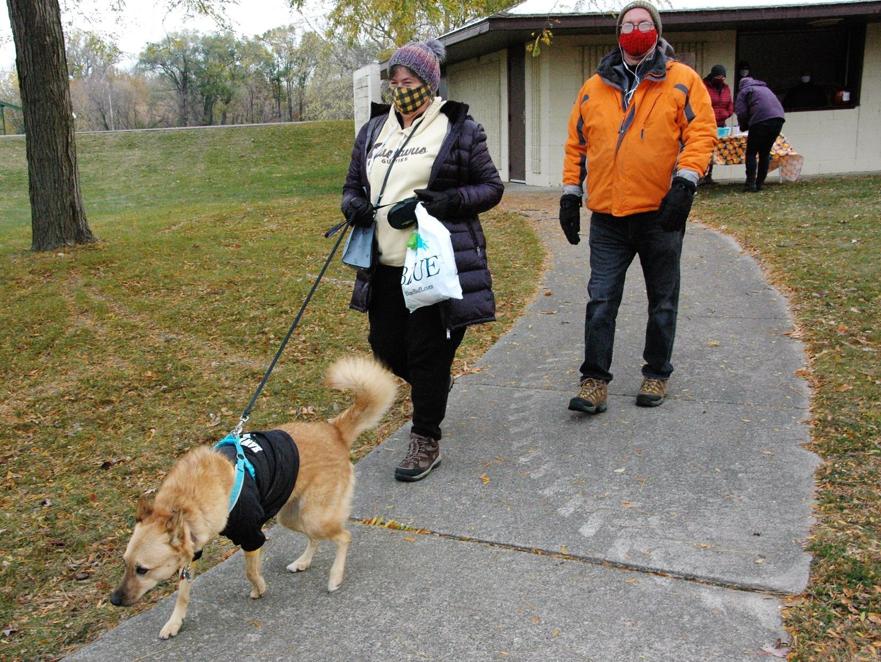 "We have a great group from Gustavus that regularly volunteers for the walk and with our impounded animals," Ireland said. "That's kind of limited right now. They help us immensely throughout the school year. 
Ireland added, "We also have some great volunteers from the community that help every year. It's great, because it gives us the opportunity to take care of them and find them good, new homes."
The mile or so walk went around the Mill Pond, along Front Street and Minnesota Avenue, and stopped at businesses downtown. Generally the event has 50 to 100 walkers, raising from $4,000 to $7,000, so amid difficult weather and a pandemic, the 2020 results were definitely positive.
P.A.W.S., which Kind Vet Clinic runs in St. Peter, has about 250 pet adoptions for dogs and cats per year.
"We have one cat right now that was a stray that was unclaimed, and we actually had to amputate his leg," Ireland said. "So he needed significant extra care and cost. But thanks to this program and the money that is raised in this walk today, we were able to do that. And we'll be able to find a good home for him."
Even if a pet can't find a permanent home, the funds helps P.A.W.S. to care for it, Ireland said.
"Sometimes if we can't find a home, especially for a dog, we'll use the funds to cover all the spade or neutering and vaccinations, and then we'll place the dog in a rescue foster-based home. Then they have an animal that is already healthy and ready to be adopted. And it helps us, because that animal does not have to sit in a kennel.
"It's still going great. We've adopted out five cats in the last week."