Not everyone can make it home for the holidays, but local veterans are making sure that Le Sueur-Henderson graduates serving in the military won't feel alone on Christmas.
On Monday, Dec. 9, the Le Sueur City Council chambers was piled with packages and presents waiting to be shipped out stateside and around the globe to places like Iraq, Afghanistan and Ethiopia. Members of Le Sueur VFW Post 4297 and Henderson American Legion Post 55 worked through tired fingers to fill out customs forms, write handwritten well-wishes and pack reminders from home, like Girl Scout cookies, homebaked goods, pens, notepads, mashed potatoes and seasonings donated by Rademacher's, and some editions of the Le Sueur County News.
The packages even featured Christmas cards and drawings submitted by students at Le Sueur-Henderson Middle/High School, Park Elementary, Hilltop Elementary and St. Anne's.
This marks the fourth year the Le Sueur and Henderson veteran organizations have come together to send out Christmas packages. Le Sueur VFW Post Commander Shannon Frost served 20 years in the Navy and remembered the impact these care packages have.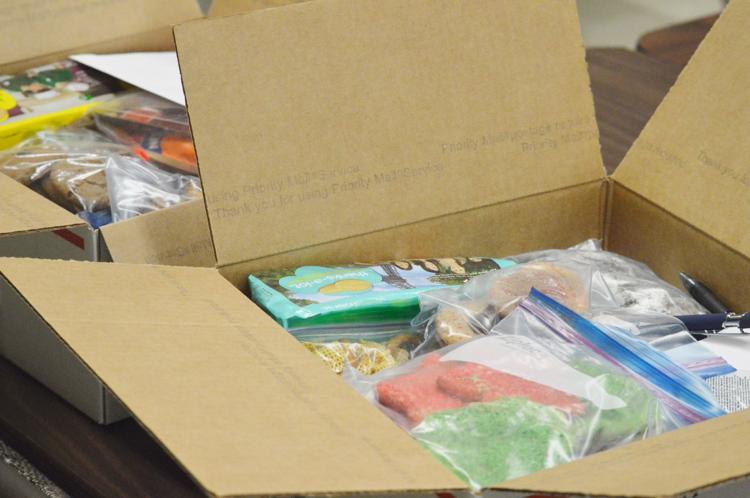 "It's always nice to get a package when you're deployed, " said Frost. "There's plenty here to share with friends or people that don't have people sending them packages."
Over the years, service members have let the group know that they are thankful for the gifts..
"We get thank yous that are appreciated," said Frost. "We've had a couple that, outside of their family or friends, no one had sent them a package. You watch the news and they say, 'Oh, we're sending packages out.' Well, who are they going to? They're not going to locals. They're going to someone, but we figured it's a way to take care of our own."
The 19 packages were put together with the help of just a small group of people, including Frost, Frank Fettig, husband and wife John and Martha May, Albert Tebbe, Terry Johnson, Ned Pilling, Milton Meierbachtle and Don Barth. While the group was itching to finish their work after a few hours of filling out customs forms and reopening and sealing packages, they passed the time with some sharp witticisms and laughs shared together.
"You know my favorite part? Hanging out with these guys," said Frost. "A lot of good banter between service members."
After a long day though, the rest of the group's favorite part of the project was seeing it finished, knowing they've accomplished something that will do some good for some people a long way from home.
"This is a nice deal," said Tebbe.