In the wake of controversy over the proposed opening of the Coventry Road and Elmwood Avenue intersection, the Le Sueur City Council voted unanimously to order a County Road 22 (formerly known as state Hwy. 112) improvement project.
The resolution was passed Monday, Oct. 28 with the contingency that the Minnesota Department of Transportation (MnDOT) review the Coventry intersection to ensure it met state standards. The County Road 22 improvement project is a joint effort between the state of Minnesota, Le Sueur County and the city of Le Sueur to reconstruct 22 and several roads in Le Sueur adjacent to 22.
As part of the project, MnDOT transferred control of Hwy. 112 to Le Sueur County, designating it County Road 22.
The project will come at a cost of $13 million in total and $6.5 million to the city of Le Sueur and will be funded through county and local funds, utility funds and assessments on benefiting properties. The assessment amounts will be determined by a benefit appraiser contracted by the city who will assess the added value of the project to the property owner.
Construction will cover 3.5 miles of roadway and 30 intersections in town and will take place between between 2020-2021 over a series of five stages. Many of the roads serviced will receive a full reconstruction that includes improvements to street lighting, pedestrian trails, sanitary and storm sewers and water mains.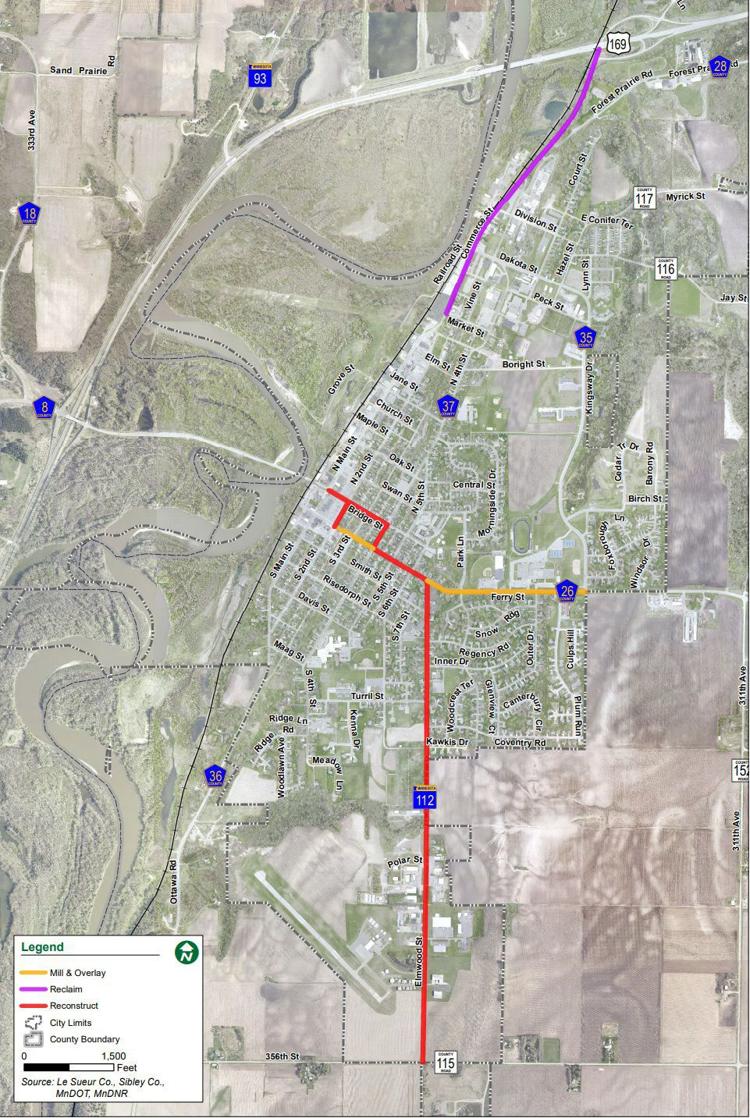 The project will cover County Road 22 (112 Turnback) from County Road 115 to Ferry Street; Ferry from Elmwood to S Fourth Street; S Fourth Street from Ferry to Bridge Street; Bridge from S Fourth Street to N Main Street; and Commerce Street from Market Street to the Hwy. 169 ramp. Also covered by the project is Ferry Street between Elmwood Avenue and Kingsway Drive; Ferry between S Fourth Street and S Second Street; and S Second Street from Ferry to Bridge Street.
Residents oppose the project
One piece of the project has continued to draw frustration from residents on Coventry Road: a proposal to open the the intersection of Coventry and Elmwood. While city staff and emergency personnel have said that opening the neighborhood would reduce emergency response times, residents of the neighborhood have argued that opening it would be more dangerous because of the speeding vehicles heading northbound on Coventry.
A speed study by Le Sueur County found that 63% of vehicles were driving between 30-39 miles per hour on the 30 mph northbound section from Kaukis Drive to Turrill Street, and 15% driving above 40 mph (85% at or below 40 mph).
City Engineer Cory Bienfang has stated that the sight and stopping distances on County Road 22 meet state and American Association of State Highway and Transportation Officials (AASHTO) standards. However, at the latest City Council meeting, residents called Bolton & Menk's work on the project into question.
Lyle Olson, who told the council he was speaking from experience as a former engineer, said that the data Bolton & Menk provided to the public was misleading and not easily understood. Olson stated that the framing of the data might've confused people.
"The data is meaningless. It's confusing. It's just typical of a lot of things that I have heard throughout this entire project," said Olson. "I do not have a high opinion of Bolton & Menk from my years in this town and having seen what they have done. I think it's a questionable call on the part of the town and the city administration to continue to employ Bolton & Menk when they have had such a bad record in my opinion and the opinion of many other long-term citizens in this town. I cannot believe the data."
Olson also asserted that the standards used by Bolton & Menk weren't considering the safety of the road in imperfect conditions.
"It is a recommendation based on dry roads," said Olson. "No rain, no snow, no nighttime. Never a caveat saying 'Yeah, this is good for daytime in the summer when it's not raining, but you got to take into account what's the stopping distance when it's nighttime, snowing and all that kind of stuff.' Bolton & Menk hasn't told us that. No one in the city government has told us that. We the citizens of this town are expected to buy this hook line and sinker."
Coventry Resident Kenna Sheets also questioned Bolton & Menk's work project, citing the recent speed study. The county set up three testing sites along County Road 22 to measure speeds at different parts of the road, but only one of the testing sites came back with reliable results.
"[Bolton & Menk] already admitted that two out of the three speed testing tubes were not accurate, but magically only one was," said Sheets. The one that Bolton & Menk says was working, I personally witnessed one of the two tubes was folded across the highway. So if you have three tubes of blood drawn for your doctor and two out of the three tubes break, one tube suffices right? We should go with that data. We should have redone that. Bolton & Menk should have redone that test … On Bolton & Menk's website they have an online questionnaire. They can't even spell the city of Le Sueur right … I have asked for the survey of Coventry road results, all I've been told is the grade is 5.5, its safe, it's cool, no worries. I am willing to bet that if I had someone come in and survey Coventry Road and Elmwood Avenue or Hwy. 112 they would have different study results."
In addition, Sheets argued that the whole Hwy. 112 turnback/County Road 22 project was too expensive. The project is costing the city $6.5 million, half of the $13 million total cost, with the other half being paid by the county.
"We're all facing the assessment fees of the new school project. We don't know if it's going to be $23 million, we don't know if it's going to be $50 million. You're trying to bring people into our community, but you're making it unaffordable for the average person," she said.
After public comment, City Council were left with questions on the safety of opening Coventry Road.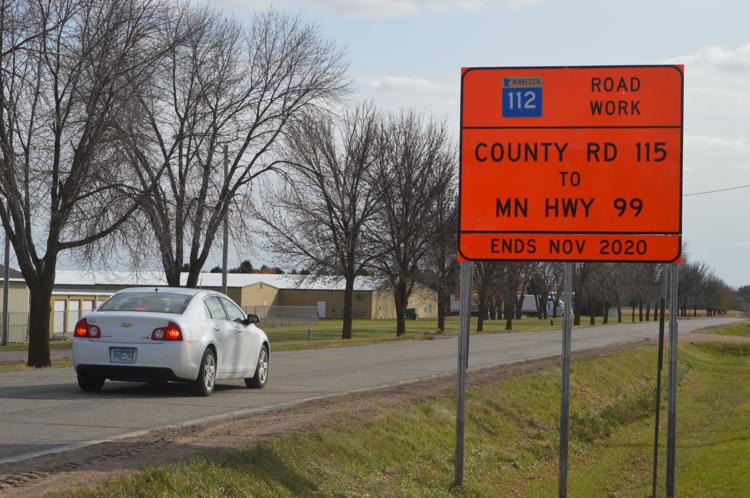 When asked by Councilor John Favolise if Bolton & Menk's work on the project had been reviewed by MnDOT, City Engineer Cory Bienfang responded that, at this point, the project had not been reviewed by the state. However, as part of the process, the project would be reviewed by Le Sueur County and MnDOT. The city is scheduled to submit a 90% plan for review by the end of October and a final plan for review before Christmas.
"There are several provisions that need to be met — lane widths, shoulder widths, things of that nature," said Bienfang. "So the intent is to ensure that when the project is submitted, it is meaningful and satisfactory to the county state aid standards … As far as MnDOT getting a design and specifically looking at things like sight triangles and things like that, they might … after the discussion, look at Coventry, but generally they default to the road authority (Le Sueur County) to be constructing road to state standard and in the realm of engineering approval and requirements. Ultimately, the county engineer will sign off on this as well and ensure it meets his standards as well. As a consultant, we're not intending to submit something that we don't believe meets standards."
Mayor Gregory Hagg asked if the city tabled a vote on ordering the improvement would halt the overall project. City Administrator Jasper Kruggel responded that the vote was an important part of the Chapter 429 process, which allows the city to levy special assessments on properties. Because the overall project is county-driven, City Council would not be able to halt it.
"The actual project itself will move forward no matter what, because it's a county project," said Kruggel. "Whatever we do for the most part isn't contingent on what the county's going to do; they're going to do their project."
He continued, "If you want, you can modify this to not include that intersection. If you want, you can have it changed so that it's included but then, as City Council, as I stated on (Oct. 14), Coventry is a local road. City Council has the authority to close that road at any time they want. So the work could be done, if City Council feels that road is unsafe, they can close it. It's fairly simple."
Sheets responded that closing the road after it's determined to be unsafe wasn't good enough.
"Why do we need to have a casualty before you decide its not safe?" Sheets asked. "But that's what you have insurance for, right?"
Responding to concerns over the safety of the intersection, Councilor John Favolise pushed for the addition of a clause that would make the ordering of the project contingent on MnDOT reviewing the safety of the Coventry/Elmwood intersection. Favolise said he wouldn't feel comfortable approving the project otherwise.
"I do want to add that because obviously it's an issue that's a concern of the citizens," said Favolise. "We all understand that there's a speeding issue in this town and that is, I've said it before and I'll say it again, it is a social issue. This has become to easy for people to go too fast on our streets. They're ignoring crosswalks, they're going around buses and they're not pulling off to the side for emergency vehicles. I know that this is a problem in all kinds of towns. However, we live on a town that is full of hills. It is called the Valley of the Jolly Green Giant for a reason … I don't want to kill the project or nix the project, but I'll tell you that, in this case, I would want a contingency on that going with approval from MnDOT specifically for the opening."
Favolise also explained that MnDOT's roadway safety standards were above the bare minimum.
"The rules are designed already for speed limits and beyond the speed limit," said Favolise. "It's designed for 30 mph, but it's actually also designed for 40 mph."
City Council added the MnDOT review contingency clause to the resolution as well as a clause clarifying that the resolution is related to the special assessment process. After a recess, the council voted unanimously in favor of the improvement.