A Le Center man is accused of stabbing his father to death, then burning down their home with his body inside.
Hardy Robert Wills-Traxler, 25, of Le Center, was charged with second-degree murder and first-degree arson in the Jan. 24 death of his father, Bruce Alan Traxler, 64, also of Le Center.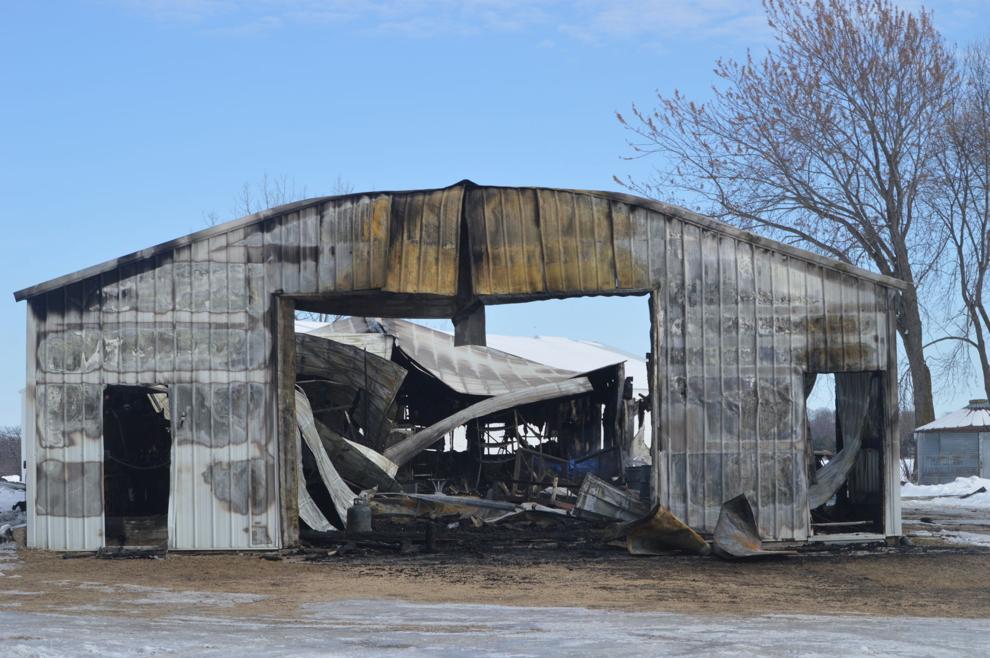 Traxler's body was discovered after firefighters responded to a shed fire at 37722 Hunting Preserve Lane, Le Center at approximately 7:15 a.m Jan. 24. The shed, found engulfed in flames, was reportedly the shared residence of Traxler and Wills-Traxler. At approximately 8:45 a.m., firefighters reportedly found Traxler's remains on the floor near an interior window.
The father and son reportedly lived together at the shed, but a witness told investigators that the two had not been getting along. That person also told law enforcement of fresh tire tracks leaving the scene of the fire where Wills-Traxler allegedly parked his car. Wills-Traxler was not at the scene when investigators arrived, and a 2007 gold Toyota sedan registered in Traxler's name was also missing.
At approximately 8:50 a.m., investigators received a tip from Mankato Police that a man matching Wills-Traxler's description, driving a Toyota sedan, had told someone in the Mankato area that "he killed his father."
By early afternoon, the Watonwan County Sheriff's Office reported that a group of snowmobilers talked to man identified as Wills-Traxler. The snowmobilers reportedly told police that Wills-Traxler was in possession of a knife, referenced the Bible and told them that "he killed his father."
He was arrested by the Blue Earth County Sheriff's Office shortly after, following a traffic stop near the junction of Hwy. 169 and Hwy. 60 and taken to the Le Sueur County jail.
Investigators report that Wills-Traxler confessed to the murder in an interview with police. Wills-Traxler allegedly told police that the night before the fire he and his father were talking, but Traxler would not go to sleep. Wills-Traxler said his father just stared at him, so he reportedly stared back at Traxler.
The two reportedly began to argue and Wills-Traxler told investigators he was scared and grabbed a knife. He told his father that he wasn't scared of him, but the argument became physical. Traxler then hit his son on the shoulder and Wills-Traxler reportedly responded by stabbing him with the knife multiple times. Wills-Traxler said that he stabbed his father in the heart and reportedly commented that "it was weird."
Traxler reportedly fell unconscious after the stabbing and Wills-Traxler said he "was just gone."
An autopsy concluded Traxler had been stabbed multiple times, with stab wounds found in the left and right chest areas and the abdomen.
Wills-Traxler reportedly told police following the stabbing that "he did what he did," and decided to burn the shed down. He "had to get out of there" and "get on with his life," Wills-Traxler allegedly told investigators. He said that he was sorry and that he never wanted it to be that way.
Prior to the fire, Wills-Traxler told investigators he gathered his belongings and washed the blood from his hands. He then stuffed pillows on the stove and turned on the burners. After the flames were lit, he drove away.
Investigators concluded the fire started in the stove. The burner was reportedly found in the "on" position and burned material on the stovetop was consistent with pillows.
Wills-Traxler was taken to a hospital in New Prague for a reported shoulder injury, but no injury was found.
It's the first murder case in Le Sueur County since January 2014 when Jonas David Nelson, then 18, shot his father in the head as he slept on the floor of their rural Montgomery home. Nelson, convicted in August 2015, is serving a life sentence for first-degree murder. He claimed his father was too strict and wanted to get out from under his thumb.
Assisting agencies were the Le Center, Montgomery and Cleveland Fire departments; the Minnesota State Fire Marshal and the Minnesota Bureau of Criminal Apprehension.
Wills-Traxler was appointed a public defender. Le Sueur County District Court Judge Patrick Goggins will not take part in the case, due to a conflict of interest; the victim's brother is reportedly his financial advisor. Instead, Goodhue County District Judge Patrick Biren will preside.
Bail with conditions was set at $1 million for Wills-Traxler; it was $2 million for bail with no conditions. He has a review hearing scheduled for March 26.