It's not often that you get to chat with local police officers, unless you're trying to talk your way out of a speeding ticket, but during the national Night to Unite, the people of Le Sueur and towns all across the country had the chance to eat, speak and party with their local police department.
The Le Sueur Police Department visited eight neighborhoods during the Night to Unite Aug. 6, including Canterbury Circle, Cedar Ridge Trails, North Fourth Street, the United Methodist Church, the Village Cooperative, South Third Street and Ferry Street. These neighborhoods registered to host block parties where residents and police officers could listen to and learn from one another.
After the event, the police department deemed this year's Night to Unite a success.
"This year was our most successful Night to Unite event yet!" the Le Sueur Police Department wrote on their official Facebook page. "Not only were there a lot of groups — there were A LOT of people out celebrating."
Le Sueur's police department has participated in the Night to Unite every year since 2014 and have continued to hold it because of the event's ability to foster closer relationships between neighbors and emergency services.
"It's great to get out into the community and get people together to meet your neighbors," said Dan Reich, one of the officers who visited with Le Sueur residents. "You don't want to meet us when you're getting pulled over, so this is a good time for us to meet with the community."
More than just a bonding experience, Night to Unite was an opportunity for the police to educate the community on safety and field questions from residents.
"If people have a problem, they often call the police instead of meeting with their neighbors and talking to them," Le Sueur Police Chief Bruce Kelly said in an interview last week. "Not all things called in are police issues, so these meetings are ways for neighborhoods to set up communication with each other and ask us about certain situations."
The police weren't the only organization using Night to Unite as an outreach opportunity. Le Sueur's United Methodist Church holds one of the biggest block parties in the area every year for Night to Unite. Their parties feature free food for everyone who comes, whether or not they're a member of the church.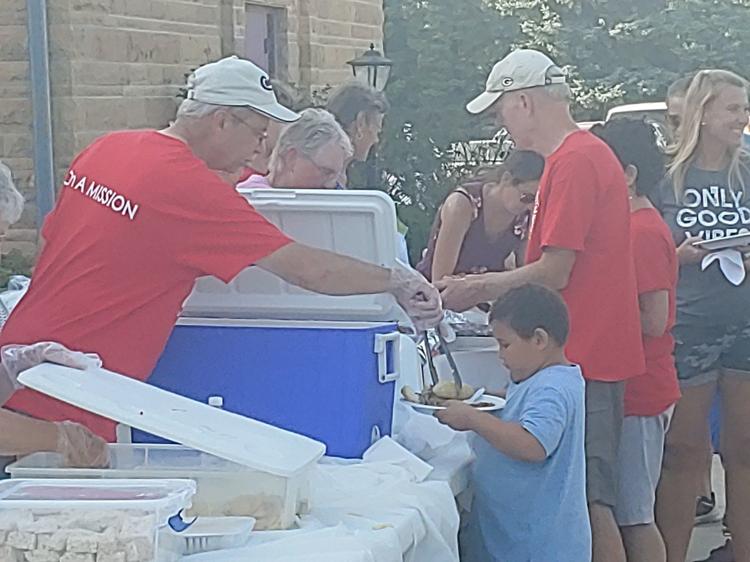 "It blew everyone away when we first started," said Pastor Terri Horn. "People would come up to me and say, 'You mean there's no charge?", and I would say 'it's all free.' It was pretty different for the church, too, because we would always take donations when we had these types of events. We discovered a joy in just giving away and we're not the only ones. We do not lack volunteers because it is fun to be giving it away."
Dozens came to the party to feast on pulled pork sandwiches and sweet corn being served outside the church. During their meal, visitors socialized with neighbors and the Police Department and listened to the United Methodist Church band Jesus and Me perform covers of classic songs.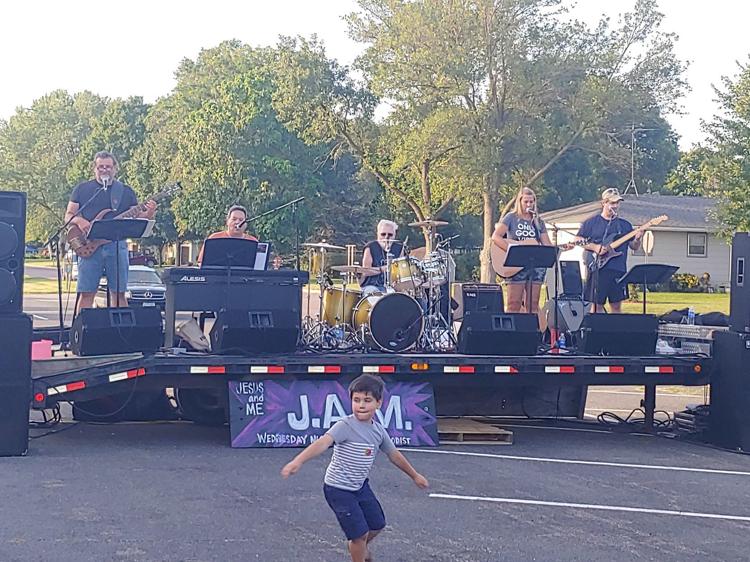 Horn sees their annual block party as a chance to bring people into the church.
"We have people come here every year and we get a lot of young families," said Horn. "A large portion of these young families don't have a church home, so after they've come here, when they are ready to test the waters, they'll feel at home."
She added, "The event also makes us focus outward. I've watched the congregation grow spiritually and wanting to share their faith publicly."