A debate that has split Le Center residents down the middle has reached its end.
On Tuesday, Feb. 11, the Le Center City Council voted 4-1 to continue operating the city recycling center and waste management service instead of hiring a private contractor to take care of both. The council also voted to open the recycling center for an additional day during the week and to pursue the purchase of a new garbage truck.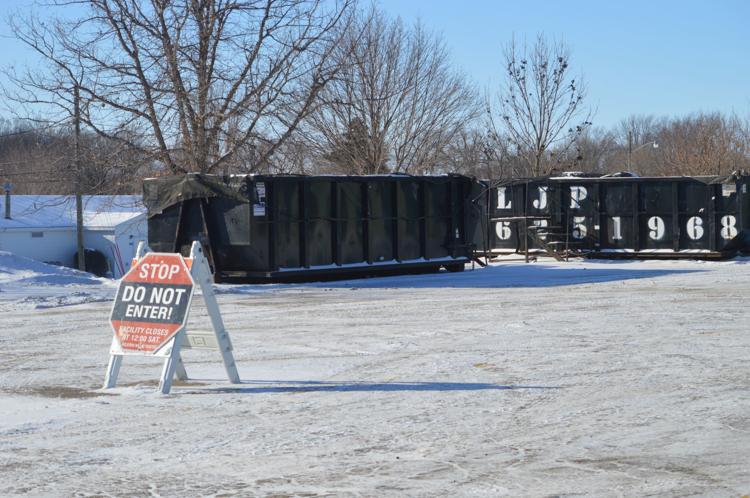 The issue on how to handle recycling and waste management in Le Center saw the community divided. At a public hearing in October, some of the town's older residents expressed that it would be a lot cheaper for them to purchase blue bags from the city that they would only have to use once a month than to pay for a private pickup service. However, residents with family households pointed out that pickup from a private service would be much more convenient for them than having to schedule a time to visit the recycling center on Saturday mornings. For some, the inconvenience meant that their recyclables would pile up for weeks before they could find the time to visit the recycling center.
The council began considering a private service after Le Sueur County terminated its involvement with and funding for the Le Center recycling facility, in order to establish several county-wide recycling drop-offs in Waterville, Le Sueur, Le Center and Cleveland with the end goal of making recycling more accessible. These stations can be used by township residents as their primary drop-off, but city residents currently served by a recycling system are only allowed to use these stations for overflows. When the county withdrew its involvement with the Le Center recycling plant, it also withdrew a $27,000 annual subsidy, prompting the city to consider other options.
Mayor Josh Frederickson proposed that the city continue to operate waste management and recycling in the city, because it would cost residents half of what hiring a contractor would. At a January work session, the council estimated that continuing the current system would cost each household $116.55 annually over the next 20 years, hiring a contractor would cost $240 per household. Those figures included the estimated $250,000 it would cost the city to purchase a new garbage truck to continue city-run garbage pickup.
"If you take the emotional impact out of it, and you look strictly at the dollars and cents of what is best for each individual household in this town, the cheaper route is to keep doing what we're doing," said Frederickson.
In addition, Frederickson believed that adding an extra shift during the week to keep the recycling center open could address many residents' complaints about the inconvenience of dropping off their recyclables. The new hours for the recycling center have yet to be determined.
The decision to continue with the city-run system has its own issues the city will need to address. Residents outside Le Center can no longer use the recycling center, since it is now fully city-run and city-funded but the city is still working to enforce this rule. The council is also deliberating whether or not to allow people outside of town to continue to purchase and use blue bags.
"All of those are definitely items that need to be addressed," said Frederickson. "However, those are items we can work on over the next couple of months and develop a policy on this."
Beyond cost, Frederickson asserted that the current system has the advantage of allowing residents to budget their waste management and recycling.
"Personally, I also like it because it gives each individual household the ability to budget on their own to determine what they need to do for garbage," said Frederickson. "So if you're a single person living at home, and you can get by with one blue bag a month for garbage, that's only going to cost you about $8 per month for garbage. If you're a family of four that goes through two bags of garbage a week, that's obviously going to cost more, but I can budget for that versus being dinged for $20 a month, whether I use it or I don't."
Councilor Christian Harmeyer supported the measure as well and felt that the city-run system could do a better job of serving the whole community.
"I think, personally, with other areas in the city, like people living in apartments, it helps them figure out where they're going to bring their garbage as well," said Harmeyer. "I believe we're helping this city in the long-term, and it helps with other little entities that people may not see, like the students that help out at the recycling center and the people that help with making the blue bags, and they're part of this community too."
Along with Harmeyer and Frederickson, councilors Collin Scott and Jennifer Weiers voted in favor of the measure. Nathan Hintz voted against.  In a written statement he prepared for meeting, Councilor Scott said that none of the councilors had spoken with each other on how they would vote and that they were voting based on what they believed would be best for the city.
"As your elected officials, we are charged with making a decision to benefit the city of Le Center and not any one particular group in our town," said Scott. "Councilors are going to make a decision to benefit all citizens in the next 20 years. Not everybody will be happy with the vote outcome and that is your right, but understand that just because you disagree does not make it wrong."